GoDaddy is a household name in the domain registration industry, but that's not their only product offering. They also provide web hosting services.
SiteGround, on the other hand, has been in the web hosting game for close to two decades now.
So, when you compare SiteGround vs GoDaddy, who comes out on top?
Compelled by curiosity, I decided to personally embark on this quest, initiating a comprehensive evaluation of these two formidable web hosts. In this meticulous review, I dissect their offerings, comparing a broad range of criteria — from performance and security to pricing and reliability.
You will see beyond the surface of their offerings and discover each hosting provider's strengths and weaknesses. Ultimately, you will have the information you need to make a smarter decision when picking a web hosting provider.
SiteGround vs GoDaddy: Detailed Comparison
| | Siteground | GoDaddy |
| --- | --- | --- |
| Type of Hosting Offered | Shared hosting plans, Managed WordPress hosting, and WooCommerce hosting | Shared hosting, a Business hosting plan, VPS hosting, dedicated hosting, WordPress eCommerce site hosting, and managed WordPress hosting |
| Storage | 10GB - 40GB | 30 GB - Unlimited Storage |
| Bandwidth | Unmetered bandwidth | 25k per month - Unlimited bandwidth |
| Uptime | 99.91-99.99% | 99.89-99.97% |
| Pricing | Starting at $3.99 | Starting at $5.99 |
| Customer Support Rating | 4.0/5 | 3.9/5 |
1. Performance
The first and most crucial factor to consider when picking web hosts is performance. There are two key elements to look at here; uptime and page loading speed.
Siteground uses ultra-fast solid-state drive (SSD) storage to optimize page load times and overall website performance. SSD storage is also available across all plans, including the cheapest options.
In addition to the SSDs, Siteground plans also come with a free content delivery network (CDN). CDN boosts site speed, ensuring users can access content quickly regardless of their location in the world.
The combination of SSDs, CDN, and other features gives Siteground incredible loading speeds. The speeds are particularly impressive in North America and Europe, where most of the servers are located.
It's worth pointing out that fast site speed is one of the reasons Siteground is also considered one of the best web hosting companies for SEO.
GoDaddy, too, has SSD storage and CDN. However, the performance and package aren't nearly as comparable to Siteground's due to various reasons.
For one, SSDs are not present on all hosting platforms. They are only available on dedicated servers and VPS plans. So if you choose a hosting plan that doesn't come with modern SSD storage, your site's performance will take a hit.
Moreover, a CDN is only included in WooCommerce hosting and WordPress hosting alone.
In summary, Siteground takes the performance crown by having the better page load time. Also, the packages offer better value since they have all critical performance features, unlike GoDaddy, which has hosting features like SSD storage and CDNs locked to only a few web hosting plans.
Winner: Siteground
---
2. Security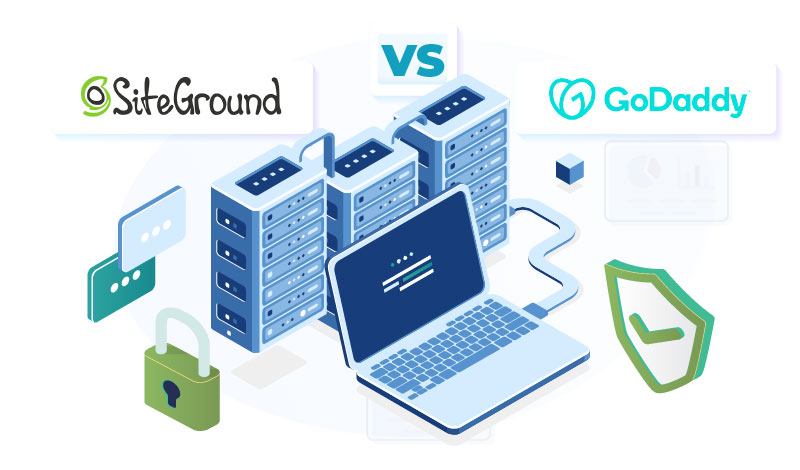 The best web hosting providers implement multiple security measures to combat vulnerabilities at the website and server level.
Siteground and GoDaddy have multiple security measures in place. They both provide free SSL certificates and daily website backup for managed dedicated hosting, for example.
Howeve GoDaddy holds back on most security measures. For instance, an SSL certificate is only available on the Ultimate and Maximum plans in web hosting.
This is a pretty basic feature that you would expect on any top web hosts. GoDaddy treats it as one of the premium features. You have to upgrade to the more expensive plans to get it or pay for it separately.
Daily backups and automatic malware scans are also not available on shared hosting.
Therefore, Siteground provides better security overall. It has reliable features included in all plans to ensure your site is secured at all times. It also comes with additional security features like DDoS protection, 24/7 server monitoring, Sucuri SG site scanner, and more.
Winner: Siteground
---
3. Support
Siteground and GoDaddy have extensive knowledge centers filled with tutorials, FAQs, etc. Most common issues are already addressed in these materials.
But if you want to get in touch with an agent, you'll be delighted to know both web hosts have 24/7 customer support. They also have multiple lines of communication ranging from email and live chat to direct lines.
It's one thing to have a customer support team and another for the support to actually be helpful. So, which of the two providers has more helpful customer service?
Siteground customer support is very helpful. The team understands the technical stuff well and is always eager to help out when you are stuck. They also provide support in a few foreign languages, including Spanish and Italian.
GoDaddy, on the other hand, has call centers spread across the world. They're, therefore, in a great position to offer support in more foreign languages.
However, GoDaddy outsources their web hosting customer services, and this is partly responsible for the not-so-great support. The team is not very knowledgeable about some of the products. You might, therefore, find yourself being passed around different representatives to help you out with certain issues.
Winner: Siteground
---
4. Ease of use
Siteground and GoDaddy use the popular dashboard, cPanel. It's a basic dashboard but good enough to get the job done on most occasions.
However, for certain functions, SiteGround proves easier to use than GoDaddy. For example, installing an SSL certificate is done in just a few clicks. The option is under Security and SSL Manager on the dashboard.
Siteground also lets you enforce HTTPS for added security in just one click under the "HTTPS Enforce" section in the security menu.
The process for installing SSL certificates is a bit longer with GoDaddy. You have to purchase and download the certificate and then upload it into the cPanel before initiating the installation process. However, many of the other hosting options are relatively easy to set up.
All in all, Siteground and GoDaddy are both very user-friendly.
Winner: It's a draw
---
5. WordPress Integration
Siteground is one of only three web hosting companies endorsed by WordPress. The other two are BlueHost and DreamHost. That by itself speaks volumes as to how well Siteground works with WordPress.
And it's not about integration alone. Siteground also packs plenty of features to ensure your WordPress website performs optimally. The one-click installer makes it easy to install WordPress. The platform also provides a staging area to test various features before adding them to your website.
WordPress users will enjoy managed WordPress updates, NGINX-based caching for faster page load times, a WP-CLI dashboard, etc.
GoDaddy doesn't have the direct recommendation of WordPress, but the integration is pretty decent. WordPress users still get a 1-click install, one-click migration tools, and dozens of other features.
Therefore, aside from the WordPress recommendation of Siteground, there isn't much separating the two web hosting companies in this category.
But there are some differences in pricing. For example, WordPress web hosting plans on Siteground start at $3.69 per month, whereas the cheapest plan on GoDaddy is $6.99 per month.
Siteground's WordPress hosting is the way to go if you care about WordPress's endorsement or want the cheapest managed WordPress hosting plan.
Winner: Siteground
---
6. Pricing
Pricing is a crucial consideration, but you should never base your decision on prices alone. A cheap plan would mean very little if it can't get the job done. Therefore, focus less on the actual price and more on the value you are getting for your money.
All Siteground hosting solutions start at $3.99 per month except for the cloud hosting solution.
For this price, you get one hosted website, 10GB web space, unmetered traffic, free email, free SSL certificate, out-of-the-box caching, and free website transfer using Siteground's WP installer & migrator plugin.
No free domain, though. But, Siteground's WordPress hosting is worth it.

Godaddy's WordPress hosting plans start at $6.99 per month, while shared hosting starts at $5.99. Both starter plans come with additional perks, including a free domain and business email for one year. If a free domain is something you're after, then this is the plan for you.
However, monthly traffic on WordPress hosting is capped at 25k. GoDaddy caps bandwidth in both the Basic and Deluxe web hosting plans. You can only get unlimited bandwidth with the more expensive Ultimate and Woocommerce site hosting packages.
Now, we can't talk about web hosting pricing without discussing renewal prices. This is tricky since most providers double or even triple their prices once the honeymoon is over.
The same thing applies to both Siteground and GoDaddy. Siteground is, however, the more expensive of the two. For instance, the $3.99 per month plan renews at $14.99 per month. That's more than triple the initial price.
GoDaddy, on the other hand, is a bit more friendly. The $5.99 package renews at $8.99 per month. But it lacks various basic features like SSL certificates.
Winner: Godaddy on price alone. Siteground for value for money.
---
7. Reliability and Uptime
Both hosting providers guarantee a 99.9% uptime. However, Siteground edges out GoDaddy in actual uptime, with most tests showing an uptime of between 99.91 and 99.997%.
Here are some of the stats of Siteground's hosting performance in the last ten months as provided by Pingdom[1]:
Meanwhile, GoDaddy's uptime in the last ten months has been ranging from 99.58 to 100%. The web hosting provider recorded only one month of 100% uptime compared to Siteground's seven consistent months.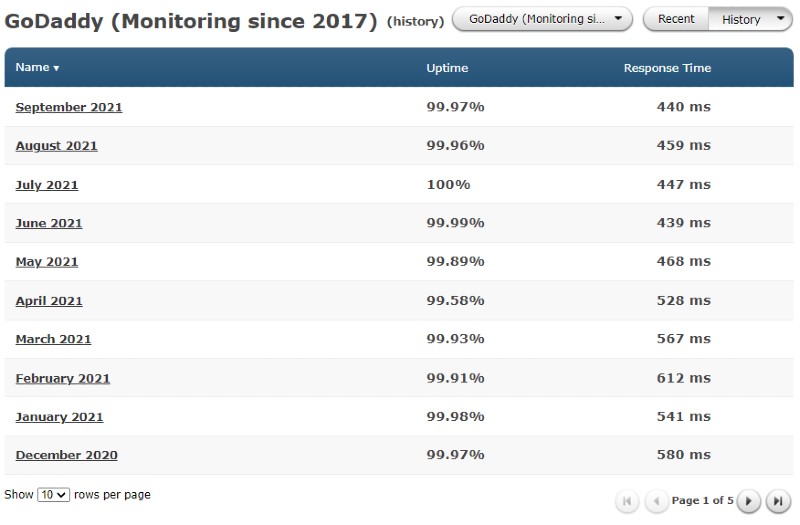 When you dig deeper into the data, you will also notice that Siteground's lowest uptime in the last three years is 99.91% which falls well within their 99.9% guarantee.
GoDaddy's uptimes are not as impressive as Siteground's, but they are still within an acceptable range. But unlike Siteground, GoDaddy's uptimes have fallen below the 99.9% guarantee not once but twice in the last nine months. Siteground beats GoDaddy here.
Siteground is also more reliable for the simple fact that they have better customer support. Their customer service was always super-responsive and more than capable of sorting out any issues, including technical ones in my experience.
That should give you the peace of mind of knowing your website is always in good hands. And if an issue arises, the technical team can handle the problem before it seriously affects your online operations.
At around 99.95% uptime, GoDaddy may not seem that bad, but the 0.04% difference may mean several hours of downtime every year. That could easily translate to tons of lost traffic and potential sales.
Furthermore, we found that GoDaddy support is lacking, especially when you need technical assistance. That means even minor issues can easily lead to expensive downtimes.
Winner: Siteground
---
Siteground vs Godaddy: Who's the Ultimate Winner?
If we had to choose between SiteGround vs GoDaddy, the data points to SiteGround's hosting plans being the better option.
GoDaddy is a decent web hosting provider. It does pretty much everything web hosts are supposed to do. Moreover, the platform has domain registration services and a free website builder.
One could, therefore, argue that GoDaddy hosting plans are worth considering if you are looking for an all-in-one platform.
But if your focus is on web hosting alone, GoDaddy is not as convincing as Siteground. That's especially true for medium to big websites.
Siteground goes above and beyond to get you the web hosting features you need to level up. It also delivers better value for money with excellent customer support, seamless WordPress integration, reliable security features, the ability to host unlimited websites, lots of freebies, etc.
More importantly, Siteground has better uptimes and page load times. Both are imperative for a successful online business.
Our #1 Recommendation: Siteground