As a seasoned technology expert, I understand the challenges many individuals face when managing their digital assets across multiple devices. Whether you're a gaming enthusiast seeking a more robust network connection, a privacy-minded individual wanting to secure your email, or an IT enthusiast looking to build your resume, a home server may be the ideal solution for you.
Home servers allow you to control all your data management and hosting, along with numerous other benefits. Despite initial concerns about hardware setup and configuration, setting up a home server can be an engaging passion project that yields long-term advantages.
In this article, I will share some of my insights into the world of these servers. You will learn about their benefits, the hardware and software required, and how to set up a home server. By the end of this article, you'll be equipped with the knowledge to create your own customized and powerful home server.
Quick Summary
A home server is a personal device for data management and hosting. It stores data, runs security monitoring, backs up files, sets up home automation, and provides remote access to stored data.
Benefits of home servers include self-hosting websites, automating data backups, centralizing media storage, learning about IT, reducing strain on personal computers, enhancing security, improving online gaming, and connecting to a VPN.
Despite the benefits, home servers come with challenges such as maintaining security, the potential for low speeds, and costs for setup and maintenance.
What Is A Home Server Used For?
A home server is used for storing data and programs, running security monitoring, backing up your files, setting up home automation, and much more. Having a home server can also provide you with remote access to your data and programs stored on it.
In many cases, people use these servers as a centralized media storage hub. However, this ignores the many other incredible features of servers. For example, If you work from home, your own home servers can be especially beneficial because you can run your own e-mail and chat server, create a home VPN server, and even automate computer back-ups.
Why You Should Use A Home Server
So, what are the benefits of using a home server? When you use a home server, you can store your data easier, create a stronger internet connection, and have sufficient memory for your favorite main PC uses, from online gaming to instant messaging to e-mails, and much more.
Let's go over a few of the biggest benefits and extra features of having your own server.
Self-host A Website
If you're interested in running your own website or blog, you likely know that you'll need to pay for a hosting service to keep your website up and running. However, if you want complete control over your website, self-hosting your website with your own server is an alternative to traditional hosting service options.
Typically, it costs less to pay for a hosting service due to the cost of running your own server 24/7 to keep your website running. So, we only recommend this option if you are avoiding using a hosting service altogether or are an IT enthusiast who wants to experiment.
Automatically Back Up Data To Your Own Server
If your computers fail, you could lose access to months or years of data.
Making backups of your data is an often overlooked task that can have dire consequences when not performed regularly.
To prevent this, it's recommended that you have an onsite and offset backup, like an external hard drive, in case either backup fails or was in an accident. Most people use cloud storage as an offsite backup option and a home server can be a great choice for onsite backup of your files.
Often, we forget to backup our files because it can be a tedious task. However, a home server can automate backups of your computer's data so that you never have to worry about losing any data again.
Make A Home Media Server And Central Location
A home server can also be used as a media server, where you use your server as a primary hub for storing all those media files stored you have on hand in one location.
Despite living in an age where streaming media is prevalent, many of us still have a large collection of videos and music locally saved. Storing your data on your media server can free up space for you and your family's devices. You'll also have one location where you can easily find and organize your media files, rather than scrambling to find your stored data across many different devices.
Learning About IT And Operating Systems
Having your own home server is a great way to increase your knowledge of computers, local networks, and OS. Typically, these servers don't cost very much, in fact, an old computer may suffice for running a small home server.
So, setting up a server can be a great learning experience for anyone interested in learning about IT or including this on their resume for an IT position in the future.
Reducing Strain On Your Personal Computer
Do you have an old laptop that is buckling under the strain of an extensive number of files?
Your server can provide you with an easy way to backup your laptop, and remove extra data, programs, and videos so that you can get your laptop running smoothly again.
Security
Having a local file server, instead of a home cloud server, can provide you with additional privacy benefits. No one else will be able to access your files if the cloud is hacked because your files are not in cloud storage but are stored directly on your own home server and local network.
Online Gaming
Dedicated software is available for several online multiplayer games, allowing participants to run their own games from their own computers. Now you may enjoy the more consistent and rapid performance in online multiplayer games. Plus, you'll be able to adjust the settings to play the way you like.
Connecting Your Server to a VPN
You should set up a virtual private network (VPN) on your home server. However, further adjustments may be necessary for this to work with different home server software. However, doing so will improve your server's functionality and security. If you connect to the internet over a virtual private network (VPN), your data will be encrypted and protected from prying eyes.
You also have the option of purchasing a dedicated IP address. Many companies provide this additional perk for their users. You can get a private, dedicated IP using it and even whitelist it. In this manner, access to the server will be restricted to those having a certain IP address.
Downsides Of A Home Server
So, what is the trade-off of having a home server? Are these downsides a significant amount compared to the benefits of using a home server?
You Are Responsible For Keeping Your Home Server Secure
A home server gives you complete control over websites you host on it and allows you to easily access your backup data.
The downside is that you are also fully responsible for keeping your servers running smoothly, optimizing its processing power, and backing up your centralized storage from other devices,
Low Speed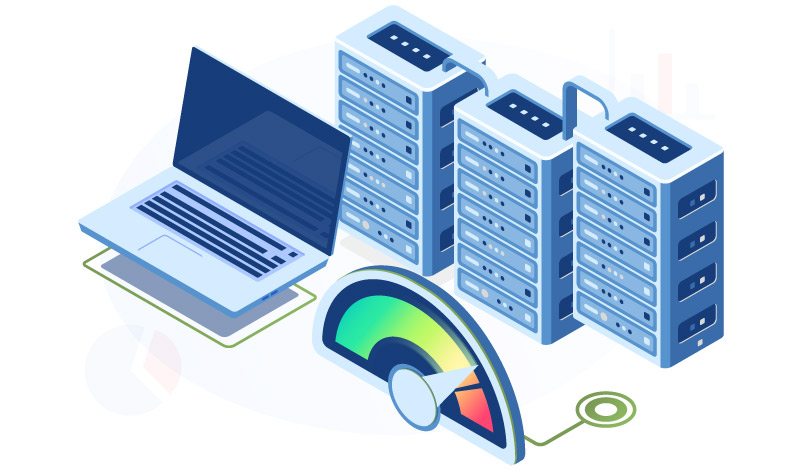 Depending on the device you choose to run your server from, you may experience low data transfer and network speeds. Unlike most at-home computer setups, you won't be relying on your Internet services' speed through the cloud. Instead, your device hardware will solely determine how fast or slow your server is running.
If you have great tech, this won't be a problem, but if you can't afford a fancier setup, you may struggle with low speeds which can be very frustrating.
Price To Maintain And Set Up
The price of running a server and having one central place for your files is less than you may think. However, it's still an additional cost that should be considered.
At its cheapest, you'll need an old machine that you are no longer using as your computer to run the server. Alternatively, you can build a home server from scratch and scour the Internet for used or refurbished parts to keep the costs less expensive.
Even with inexpensive parts, you could still be looking at several hundred dollars to set up your server and its storage. The cloud is typically only a few dollars per month, so overall, it is a less expensive option.
Do You Need A Home Server?
You don't necessarily need a home server. But let's see who benefits most when they use a home server.
Gamers
Many gamers benefit from having a strong network connection provided by a home server. The backup services available through the server can also save their games and allow them to play outside normal restrictions within the game.
IT Enthusiasts
Setting up servers or personal networks is a great way to increase your knowledge of computers. If you're an IT enthusiast, learning how to set up servers can be a great resume builder or it can turn into services that you can offer others.
Media Lovers
If your computers are buckling under how much media and data you have saved to them, it may be time to consider creating localized servers to store your data. Having your own network can also help with faster streaming if you have powerful enough servers in place.
Another huge benefit of servers is being able to store all your media in one central place so that you're not searching through multiple devices to find your data. You can even access everything on your mobile phone.
Individuals Worried About Security
If the idea of saving your data to cloud storage makes you uncomfortable, a personal network through your servers allows you to have complete control over your data. This can include privacy measures for your e-mail, and network connections, and even creating your own web hosting service for a website.
We recommend that you have an extra backup, such as an external hard drive, in addition to your servers though just in case your servers were to fail.
FAQs

How To Set Up A Server At Home?
To set up your own home server, you'll need to start by getting the necessary hardware and choosing between different OS, and server software.
A server can be set up on an older machine with enough computing power for the number of home users you have. Ubuntu, Amahi, and Unraid are some of the most popular operating system options for servers, although there are other forms to check out if you're so inclined. Lastly, your software will need to be set up. However, keep in mind that your server software can be changed or upgraded at any time.
What Is A Cheap Home Server?
A cheap home server option is using other devices, such as a personal PC, that you are no longer using to create your server. However, keep in mind that you'll still want to choose a device with decent computing power, otherwise, your network will run slowly, especially if you have multiple home users.
Are Home Servers Worth It?
Yes, home servers are worth it for many individuals, especially those interested in smart home automation, remote access to their data, choosing their own operating system, file sharing, and creating a web proxy. Creating a dedicated server for your network gives you more options for data storage for your devices, web serving, hosting web pages, and backing up your smart home's data without using cloud storage, which provides greater security.
What Do I Need For A Home Server?
You need three basic components for a home server: hardware to run, an operating system, and server software. Your first step in setting up your own servers is gathering the necessary supplies and choosing an appropriate operating system. Most individuals use Ubuntu, Amahi, and Unraid to run their servers, however, there are many operating systems available. Once these are set up, you can choose a server software. Later on, you can easily change or upgrade your server software to fit your home network needs better.
Choosing the Right Storage and Hosting Solution for Your Needs
Home servers can be a great option for many individuals looking to take their home network and storage to the next level.
However, if you find yourself intimidated by the idea of creating servers, you're not alone. So, cloud storage can still be a secure way to backup and centralize all your data
If home servers aren't the best choice for you, consider using a traditional hosting provider to host your own webpage. Check out our guide on the 9 Fastest Web Hosting Providers For 2022 to read our thorough research and find the best cloud provider for you.