When it comes to finding hosting packages, sometimes it pays to go with the wisdom of the crowd.
It's the well-established web hosting companies who have managed to withstand the test of time because they continually deliver superb service.
With years of experience evaluating various hosting companies, I've developed a keen eye for discerning the subtle nuances that set them apart.
In this insightful overview, I'll share my expertise on the largest web hosting providers and the current state of the web hosting market in the United States and globally.
Equip yourself with this knowledge to make informed decisions when choosing a hosting package that fits your needs.
Top 10 Largest Web Hosting Services in the World
Today there are about 2 billion websites that depend on the largest web hosting companies for their infrastructure.
Regardless of why you want a website, you still need to find the right host – something that can be quite tricky.
Although you may be tempted by a young startup that has solid hardware and claims great uptimes at bargain rates, don't be. You don't know how their network will hold up to growth and any security threats it may face along the way.
Instead, you should choose from the many well-established web hosting companies that are in business.
The largest web hosting companies online today have withstood the test of time and show that they can provide you with great service. They've grown into highly respected global powerhouses that are worthy of your attention.
1. IPage
IPage offers shared web hosting with a drag-and-drop free website builder. This means you can create a site without ever knowing how to do any coding.
There's also a script installer so you can incorporate well-known scripts (e.g., WordPress, Joomla) into your website. All it takes is a single click within your web hosting account.
---
2. Rackspace Hosting
Rackspace is an American company that offers what's known as Rackspace hosting.
They offer a variety of services. These include cloud computing items (e.g., Cloud storage, a.k.a., "Cloud Files"), a virtual private worker (a.k.a., "Cloud Servers"),  information bases, load balancers, and backups for all of these services.
Over the years they've become quite famous because they're so reliable.
Many people also appreciate their "pay as you go" (PAYG) model. This billing method bills you for how much bandwidth you use.
Many people like PAYG because it drastically reduces your upfront investment.
---
3. Wix
Hailing from Israel, Wix offers cloud-based web development services.
They allow you to create versatile HTML5 and mobile sites via their simple drag and drop tools.
The advantage to using Wix is that they provide free hosting. You'll receive everything necessary to create your website on this free hosting service.
With their Premium Plans, you'll get many more advantages and highlights (e.g., social media logo files, free custom domain for 1 year, no ads on your site, a free SSL certificate, and a professional logo).
Since 2006 Wix has built a solid business. Today they have more than 180 million users in 190 countries including the U.S., Canada, the U.K., Lithuania, Japan, Germany, Ireland, Brazil, and Ukraine.
Besides web hosting, many of these customers also depend on Wix's web development services.
These services offer templates, e-commerce applications, workflow automation, web application building, and marketing tools.
However, what they're best known for is their drag-and-drop web designing software.
---
4. Hetzner Online
Hetzner Online is the only host on this list that doesn't offer hosting services in the United States. Nevertheless, it's one of the most highly sought-after hosting providers in Europe today.
Parked in Finland, near Germany's border, Hetzner offers a state-of-the-art data center that's environmentally friendly. Their prices are also quite reasonable (€34 to €159 per month).
This host's servers aren't only affordable, but they're powerful too. Sometimes they even run server auctions where they sell their gently used, fully operational servers at bargain prices.
---
5. Digital Ocean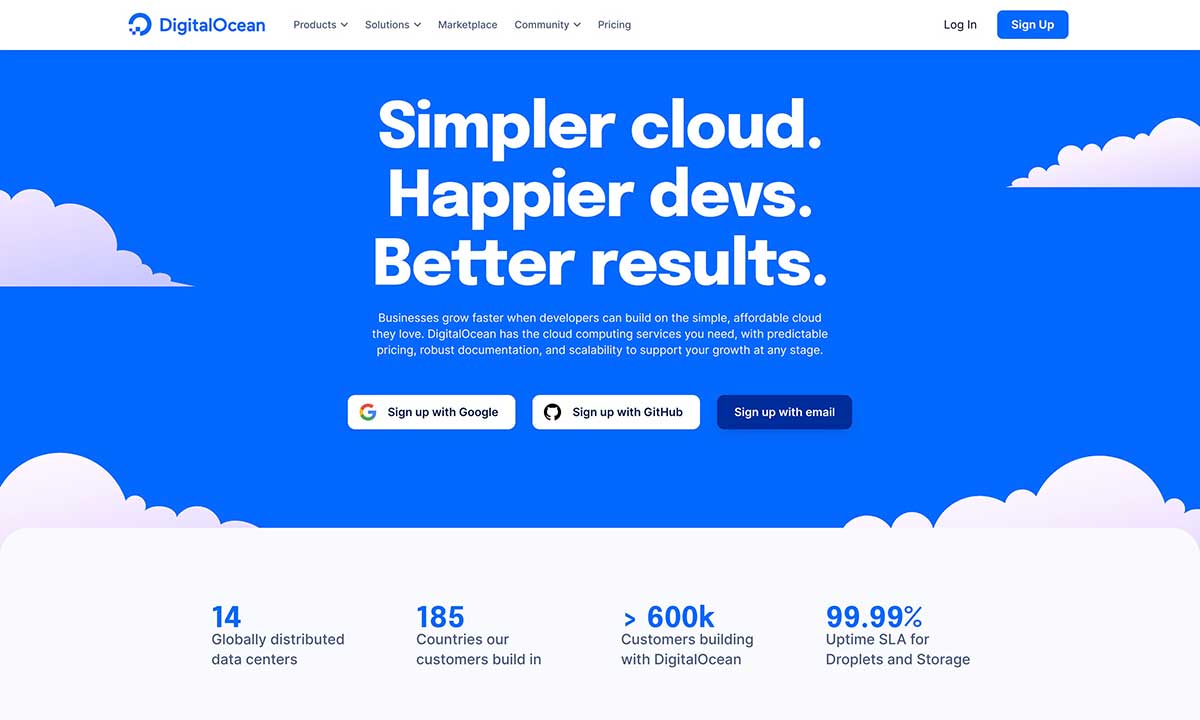 Founded in 2011, Digital Ocean specializes in cloud hosting. They boast more than 500,000 customers in 177 different countries.
Additionally, they have over 575,000 web applications running on their servers. Many of these users boast of great customer support.
Known for its "simple cloud hosting" platform, Digital Ocean provides developers with greater control over their hosting.
Unfortunately, you won't get email, eCommerce apps, or a website builder with them.
However, they do offer a wide range of integrations with popular hosting tools and applications.
This is why Digital Ocean still strongly appeals to those in search of low-cost, user-friendly hosting.
---
6. WP Engine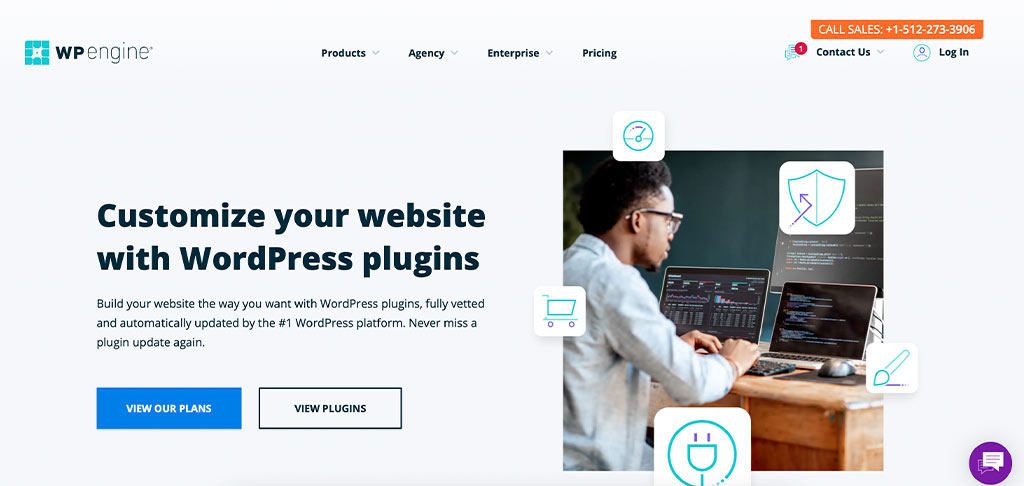 Although WP Engine is somewhat smaller than some of the other companies on this list, they're still quite a large host.
WP Engine boasts of having servers in 35 countries and over 70,000 customers who are located throughout 150 different countries.
Unlike many of the other hosting options that are available, WP Engine specializes in hosting WordPress sites.
Here you'll find a variety of managed WordPress hosting plans that deliver a fully managed hosting solution.
Each of these managed WordPress plans has automatic updates, security, and 24/7 customer support.
All of this is taken care of by the people who work in the offices at WP Engine. These offices are located across the United States and throughout Europe.
Managed WordPress with this host starts at $28 per month, making WP Engine one of the more expensive managed WordPress hosts.
It's important to remember that you're paying for the premium hosting that they provide. This includes exceptional speed, security, and great customer support.
---
7. OVH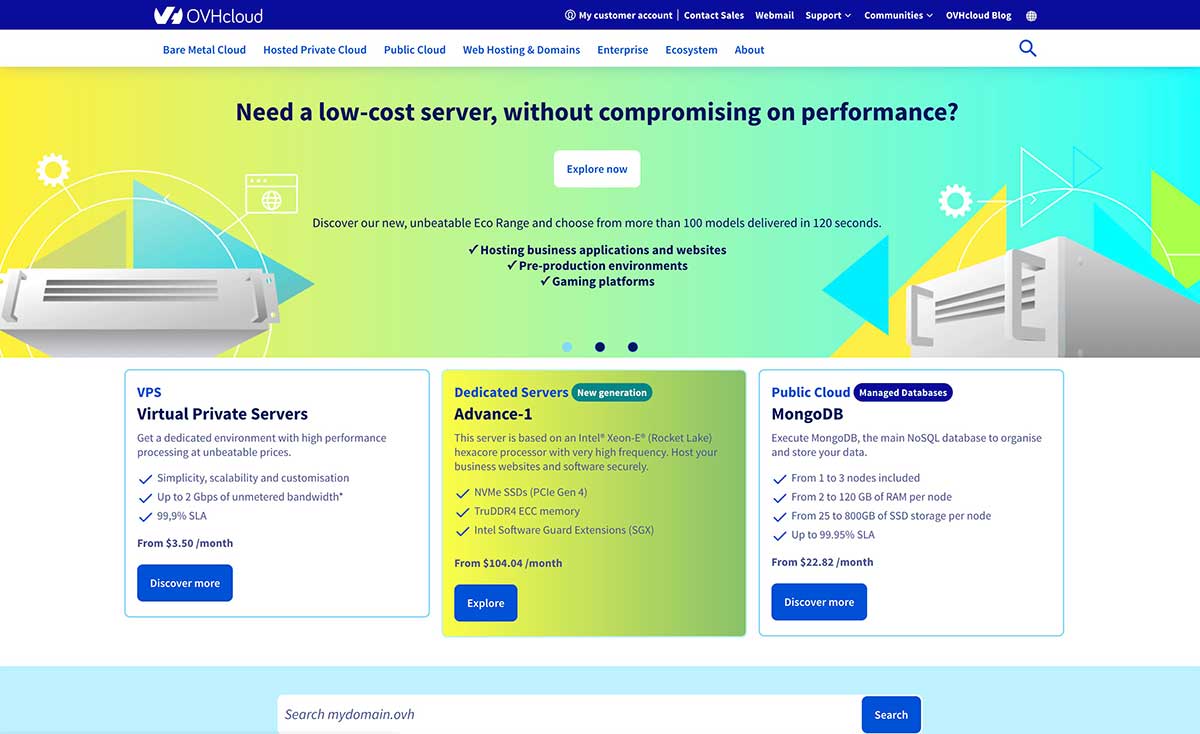 OVH is one of Europe's largest web hosting companies and domain registrars. Based in France, they don't have a large North American presence.
Those who do use this host are either using its shared hosting or cloud-based plans.
While they haven't chosen to move into the managed WordPress space yet, they do offer both basic and premium hosting plans and prices for all needs and budgets.
---
8. NameCheap
Although NameCheap is primarily known as a domain registrar, its hosting plans are also quite popular.
This is especially true if you're searching for the cheapest shared plans or managed WordPress hosting plans (EasyWP) available today.
If you need more power, VPS and dedicated servers are also available. Unlike most cheap shared hosts, Name Cheap does offer month-to-month payment options.
---
9. SiteGround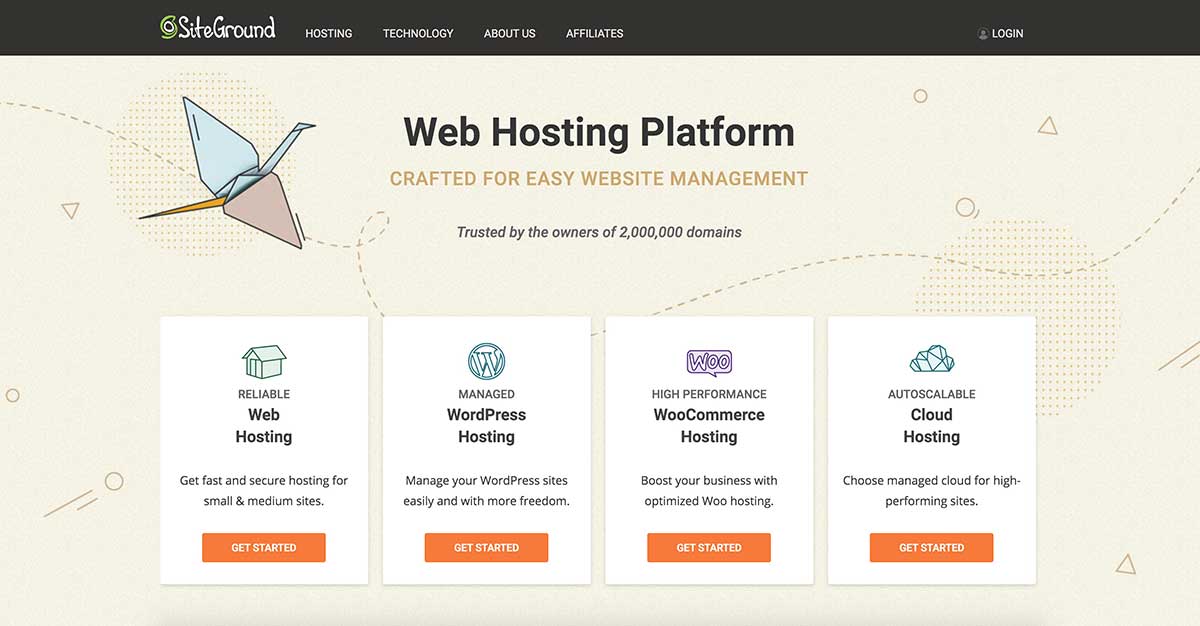 Another popular WordPress host is SiteGround because they offer the most affordable managed hosting WordPress plans when compared to other hosts.
SiteGround also offers generic shared hosting and cloud hosting plans for those in need of more power.
All of these options include a custom hosting dashboard. Recently they've moved to using Google Cloud's infrastructure on all their plans.
---
10. InMotion Hosting
InMotion Hosting is similar to many of the other large web hosting companies in that they offer affordable VPS and shared hosting plans as well as dedicated servers.
Additionally, InMotion hosting offers its own affordable, managed WordPress hosting.
This is why many people who are looking for an affordable entry point to managed WordPress hosting choose to use InMotion Hosting.
---
Top 10 Biggest Web Hosting Companies In The USA
It should come as no surprise that the United States represents the largest regional market for web hosting companies.
This is because the country's large population leads the way in terms of web connectivity per capita.
In 2021 the United States represented over half of the global web hosting market. It leads the way with several popular hosting services.
1. GoDaddy
GoDaddy is one of the popular web hosting services leading the way in America today.
Accounting for over 18 million customers GoDaddy offers a hosting plan for everyone. Besides hosting the company also offers domain registration.
GoDaddy operates 14 facilities with locations in India, Northern Ireland, England, and the United States (Iowa, Washington, Arizona, and California).
They've been around for a long time and their aggressive marketing campaigns have led them to reach mass-market appeal mainly to new site owners because they offer ultra-simple domain and hosting tools (e.g., website builders, templates, design services, managed WordPress, eCommerce store creator, premium support).
With all their great offerings it's incredibly easy and affordable to choose a domain name, purchase hosting, and get started building your online presence right away.
---
2. Amazon Web Services
Amazon Web Services (AWS) hosts numerous websites and applications.
This is because people appreciate their offering of supreme and instantaneous scalability along with the other dozens of services they offer.
While these are some of their largest features they also offer some other great features. For instance, you'll only pay for the resources your website uses so you'll have limitless hosting and dozens of services that can support your growing business.
It's important to understand that this is different than paying a flat monthly rate. Some people say that this is tricky to budget, but when you're just starting out it can work well for you.
Regardless of what people like about AWS, they remain one of the leading hosts in the United States today.
---
3. Google Cloud Platform
The world's largest global private cloud network is Google Cloud.
Although they're continually growing, they currently have 17 regions, over 100 points of presence, and more than 100K Km of fiber optic cable.
This is why many large companies (e.g., Hearst, Charles Schwab, Johnson & Johnson, Spotify, and Sony Music) trust them with hosting their sites.
Besides their popular email hosting services, they also offer productivity and collaboration apps that are found within their G Suite.
Their support and integration use the Kubernetes platform that was originally developed at Google.
This is an open-source system that the Cloud Native Computing Foundation now maintains.
While AWS has its own container orchestration (automating the running of programs and app workloads and services on an operating system that's specifically designed for this purpose and is allocated only the essential resources for running them) other major cloud providers (e.g., Microsoft Azure, Oracle Cloud) use Kubernetes-based orchestration.
The only real drawback that some people find with Google Cloud is they use the PAYG model.
---
4. BlueHost
Since many of the United States' data centers are located in Chicago, New York, and Los Angeles, it may surprise you to learn that BlueHost's headquarters are located near Provo, Utah.
There they have over 750 employees who maintain their servers which are housed in a 50,000-square-foot facility.
BlueHost's emphasis is on shared and WordPress hosting. Many less-experienced site owners who are just now starting a blog find them appealing.
This is because they offer many user-friendly features, as well as affordable rates, and 24/7 support which is backed by the industry-leading Endurance International Group (EIG).
Recently they've revamped their cloud and optimized WordPress plans so that they keep pace with the virtualized and dedicated servers they offer.
Today they expertly serve a full range of customers.
---
5. HostGator
In 2002 a student at Florida Atlantic University started HostGator. Since then this web hosting company has grown from its dorm room roots into one of the most popular web hosting companies.
Having outgrown their Boca Raton headquarters, they've since moved into a 100,000-square-foot facility in Austin, Texas. Today they offer services in Mexico, China, and Russia.
These services are easily customizable so you can create packages that serve everything from informal, personal projects to pro developers. This is one of the many reasons why this is so well well-respected.
Their customers also appreciate the fact that while Host Gator is mainly known as a shared hosting provider they have a large number of servers (e.g., dedicated, VPS) that are consistently reliable.
---
6. Liquid Web
Liquid Web is headquartered in Lansing, Michigan. It employs over 250 experienced and highly trained systems administrators, engineers, and tech support personnel who are responsible for managing and maintaining over 25,000 servers.
They also own and operate core data centers that are located in Phoenix and Amsterdam.
One of the things that the customers at Liquid Web appreciate is the company's personal touch from its support team.
Liquid Web also delivers on their 100% network and power uptime guarantees thanks to their timely hardware replacements.
For instance,  Liquid Web has made a calculated push into the managed WordPress and managed WooCommerce markets recently.
They've also joined forces with Nexcess, which is a formidable eCommerce hosting company.
From here it seems as though Liquid Web is gearing up to take over more of the web hosting market.
When you talk to the employees at Liquid Web you'll see that they're passionate about their products.
Besides their supreme uptime, Liquid Web also boasts of 24/7 support and a constant commitment to building out more functionality for their customers.
---
7. Square Space
Square Space is another host that started in a dorm room, this time at the University of Maryland in 2003. Since then they've largely maintained their US roots.
Today they have over 800 employees who are working from offices that are located in New York City, Portland, and Dublin.
In the past, they held a spot as one of the hosts that held a top-five global market position.
This is probably because the website builder industry is so crowded now. Nevertheless, you'll see them everywhere because of what they offer.
This is a scalable host with plans to fit everyone's needs. They have two featured plans: business and personal.
Both plans offer a template to lay out your content, a drag-and-drop app so you can easily add pages and navigation menus, and the ability to upload galleries of images.
With a business plan, you can also manage a small online shop.
However, they don't offer any advanced business features unless you purchase their Commerce plans.
---
8. 1&1 IONOS
1&1 IONOS is one of only two international hosts to break into America's top 10 web hosting markets.
Headquartered in Philadelphia, they have their 55,000-square-foot data center located in Lenexa, Kansas.
From here they began introducing services to the US in 2003. They fully rolled out their hosting, site building, and productivity products in 2004.
Since its conception in 1988 (at least a decade before many of its competitors) IONOS has maintained its dedication to making technology easy to understand and use.
Initially, they started in Europe but since then they've expanded to serve over 8 million global customers and host over 12 million domain names.
Some of the things that set this hosting company apart include their proprietary website builder which allows you to set up a one-page website in less than five minutes.
They also offer an online accounting program for business owners so that they can easily create and send quotes and invoices.
---
9. DreamHost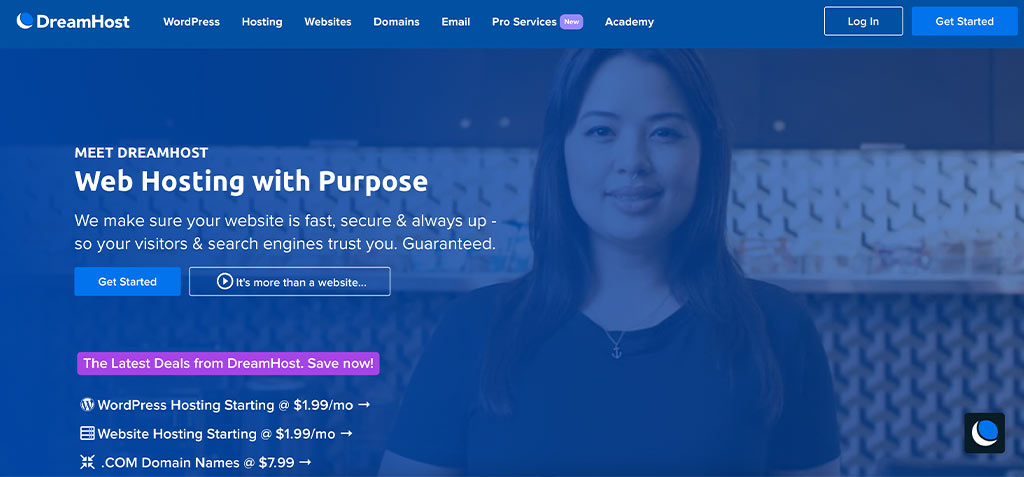 DreamHost is another host that seamlessly aligns its values and services around the open-source world.
They mainly offer WordPress hosting to their over 400,000 customers across 100-plus countries.
Getting its start in 1997 inside a Harvey Mudd College dorm room, Dream Host now hosts over 1.5 million websites (about half of which use WordPress). Today Dream Host is headquartered in Los Angeles.
Besides hosting they also support the WordPress community with thought leadership, code contributions, and WordCamp sponsorships.
They also have several of their own open-source projects surrounding the Ceph file system and network virtualization.
Their optimized WordPress hosting platform (DreamPress) is considered a midway point between generic shared servers and ultra-expensive premium managed hosting.
This is a great host because it's so scalable. Regardless of whether you need shared, VPS, cloud, or dedicated hosting, it's available here.
The only drawback is that this host is a bit pricy but it's worth paying for their performance, optimization, and managed services.
---
10. Shopify
Shopify is another one of the top 10 most popular web hosting companies in the US, even though it too is located elsewhere.
Today, this host is responsible for over $72 billion in sales as they power over 600,000 businesses worldwide.
This is great news for them since their mission is to make business ownership and growth better for everyone.
Originally Shopify's founders built this platform to sell their snowboarding equipment.
Since then they've grown from a 5-person team that worked out of a local coffee shop to having over 3,000 employees who work in 5 offices throughout North America.
Their full-service platform offers customizable domain names, professional templates, point-of-sale site software,.and tools for inventory management, order fulfillment, and payment processing. Shopify will also offer you a 30 day money back guarantee.
---
What You Need to Know Before You Start Searching for a Host
Before you start looking through the best web hosts, you should know a few things about web hosting.
One of the basics that you need to know is that these companies own and maintain web servers where they store your website data so that people can see it online.
It's as though you're renting an apartment from a landlord.
There are many types of hosting available. It's important to understand what each of them is so you can choose what's best for you.
Shared hosting is when you share a server with other sites. Shared hosting enables free site migration. Since all sites use the same resources when one gets a lot of traffic it'll take up a lot of resources.
This may slow your site down which is why shared hosting plans work best for those who are just getting started or if you don't expect to get a lot of traffic.
The nice thing about these web hosting plans is that they tend to be inexpensive and you can often get very good free site migration.
2. VPS Hosting
Virtual Private Servers are a step up from shared hosting plans. With a virtual private server where you host your site is virtually partitioned so it's as if your site has its own server and resources.
This offers greater stability for your website. If you're looking for hosting for a small business and don't want to be on a slow server, this is a good option for you.
Most web hosts offer these plans at reasonable rates. Managed VPS hosting starts at around $5 per month.
3. Dedicated Hosting
Another one of the many different web hosting services that are offered in the web hosting industry is what's known as dedicated hosting plans. With these hosting plans, you'll have your own server.
When you're on your own web server you'll have all the resources you need so you can handle large amounts of traffic.
This is why you'll pay more for a dedicated server but a dedicated server plan is also more reliable.
4. Managed WordPress Hosting
WordPress hosting plans optimize the web hosting specifically for WordPress as your content management system (CMS).
This web hosting provider will ensure that WordPress websites run smoothly and efficiently on their servers.
The web hosting service handles all updates and issues for your WordPress site. In some cases,  WordPress site hosting also includes WordPress pre-installed as well as plugins and themes to help your site perform at its best.
5. Cloud Hosting
With cloud hosting your website is hosted across multiple physical servers.
This is great because this hosting can handle a lot of traffic and if one of the servers goes down, your site won't be affected as much.
The one main drawback here is that cloud services are so expensive that only large sites (e.g., Facebook, Google) can afford them.
---
What to Look for in the Best Hosting for Starting a New Site
Finding the right web hosting companies is important because you want to make sure you have the right features.
Today there are so many options available that you may find yourself struggling to determine what you need so you can compare the various providers.
Regardless of what type of website you're launching, here are some of the most important features you should look for.
1. Site Uptime
When you're running an online business you'll want to look for the promise of 99% uptime (the amount of time that  web hosting companies guarantee your website will be available) so you don't lose money with your site being down a lot.
This is important because anytime your site is down visitors get disappointed and you may even lose followers.
Your web hosting company's main job is to maintain your site's uptime and accessibility.
Occasionally your web hosting company will need to do maintenance that'll require your website to go offline for a bit.
This is something you should expect because when servers aren't properly maintained numerous issues may occur (e.g., overheating, breaking down), taking your website offline for even longer.
One of the main differences in the quality of web hosting companies is how well they manage those issues that'd take your website offline otherwise.
2. Data Storage
Many of the things you have on your website (e.g., videos, music, image slideshows) take up a lot of data storage (the amount of space you have available on your server for storing your site's data).
Usually, this space is measured in either gigabytes or terabytes. However, there are some web hosting plans that offer unmetered (a.k.a., unlimited) storage.
With this type of shared hosting, you won't have to worry that the server's storage space will become a limiting factor.
However, the majority of hosting plans do not provide unlimited storage.
In this case, you will need to call your hosting company to either add more storage to your current hosting plan or upgrade to a new hosting plan all together once it starts filling up.
3. Bandwidth
Another important factor is bandwidth. This is the maximum amount of data you can transmit over an internet connection in a given time period.
Sometimes bandwidth is mistaken for internet speed (the amount of information you can send over a connection in a specific amount of time).
Therefore if your hosting plan provides you with 5GB of bandwidth each month you can transfer 5GB of data to your visitors each month.
When you exceed your monthly bandwidth you can incur an additional fee. This is similar to the overage charges when you exceed your phone's monthly data plan.
Some services offer unlimited (a.k.a., unmetered) bandwidth. While this sounds great, you need to read the fine print to ensure that you remain in compliance with the web hosting companies' terms and conditions.
For instance, Host Gator offers unlimited bandwidth but if you use over 25% of the server's resources for more than 90 seconds you violate their terms and conditions.
4. An Intuitive Account Interface
The main job of your hosting provider is to publish your website and ensure it remains accessible.
However, they also provide you with an interface that allows you to do numerous web management tasks (e.g., upgrading or renewing your hosting solutions, domain name management, managing your backups, setting up redirects, adding new applications or databases to your website, managing your SSL, managing your domain email addresses) that are important.
You don't want to spend a lot of time learning how to do these basic things. Therefore the best web hosting will provide you with an intuitive interface that simplifies these processes.
5. Good Security
Unfortunately, when you're running a website hackers and data breaches are encountered occasionally. This is why you must prioritize security.
There are numerous steps you can take to ensure your site's security, one of which is choosing web hosting that prioritizes it.
You know you have a good web hosting company when they advertise that your hosting plan comes with things like a free SSL certificate, powerful firewalls, and other add-on security software.
To learn what's offered and what their reputation is in this regard you need to do some research about the company.
6. Customer Support
You'll want web hosting that offers 24/7 customer service.
Since you never know when you'll have time to work on your website, it's important to know that someone is always there to quickly resolve any issues you may encounter.
Of course, not just anyone will do so while you're researching a website's security you'll want to make sure that people are saying the customer support for the web hosting is top-notch.
It's even better if they offer numerous ways to get in touch with them (e.g., live chat, email, phone support).
7. Price
The best web hosting companies are those that you can afford to use.
While it's going to cost you to have web hosting, the cost doesn't have to be outrageous.
As you look through the various plans that web hosting companies offer it's vital to remember that web hosting isn't a one-time cost.
They use a subscription model for billing, but fortunately, many shared hosting plans start at less than $3 a month.
Regardless of what plan you choose from which host, you should make sure that this cost is something you're comfortable with paying moving forward.
At the same time, you don't want to focus on price alone. You want to also make sure that what you're being charged aligns with what the plan is worth.
Keep in mind that while some new websites will do fine with the cheapest hosting plan they can find, this may not be true for you.
Spending more money on additional features and more bandwidth may be a better option.
---
Frequently Asked Questions (FAQs)
Who Is the Largest Web Hosting Company?
GoDaddy is the largest and best-known web hosting company today. They offer reliability and various plans that fit everyone's budget, regardless of how big or small that budget may be.
What Is the Most Popular Website Host?
Host Gator is the most popular website host. It is also one of the largest web hosting companies out there. Although, the popularity of website hosting depends on what a website needs. Dream Host comes in a close second because they offer highly reliable email.
What Hosts Do Big Companies Use?
Big companies usually use their own hosting today. For instance, Google uses the same cloud hosting that they offer to the public. This is a cloud VPS host that is self-managed. On the other hand, Amazon uses its EC2 hosting which provides a highly scalable cloud for websites and online apps.
What Is the Best Host for Business?
The best host for your business will depend on a number of factors. There is no "one size fits all" web hosting for businesses. That's why it's tricky to say who's the best. However, here are some suggestions for web hosts for business and what these hosts do best:
Blue Host is the best for beginners.
Host Gator is best for technology companies.
In Motion and IPage are best for businesses that have a tight budget.
What Is the Fastest Web Host?
The fastest web host is GoDaddy, but there are a few other really fast web hosts. These include GoDaddy, Ionos (1&1), Blue Host, and OVH. Of these, GoDaddy has the largest market share which means most people who are looking for speed are using it.
What Hosts Are Best for WordPress Sites?
The hosts that are best for WordPress sites include Blue Host, Dream Host, Host Gator, InMotion, and GoDaddy.
---
Which of the Biggest Web Hosting Companies Have the Best Services? 
In conclusion, iPage unquestionably stands out as a top-tier hosting provider, offering unparalleled services that cater to both beginners and seasoned website owners.
Its user-friendly interface, robust features, reliable performance, and exceptional customer support combine to create a hosting experience that's truly second to none.
With iPage, you not only secure a reliable online presence but also gain a partner committed to your website's success. Choose iPage today for the ultimate hosting excellence.
Our #1 Recommendation: iPage