Commercial web hosting is a term used for hosting types and services that are most suited to online businesses. They usually offer additional features like WooCommerce support, support for different payment gateways, reliable uptime, security options, and so on.
There are a lot of factors to consider when it comes to choosing the right hosting service provider and hosting type for your business.
Below, you'll find out every detail when it comes to web hosting and exactly what you need to know about the top web hosting services for your business website.
What Is Commercial Web Hosting?
Web hosting is what you need to post your website to the internet so that it is viewable and accessible to users. The type of hosting and service you choose dictates the resources allocated to your website.
Commercial web hosting is when a web hosting service offers additional features to support your online business.
Considerations When It Comes To Choosing A Web Hosting Service For Your Business Website
Choosing a web host for your business website is an important step. Making the wrong decision could cost you money, time, and ongoing business issues.
Here are some important considerations when it comes to choosing the best web hosting solution for you.
What Type Of Website Are You Building?
One of the first and most important things to consider before choosing your web hosting service is what you need your website to do.
If you're planning to create a website for your online business, you'll need to consider how many visitors you'd like to have per day.
If your business is very large or is solely online, your end goal is to have a lot of traffic and your website needs to support this.
You'll need more storage, good uptime, frequent backups, and technical support, just to name a few.
You'll need to look at web hosting services and plans that give you the resources you need to scale as your traffic grows and support your traffic without slowing down.
What Is The Bandwidth Needed To Run Your Site?
This brings us to the next point. You'll need to consider bandwidth if you're expecting to have large amounts of traffic.
Bandwidth is the amount of data your website allows your users during a given time. It's important because it determines how fast your site will perform – which is extremely important if your website is competitive and you don't want to lose traffic.
This is something that hosting companies provide and something to consider when you're choosing the right web host for your commercial website.
Many web hosting providers offer unlimited bandwidth on their hosting plans. SiteGround and Hostgator offer this for all of their packages, for example.
Can You Create Email Addresses For Your Domain?
Many web hosting packages allow you to create a free domain. You may also be interested in choosing a web hosting service that will enable you to create email addresses for your domain.
This is especially important if building a brand for your business is something you're serious about.
Some web hosting companies offer one email, some offer a limited amount, and others offer unlimited email addresses. Bluehost offers free domain registration and unlimited emails, for example.
What Type Of Hosting Options Are Available?
Some host providers offer many types of hosting services. For example, SiteGround offers web hosting, WordPress hosting, WooCommerce hosting, reseller hosting, and cloud hosting.
If you want to build an eCommerce website, then the web hosting provider you choose will need to support this. You'll also want to research which is rated the best for eCommerce.
Most online store business owners choose to use a WordPress plugin called WooCommerce. And most hosting services offer this.
InMotion, for example, is one of the hosting providers that is highly rated for eCommerce solutions.
They offer the WooCommerce option and other options for website owners who want a custom website built by a web developer.
Do They Provide SSL Certificates?
Your web hosting company will need to provide SSL certificates if you intend to collect any information from your users. This is especially the case for eCommerce stores or websites that collect sensitive information such as credit card details.
SSL certificates are important to authenticate your website. It is also one of the PCI/DSS requirements.
Finally, SSL certification improves your SEO ranking on Google since Google now flags websites without it.
The Business Features You Need
Whether your business website is big or small, there are 5 key things to check to ensure that a web host provider is the right one for you.
Guaranteed Uptime
When you run a business, loss of time means loss of profit. You'll want to stick with 99.99% uptime for highly competitive websites.
Data security
Because of the nature of your website, data security is extremely important.
You'll want to make sure that the web host of your choice offers Secure Socket Shell (SSH) access.
SSH offers features like robust authentication systems, authentication of public keys and encrypted data communication.
Backups
Losing all your data and rebuilding your website can be disastrous for your business. You'll want to check that your web hosting service offers backups.
It's also essential to check whether they provide off-site or remote backup options and how frequently these are done. For example, DreamHost offers free backups, but these are onsite.
Good Customer Support
As a business owner, there's nothing more frustrating than having a problem with your website that you can't solve. This is especially true if you build your website without a web developer's help and rely on support.
A good tip is to check reviews for the hosting services you're considering to get a feel for how good their support is.
E-commerce Specialization
Webhosts specializing in E-commerce are essential for small and larger online businesses. Your website will require additional features and optimal performance in areas like website or webpage loading time.
You'll also need your website to be PCI compliant and secure. You'll need to make sure your web hosting service provider offers these.
Types Of Web Hosting
Web hosting plans differ in price and the features they offer.
In this section, you'll find out the different types of web hosting options available to you.
Shared hosting involves many websites sharing a set amount of resources, with each getting a certain amount allocated to their website. Due to this, shared hosting is often the cheapest option for small business websites.
The downside is that it tends to be slower, and your website won't have as many resources as it would with dedicated hosting.
This option is affordable and sufficient for many small business owners.
Dedicated Hosting
This hosting option dedicates a single server to a website. Maening, you won't need to share resources with other websites resulting in better performance and better security.
However, it's more expensive than shared hosting, but definitely worth the extra costs if you are a larger online business.
Dreamhost, for example, offers dedicated hosting plans starting at $149.00/mo.
VPS
Virtual private servers (VPS) are a good option for small businesses.
This option also dedicates all your server resources to your business but is cheaper than a dedicated hosting service.
It also provides good security and backup solutions, which is why it's great for online businesses. Hosting providers also offer different packages. Bluehost's VPS hosting plans start from $18.99/mo.
Cloud Hosting
This is a type of web hosting that is growing in popularity. With cloud hosting, your website is hosted on multiple synced servers. These servers are around the globe, so users are connected to servers closest to their location.
This means excellent uptime, scalability, and backup options for your business's website. Cloud hosting is also quite affordable. For example, Hostinger's starter cloud hosting plan is $9.99/mo and has more than enough resources for a small business.
How Much Does Business Hosting Cost?
The answer depends on what features your business website needs and the size. Many web hosting services also provide business hosting plans.
But if you're running a small business, you may not necessarily need to go with that option.
For small business web hosting, you'll still need key features like the ability to create email addresses, data encryption and security, backups, decent web page loading times, SSL certificates, and more..
It also depends on the type of web hosting you're going for.
Dreamhost offers a shared unlimited hosting plan that starts at $3.95/mo with basic features like free SSL, unlimited emails for your domain, unlimited traffic, and so on.
But their VPS hosting plans start at $10.00/mo and are more necessary for business websites that deal with a lot of traffic and need to be very fast and highly secure.
Hostgator's shared hosting business plan starts at $5.25/mo and offers free SSL certificate, unmetered bandwidth, Cloudflare CDN with up to 2.5x faster page load times and more.
Their cloud hosting plans are more expensive, with their business plan starting at $9.95/mo, offering features like unlimited domains, 6 GB memory, 6 core CPU, free SSL certificate, and more.
So when it comes to a web hosting service, shared hosting can cost anything from $1.99 (Hostinger) to over $15 per month, depending on your website's needs. Bluehost's online store hosting plan is $15.95/mo.
What Is Free Web Hosting?
Some companies provide free web hosting services. This is generally for blogs or small sites but is not suitable for businesses.
Even small ones. That's because they don't offer domain names, support, and many other features that your online business will require. An example of a free web hosting plan is 000webhost which Hostinger powers.
The Best Commercial Web Hosting Plans
We've shared information about the features and hosting plans some of these provide throughout this article. In this next section, we'll go into detail about the hosting options and features of each to help you choose the one that's most suited for your business.
Bluehost
Types of hosting offered: Shared hosting, Dedicated, VPS, online store hosting
Standard key features:
Free Domain – 1 year
Free CDN Included
Free SSL for the 1st year
WordPress staging,
SSD hardware
MySQL databases and PostgreSQL databases
Online store key features standard plan:
Save 48%$12.95/mo*
Normally $24.95
Select
Auto-renews regularly
Top Features
Online Store (Website + Blog)
Email Marketing
Unlimited Products
WooCommerce Installed
Jetpack Free Installed
Customer Product Reviews
Website Traffic Analytics
24/7 Customer Support
Payment Processing (One-Click Install)
Manual Order Creation
Discount Codes
Advantages
Good support for eCommerce and web hosting
Customized cPanel interface
Good for beginners and offers WordPress support
Advanced caching
Disadvantages
Cannot use HTTPS and SiteLock CDN simultaneously
Less control over automatic data backups
Hostgator
Types of hosting offered: Shared hosting, dedicated, VPS
Standard key features:
One-click WordPress installs
Free WordPress/cPanel website transfer
Unmetered bandwidth
Free SSL certificate
Free domain included 
Business plan features:
Save 48%$12.95/mo*
Normally $24.95
Select
Auto-renews regularly
Top Features
Online Store (Website + Blog)
Email Marketing
Unlimited Products
WooCommerce Installed
Jetpack Free Installed
Customer Product Reviews
Website Traffic Analytics
24/7 Customer Support
Payment Processing (One-Click Install)
Manual Order Creation
Discount Codes
Advantages
Unlimited disk space
Unlimited bandwidth
Cpanel interface
9% uptime guarantee
45-day money-back guarantee
Disadvantages
Slow customer support
Restoring backups is at an additional cost
Hostinger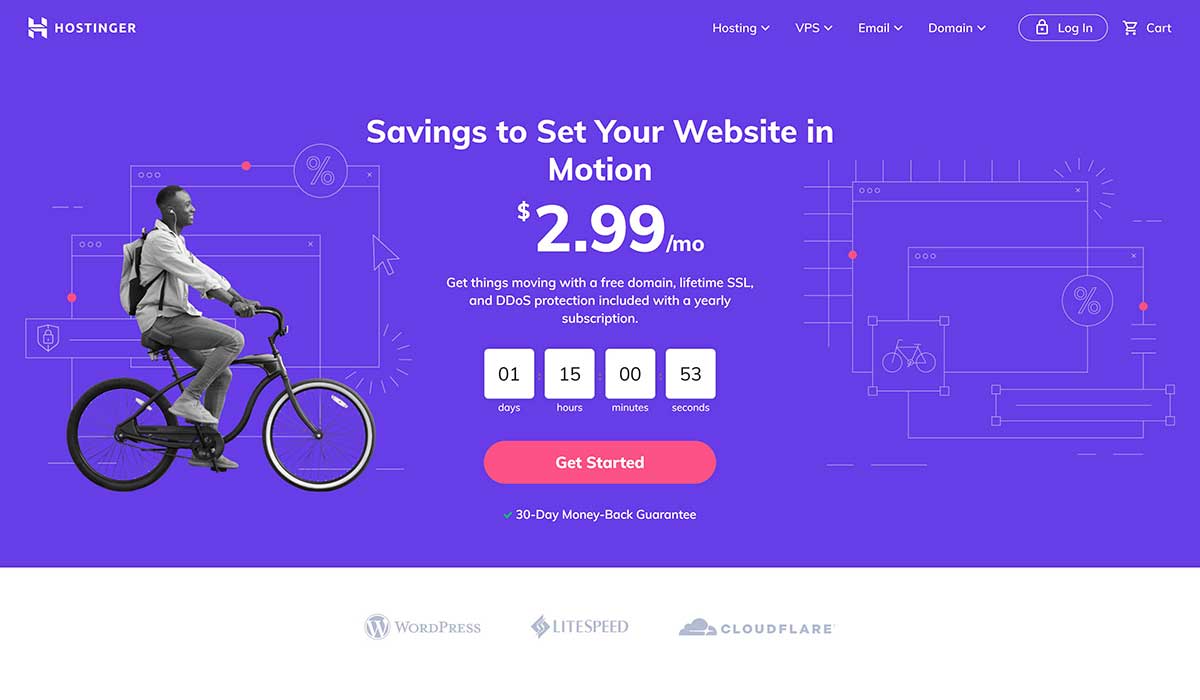 Types of hosting offered: shared hosting, cloud, and VPS
Key features on their basic shared hosting plan:
50 GB SSD Storage
10 000 Visits Monthly
1 Email Account
100 GB Bandwidth
2 Databases
Security
Free SSL
Cloudflare Protected
Managed WordPress
Weekly backups
Key features on their business shared hosting plan:
100 Websites
200 GB SSD Storage
100 000 Visits Monthly
Free Email
Unlimited Bandwidth
Unlimited Databases
Security
Free SSL
Cloudflare Protected
Cloudflare CDN
Daily Backups
Free Domain
WordPress Options
Managed WordPress
WordPress Acceleration
WordPress Staging Tool
Ecommerce hosting
Advantages
30 Days Money Back Guarantee
24/7/365 Support
Affordable options
Good security on the business plan
WordPress Support
Offers eCommerce hosting features
Disadvantages
Free domain only available from premium shared and business shared hosting plans
Uptimes tested do not correspond to the 99.9% guarantee
InMotion Hosting
Types of hosting offered: Shared hosting, dedicated, VPS
Key features on basic shared hosting plan:
Free SSL
2 Websites
100GB SSD Storage
Unlimited Bandwidth
2x Speed and Performance
10 Email Addresses
Security Suite
Free SSL
Hack & Malware Protection
DDoS Protection
Automatic Backups Available
Additional eCommerce hosting features:
Supports multiple eCommerce apps including PrestaShop, Magento, OpenCart, WooCommerce & more
Solid-State Drives (SSD)
100% Money Back Satisfaction Guarantee
Continuous Updates
Offer 3 plans for business eCommerce sites Launch, Power, and Pro
Advantages
Provides eCommerce features
9% uptime
24/7/365 Support
Offers multiple payment methods
Disadvantages
They don't offer free backups
Data Centers are located in America only
DreamHost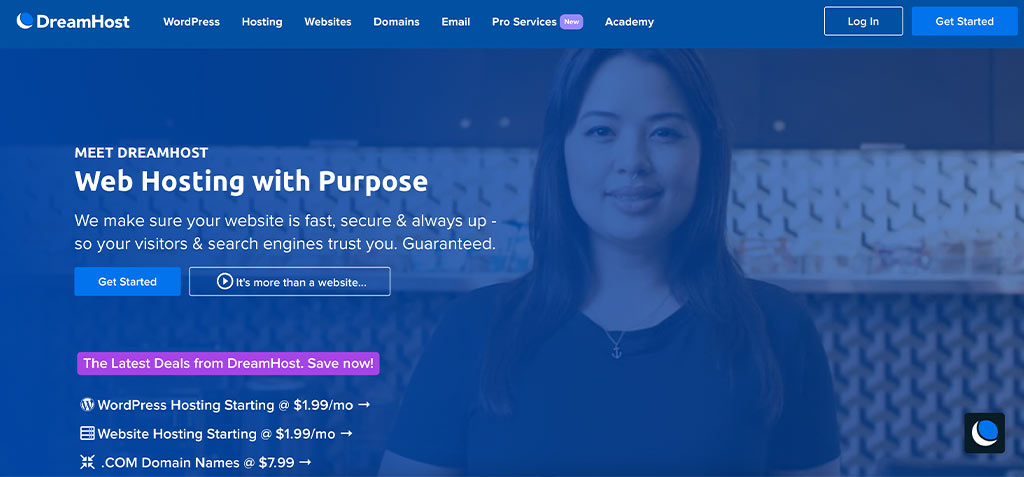 Types of hosting offered: Shared hosting, managed, dedicated, VPS, cloud
Key features on the shared unlimited:
1 Website
Free Domain included
Unlimited Traffic
Unmetered Bandwidth
Fast SSD Storage
WordPress Pre-installed
Free SSL Certificate
24/7 Support
WP Website Builder
Free Automated WordPress Migrations
Dreamhost's WooCommerce starter plan:
Built for ~100k Monthly Visitors
Unlimited Email
30GB SSD Storage
Unmetered Bandwidth
WooCommerce Pre-Installed
Storefront Theme Pre-Installed
1-Click Staging
SSL Certificate Pre-Installed
On-Demand + Daily Backups
24/7 WordPress Support
Jetpack Free Pre-Installed
Free Automated WordPress Migrations
WP Website Builder
Advantages
Custom control panel
If you sign up for one of DreamHost's WooCommerce hosting plans, you'll have Storefront pre-installed.
Three WooCommerce hosting plans to choose from
Guaranteed uptime
Disadvantages
WooCommerce hosting plans are expensive with the cheapest starting at $16.95/mo
Free email is not included in the standard shared hosting plan
Limited to WordPress
Conclusion
There are many options to choose from when it comes to deciding which web hosting plan for small business should you choose. To summarize, your decision should be based on your website's needs and also your experience level.
Consider the features each one offers and choose the web host that provides the ones you need. If you're not experienced in building websites, you'll want to go with web hosts that offer built-in features.