There's been so much written about affiliate marketing it's easy for genuinely useful information to get lost in the noise.
Everyone has an opinion.
But these aren't always the same people making money.
As someone who got my start in this business with affiliate marketing and continues to build and run successful affiliate sites today, I understand the value of actionable advice and proven strategies.
So, I thought it might be a good idea to give you a TLDR version of what it takes to be successful with an affiliate marketing business.
But just before we get into the juicy, actionable advice in this post, let's make sure we're helping you build future success on a solid foundation of core knowledge.
Let's get started with our top 10 affiliate marketing tips.

Quick Summary
Succeeding in affiliate marketing in 2023 requires a strategic approach, including choosing the right niche, creating high-quality content, and leveraging SEO techniques.
Building trust with your audience, using data to drive decisions, and staying updated with industry trends are crucial for long-term success in affiliate marketing.
Utilizing tools for automation, diversifying income streams, and continuously learning and adapting are key strategies for thriving in the evolving landscape of affiliate marketing.
1. What Is Affiliate Marketing?
Affiliate marketing is an online business model where you promote a company's products via affiliate link or banner ads on your website. If one of your visitors clicks on an affiliate link/banner, and then makes a purchase, you will receive a commission for that sale.
To promote physical or digital products for a business you have to first apply to their affiliate program.
The commission rate offered by any affiliate program is typically around 10% per sale. Some of the programs even pay over 40% to their affiliate partners.
Anyone with a computer, an Internet connection, and the willingness to learn new skills, can follow the affiliate marketing business model.
2. The Affiliate Marketing Mindset
The right mindset is an important part of your journey to affiliate marketing success.
For example, if you're convinced that it's all a scam and that your affiliate marketing website or blog will probably fail within the first six months, then I can guarantee you have failure ahead of you no matter how much your marketing budget is.
So, instead of focusing on what might go wrong, why not focus on what can go right?
A simple way of doing that is to establish milestones for your affiliate marketing journey.
Start small – like earning your first money online. Even your first dollar.
Then celebrate your achievement and create a new milestone of earning $50.
Then create a $100 milestone and then $500.
Doing this "trains" your brain to enjoy working hard towards a rewarding goal.
After that earning $1,500 or $5,000 per month with affiliate marketing no longer seems impossible because you now understand that it's all just a matter of scale.
But please don't start out with the goal or expectation of earning $10k per month within your first 3 months.
That's not going to work out for you.
3. Niche Evaluation
Evergreen vs. Trending
As an affiliate marketer, you will want an affiliate site that you continue to grow and generate revenue from for several years.
So it makes sense to build it around a subject with long-term affiliate income potential, and that isn't just a cultural fad.
Remember when fidget spinners were a big deal?
Imagine having built an affiliate marketing site about those gadgets…only to watch everyone in the world simultaneously stop buying them.
How can you tell if something will stop being popular?
Ask yourself one question, "Does it solve a problem or fulfill a need"?
Food, hydration, sex, learning new things, losing weight, getting a date, buying a guitar, caring for a dog – these are all problems solved and/or needs to be fulfilled.
A fidget spinner does neither.
You should also check your niche idea in Google Trends:
You can see the massive spike in interest around fidget spinners between April and May 2017…and then a rapid decline afterward.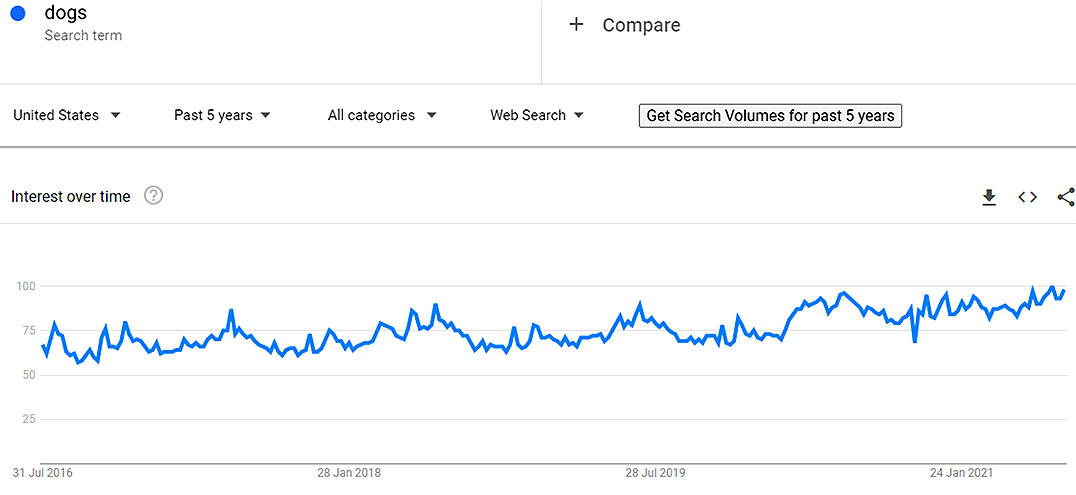 Dogs, on the other hand, is a "niche" that's becoming more popular with each passing year.
Long story short, evergreen niches are almost always a better option for an affiliate marketing site.
Evaluating Niche Profit Potential
You now need to test if your idea has the potential to earn you cash.
This will require a little more detective work on your part but it's more than worth it.
There are a few ways to gauge how profitable a given affiliate marketing niche might be.
Affiliate Marketing Networks
Let's say you're just about to start a beauty blog and want to know if there's money to be made.
Login to your affiliate network of choice – we're using Commission Junction here, and choose the top-level category for your niche:
Then click on 'Search' and from the dropdown menu in the left-hand corner choose, 'Network Earnings – High to Low' and you'll see something like this:
EPC stands for 'Earnings Per Hundred Clicks' and is an approximation of roughly how much you can expect to earn from a given affiliate marketing program.
So, let's assume that your site will get 30,000 organic visitors per month, and that you can refer 10% of your traffic to an offer with an EPC of $27.
That's 3,000 visitors divided by 100 and then multiplied by 27 to estimate your earnings.
3,000 / 100 = 30 * $27 = $810
Please bear in mind this is quick and dirty maths, but it does give you an idea of whether or not you can earn decent income in the beauty niche.
Note: If you're serious about being an affiliate marketer you'll need to sign up for at least a handful of these networks.
Website Marketplaces
One of my favourite ways to find profitable niches is to find website owner selling sites in that niche.
Flippa is a great place to do this without having to spend any money.
Sign up, log in, and then click on Browse ->  Websites -> Content -> Blog:
This will give:
You'll be presented with a list of content-driven websites for sale
But we want to filter the results a bit more.
So, scroll down to the 'Status' menu and click on 'Recently Sold':
Scroll back up to the 'Keyword' section and enter your niche, which in this example is 'Beauty'.
And finally, filter the results by 'Highest Price':
You now have a list of profitable sites in the beauty niche to review, how they were monetized, and even URLs to check out in Ahrefs to reverse engineer their keywords:
You can use these sites for inspiration for your own niche site, or even just create a better version of one that just sold.
Either way, you know you're working towards profit and without any guesswork.
Identify Competitors in Your Niche
Why bother looking for competitors in your potential niche?
Because if there are no competing websites ranking on the first few pages of the SERPs it's because:
Hundreds of others already tried and failed
Affiliates never bothered because there's no money to be made
Nobody has discovered this niche – you've struck gold!
The latter is typically what newbie marketers think when they can't find competing sites.
Then they rush off to build an affiliate marketing website, but around month nine realize that the niche is a waste of time and not the affiliate marketing success story they hoped it would be.
If you can't find any competing sites then you should probably give that niche a pass.
Note: There's a quick hack for doing this a little further on. So stay tuned.
Passion vs. Profit Niches
Your initial instinct as an affiliate marketer will be to follow your passion, choosing a niche that you personally love.
But that love won't always translate to making money.
Especially if your passion is something really obscure like knitting sweaters for ants.
My original suggestion was "sweaters for rats" but it turns out that's an actual niche with search volume and physical products.
The point here is that going super-niche means you have a much smaller – possibly non-existent – audience/search volume to work with for your affiliate business.
Which is why passion niches are great fun to work in, but don't always make you a lot of affiliate sales.
The flipside of that coin is that you also don't want to be in a profitable niche that you hate.
So the best advice I can give here is to find a niche that you find interesting but also has enough monthly searches to make it worth the effort.
4. Niche Down
I love the enthusiasm of new affiliate marketers who want to rush out there, crush it and become the next Wirecutter.
Until they realize just how much work is involved.
Authority websites can and do generate a lot of revenue, but only after you've invested a lot of time and money on search engine optimization.
My preference is for building smaller and more agile niche sites. You can spread your financial risk, time invested, and become an "authority" in your niche with a lot less effort.
So I would never spend money building a site around the broad subject of "cats".
But I would consider building a site around "cat toys".
What most new affiliates never consider is that – if your domain name is broad enough – you can expand a "cat toy" site to include "cat furniture", "cat food", etc.
Your niche site is only the first stage of your business.
5. Find Great Affiliate Programs
Most successful affiliate marketers go where the money is by only working in profitable niches that have lucrative affiliate programs.
Because they know it takes roughly the same amount of effort to generate $10 in income as it does $100.
Where do you find such programs?
Affiliate Network
Start by browsing through the different categories on some of the affiliate networks like CJ and ShareASale.
Just remember that you have to take network metrics like EPC (Earnings per Click) with a pinch of salt i.e. they can be inflated.
But they're still a good indicator of how much cash affiliate partners are earning for promoting a given affiliate program.
Sites in Your Niche
Run this Google search query to find sites in your niche: "your keyword" + "affiliate disclosure"
Then scan the site for product reviews by running the 'Site' command:
Look for recommended affiliate products or services, then click on the links provided in the review and you'll be taken to the merchant site.
You can then add them to your list of potential affiliate programs worth promoting.
Reverse Engineer Influencers
Social influencers are an untapped source for profitable affiliate programs because they only promote products that are making them money.
The first thing you need is a list of social influencers to research:
The first result is usually a roundup post on the influencers, including links to their profiles on Instagram and other platforms:
Open up each influencer profile in a separate browser tab and then check out their bio for Linktr.ee or LinkInBio (Later.com) links:
Next, look for products or services in their Linktr.ee, or similar:
The first thing we find is a discount code for a pet health supplement company called Fera Pet Organics.
A little further down we find a link to PawCBD, a pet CBD company:
So we know they have an affiliate relationship with both companies.
And there are thousands of influencers, in hundreds of niches, you can reverse engineer using this tip. You also have several other options available as Linktree alternatives.
6. Choosing a Web Host
The topic of web hosting for beginners has been covered in detail elsewhere on the site so we'll keep this section short.
Don't use cheap web hosting, especially in light of what's going on with Core Web Vitals.
Do invest in the best web hosting you can reasonably afford, with the operative word being "reasonable".
For example, those new to affiliate marketing typically don't need premium managed WordPress hosting that costs $50+ per month.
But conversely, setting your site up on a $1 per month host, located in a country you can't pronounce, is an equally bad idea for your affiliate marketing business.
I've done a ton of testing over the years and the one host that I'm always happy to recommend is WPX hosting.
They're affiliate-friendly, have fast page load times, and have great customer support.
7. One Niche at a Time
Once you master the basics of niche and keyword research you'll find ideas everywhere you look.
The problem then isn't finding a niche but stopping yourself from jumping to a new one every few months.
That's why the Internet is littered with half-finished affiliate blogs.
It's also why some new affiliate marketers start 5 websites at once, not understanding how much work is involved in managing a single site.
Or that the mistakes you make on one site are replicated across every other site you own.
Everyone makes at least a few tiny mistakes with their first niche site.
Don't 5x that for no reason.
You can build as many niche sites as you want once you've gained more experience and have the right affiliate marketing strategy and processes in place to allow you to build sites and drive traffic at scale.
8. Provide Semantic and Visitor Value
The average person uses Google to find answers to questions.
Those questions could have informational, navigational, transactional or commercial intent.
Your job as a content publisher is to provide searchers with the answers they need i.e. you provide value
But how do you figure out how to add this "value" and gain trust?
You need to look at this from two very different angles:
By site/silo
By page
Site/Silo Level
The typical approach to affiliate marketing is to populate a site in a sub-niche with tons of content based around "best x for y" keywords.
This could be for the entire site or just a given category or silo.
But the end goal for "product review" sites is always the same – get the visitor to buy something through your affiliate link or get them to leave.
Does that provide a visitor with complete information on a topic?
Hell no.
In fact, it gives your target audience the perfect reason to click 'Back' and look for the answer elsewhere.
You can get around this issue by increasing your site's topical authority by publishing lots of supporting content besides the typical comparison pages.
Supporting content is usually about answering questions in your niche, so focus on "how to", "why does", "is there", "can I" "should I", "x vs. y" type keywords.
Providing topical authority is a win for everyone because:
It's a positive ranking signal for Google so you get free traffic
Your target audience gets the information they need and become repeat visitors
This type of high-quality content can attract natural backlinks
Google doesn't want its SERPs crammed with cookie-cutter sites all recommending the same products, using the same review style, etc.
That's a pretty crap user experience, to be fair.
Which is why Google released its "product review" algorithm update in early 2021.
Many successful affiliate marketers running product review-only sites lost 50%+ of their traffic overnight. Other affiliates apparently took an even bigger hit.
Rewarding sites that display topical authority is quite possibly the next step towards Google becoming a purely semantic search engine.
How do you create topical authority for a site or individual silo?
An elevator pitch for this would be:
Find informational/supporting keywords in Ahrefs
Create content around them using SurferSEO to optimize each page
Interlink them using varied anchor text
Publish them in groups of 4 or more
Here's an example that you can find in Ahrefs for supporting content in pretty much any niche:
I delve into topical authority in detail in this video  – it shows how we increased traffic to a client's site by over 3000%.
Yup, for real.
Page-level
Now let's take a look at how you can provide more value for your audience by optimizing an individual page.
The first step is to be 100% certain that your page matches the search intent behind the keyword.
You can trick people into clicking on your page in the SERPs but they'll bounce the split second they realize you don't have the information or answer they need.
Creating content that actually serves the query takes far less effort. Plus, it means more eyes on your content and high conversion rates, which leads to more money in your pocket.
The next step is to provide a positive user experience with every page:
Loads quickly
Uses HTTPS
Uses responsive design
Is not crammed full of ads
Is made up of short paragraphs
Uses images to break up large blocks of text
Provides useful external resources where appropriate
Or let me put this another way – create the type of content you'd want to bookmark.
Now, even the most helpful, informative, and engaging content in the world cannot provide value for anyone unless it ranks in the SERPs.
That's why you should optimize every commercial or informational page on your site with Surfer SEO.
Once your visitor is done getting the information they need, you can then sell them stuff.
Serve first.
Ask for money later.
9. Drive Website Traffic
For an affiliate business to make money your site needs traffic i.e. website visitors.
The two most cost-effective ways to generate traffic for your site are:
From search engines
From social media platforms
Yes, you can use paid traffic, but that goes beyond the scope of this article.
Organic Traffic
Generating more visitors from search engines means improving where your site ranks for its keywords.
And the best way to improve your visibility and ranking in Google is to first take care of your on-page optimization, and then build backlinks.
Backlinks can occur naturally if you're providing enough value in your content (see above). But most affiliate marketers have to go and either ask for links or flat out buy them.
And there's nothing wrong with buying links – they just need to be the right type of links.
A single link from a site with real traffic coming to it is worth far more than 1,000 crappy links from web 2.0s, directories, etc.
There are several link building methodologies you can use:
Email outreach
Broken link building
Unlinked mentions
Image link building
Infographics
Reciprocal links
Guest posts
What you should focus on is choosing one backlink strategy and then mastering it.
Doing that will give you a tactical advantage over 90% of other affiliate marketers trying to generate website traffic.
This is a pretty big topic though, so don't forget to check out my link-building guide for more information.
Social Traffic
You should create social profiles as part of your site setup process.
The main reason for doing this is to stop brand/site imitators and hijackers from causing you business headaches later on.
But each social profile will typically allow you to link to your niche site, so these kinda count as backlinks.
They're not going to help you rank but they're a signal to Google that your site might be a legitimate business.
But outside of branding, social media also presents you with the opportunity to generate social traffic to your site with content marketing.
This can be as simple as sharing an excerpt from your latest blog post on your social media accounts.
If you're providing enough value then there's a good chance your social followers will visit your blog and read the entire post.
You can also start promoting products on your social channels and generate revenue using different influencer marketing tactics.
Keep in mind that posting affiliate links directly on social media platforms might get your accounts restricted.
10. Educate Yourself
And a final thought before we wrap up – don't try to reinvent the wheel when it comes to being a successful affiliate marketer.
Affiliate marketing requires a lot of testing and research.
Tens of thousands of affiliates have come before you, and we made a whole lot of mistakes along the way.
Successful people learn from the mistakes of others instead of repeating them.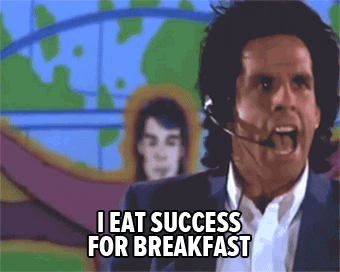 So, the easiest way to do that is by investing in a course that actually teaches you how to research and then build your first niche site.
Could you figure all of this out on your own by reading blog posts and devouring YouTube videos?
Sure.
And you'll watch  2 – 3 years of your life flash by as you do.
That isn't an efficient way to bootstrap your successful affiliate business.
FAQs
How Can a Beginner Be Successful in Affiliate Marketing?
A beginner can be successful in affiliate marketing by adopting the right mindset, focusing on one niche at a time, and providing value to their audience. It's essential to choose a profitable niche that aligns with their interests and has enough monthly searches to make it worth the effort. They should also invest in good web hosting and educate themselves through courses or resources that teach how to research and build a niche site.
Is It Hard to Be Successful in Affiliate Marketing?
Being successful in affiliate marketing is not necessarily hard, but it does require effort, patience, and strategic planning.
It involves doing many small things correctly and in the right order, such as choosing a profitable niche, creating valuable content, driving website traffic, and continuously educating oneself. It's not a get-rich-quick scheme, and it may take time to see significant results.
How Can I Improve My Affiliate Marketing?
You can improve your affiliate marketing by providing semantic and visitor value, driving website traffic, and continuously educating yourself. You should also ensure your content matches the search intent behind the keyword and provide a positive user experience. Using SEO and social media can help drive more traffic to the site. Additionally, learning from others' mistakes and investing in educational resources can lead to significant improvements.
Wrapping It Up
As you can see, being an affiliate marketing success story isn't exactly rocket science.
It's about doing lots of small things right and in the right order.
And the net result can be enough better-than-decent money – job replacement passive income if you really want it.
That's how much impact the affiliate marketing model can have on your life.
You can check more affiliate marketing tips in our article for additional insights.