Over the years, Ionos (previously 1&1) has earned a decent reputation for its affordable and reliable hosting services.
With shared hosting plans starting as low as $0.50/month and VPS plans as low as $2/month, Ionos is, without a doubt, the cheapest hosting provider we've tested out for shared hosting in recent years.
But cheap services aren't always worth it, especially not in the hosting arena, which is rife with low-quality, unreliable services that offer bare all in support.
That's why we put Ionos under the microscope to deliver you this unbiased, data-driven Ionos review so you can decide if it is the best hosting company for your website.
Ionos Overview
Ionos has been around since 1988 and can be considered one of the old kids on the block.
Over the years, it secured a reputation for being a cheap web host with some of the most affordable web hosting services around, hands down. It currently manages domain and hosting services for over 8 million people worldwide.
---
Our Verdict:
Speed
Average of 811.52 ms response time

Not the best speed performance in our tests, so you'll need to optimize your site exceptionally well.

Uptime
Decent

99.98% average in 2022

Support
Decent

4.5 / 5 from 45,447+ reviews on Trustpilot

Live Chat, Phone Support, Email Ticketing & Knowledge Base available.

Features

Great unlimited web hosting plans
Great 24/7 customer support
Memory optimized VPS web hosting
CPU optimized VPS web hosting
Excellent uptime in our tests
Free domain name with cheap hosting
Free SSL certificate available
Free professional email
Daily backup and recovery

Hosting Plans Available
Shared Web Hosting, Managed WordPress, Windows & ASP.net, VPS, Dedicated & Reseller
Best Suited To
Small businesses, DIY website creators, beginners & startups due to its ease of use and affordability.
Pricing
Starts at $0.50/month for shared hosting and only $2/month for VPS hosting. Renewals start at $5/mo
Pros
Reputation built over decades
Affordable & great value for money
Great unlimited plans
Decent uptime & reliability
Acceptable loading speed
Intuitive & beginner friendly
Cons
Limited customer support
Can't sign up from everywhere
No free website transfers
---
1. Reputation Built Over Decades
Ionos has been around for over 30 years and is older than most of the hosting providers in the current market. That's a long time to build a reputation!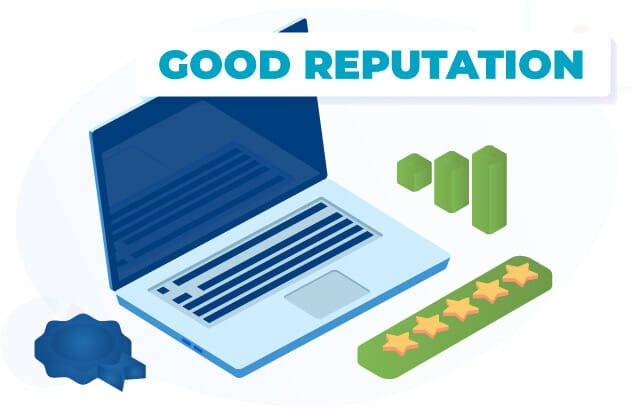 Having some skin in the game for as long as it has allows Ionos to stay ahead of the curve in delivering value for money; that's how it has remained one of the cheapest hosting companies while still offering feature-rish packages.
---
2. Affordable & Great Value For Money
As mentioned earlier, Ionos is hands down one of the most affordable hosting providers on the market, and it has been for many years.
Its web host services also deliver great value for reasonable prices. We'll cover all the details on pricing and inclusions in the next section.
---
3. Great Unlimited Plans
Many web hosting providers advertise unlimited hosting even though it's not always truly unlimited. For instance, there's a difference between an unlimited hosting service and one that's unmetered.
Unlimited: No limits placed on resource usage and no additional fees charged regardless of how much you use.
Unmetered: A hosting provider will not track how many resources you use, but a fair use policy may be in place that limits your access.
Ionos offers two unlimited shared hosting plans with no limits on the number of websites you can host, how many visitors you get each month, or the storage you use.
And considering both plans are less than $16 per month at their most expensive, that's still a pretty good deal!
---
4. Decent Uptime & Reliability
Uptime relates to how reliable your hosting servers are, and it is one of the most essential hosting metrics we test and measure.
Ionos claims a 99.90% uptime which aligns with the industry benchmark. No hosting provider can claim 100% due to the risk of unforeseen natural disasters.
However, in our tests, Ionos has had a much higher uptime average over recent years, with 2022 averaging 99.98%.
---
5. Acceptable Loading Speed
Like uptime, your site's speed is another crucial metric we track and measure for all hosting companies we review. A fast load speed is now more critical than ever for your website to deliver a great user experience. It is also a factor that affects SEO performance.
Your hosting provider can affect your site's loading speed. If your site is on a slow server, there's not much you can do to improve your speed score just by optimizing your website more.
When it comes to Ionos, we'll be honest in saying the speed performance wasn't the best we've seen. However, it is within the realm of acceptable, with an average of 811.52 ms loading time.
---
6. Intuitive & Beginner-Friendly
Ionos is quite suitable for beginners for simple websites or small business sites. It doesn't use a classic cPanel (a web hosting control panel) type of dashboard. Instead, Ionos' team has developed a custom dashboard that some consider simpler and easier to navigate than cPanel.
In the dashboard, you can handle all of the basic and common tasks you could complete with cPanel usually, such as:
Domain registration & management
Setting up SSL certificates
Creating email addresses
Checking your site's statistics
Ionos has made quite an effort to make its dashboard user-friendly and making the interface intuitive.
---
7. Limited Customer Support
Customer support is something we consider to be crucial when deciding if a hosting provider is worth recommending. If the support's not there, that's a deal-breaker for us.
Ionos has much better support than many of its competitors. However, it's been slow to integrate live chat support for customers and pre-sales support, and it can also be slow to respond at times.
We also found that some support was limited, with the agent offering very minimal responses that sometimes lacked enough context to answer the questions asked.
There are other companies we've tested with far better support in both availability and the quality of service delivered. If this is a deal-breaker for you, we suggest you check out our post on the best hosting providers for alternative options with better support.
---
8. You Can't Sign Up From Everywhere
Another limitation that might be a deal-breaker for you is that Ionos only allows you to sign up from limited countries. If you're in a country outside of its approved list, you may not be able to access its services.
Restricted countries include (but are not limited to) China, Iran, Egypt, Morocco, and some Eastern European countries.
---
9. No free website transfers
If you're thinking of moving your existing site to Ionos, there is no free website migration service to help you out with this process. You can certainly do it for free yourself if you know what you're doing.
However, if you need assistance from Ionos, there is limited information in the knowledge base to support beginners and non-technical users with the process.
You may be required to pay Ionos' support to complete the process.
---
Hosting Plans
If you've decided Ionos is worth consideration, here are the details on all of its hosting plans.
Shared hosting is the most popular hosting option due to its ability to remain affordable, even in the long term. The same is true of Ionos' services, with its shared hosting costs starting as low as $0.50/month for up to one year.
| | | | |
| --- | --- | --- | --- |
| Hosting Plan | Promotional Pricing | Renewal Pricing | Features |
| Essential | $4/month | $6/month | 1 website, 10GB storage, 10 databases. |
| Business | $0.50/month | $10/month | Unlimited websites, storage and databases. |
| Expert | $8/month | $16/month | Unlimited websites, storage and databases. Plus malware protection, CDN and site analytics. |
All of Ionos' shared hosting plans also feature:
Free domain name for one year
Free SSL certificate
Free professional email address
Daily backups and recovery
Free 24/7 support
In addition to the number of resources available, each plan also increases the quality of the processors and memory used on the server.
| | | | |
| --- | --- | --- | --- |
| Hosting Plan | Performance Level | Website Visitors | Memory |
| Essential | 1 of 5 | Up to 100 visitors/minute | 384 MB PHP memory, up to 512 MB RAM |
| Business | 2 of 5 | Up to 200 visitors/minute | 768 MB PHP memory, up to 6 GB RAM |
| Expert | 5 of 5 | Up to 500 visitors/minute | 896 MB PHP memory, up to 19 GB RAM |
2. WordPress Hosting
WordPress is the world's most popular content management system (CMS) for building blogs and websites.
Ionos offers three options for you to get up and running with WordPress:
Self-Managed: Install WordPress on your Ionos Linux server and maintain updates and backups yourself.
Managed WordPress: Ionos' team manages your WordPress installation and server updates so you don't have to worry.
Managed WooCommerce: If you run an eCommerce store on WordPress, you can have Ionos' team support with the management of your servers and security.
| | | | |
| --- | --- | --- | --- |
| Hosting Plan | Promotional Pricing | Renewal Pricing | Features |
| WP Hosting | From $1/month | From $4/month | From 1 website, up to 10,000 visitors/mo, 25GB storage & 9GB RAM. |
| Managed WP Pro | N/A | From $18/month | From 1 website, 2 GB RAM & 10 GB storage. |
| WooCommerce Hosting | From $1/month | From $4/month | From 1 website, up to 10,000 visitors/mo & 25GB storage. |
3. Windows & ASP.net Hosting
On the Windows side of things, Ionos offers three tiers though they are slightly more expensive than its shared and WP hosting.
| | | | |
| --- | --- | --- | --- |
| Hosting Plan | Promotional Pricing | Renewal Pricing | Features |
| Business | $5/month | $10/month | 1 website, 100GB storage, 25 databases & up to 200MB RAM. |
| Pro | $6/month | $12/month | Up to 5 sites, 250GB storage, 100 MS SQL databases & up to 400 MB RAM. |
| Expert | $10/month | $20/month | Up to 50 websites, 500GB storage, 500 MS SQL databases & 2GB RAM. |
All of Ionos' Windows and ASP.NET plans also include a free domain for a year, free SSL certificates, and free professional email addresses. However, the amount of memory offered on these plans is limited. In this case, Ionos' VPS plans may be a better option for you.
4. VPS Hosting
VPS hosting is a step up from shared since it offers more security and protection. It is more expensive than shared hosting. However, it also provides you with a space on a shared server that's entirely yours.
Web hosting providers use virtual partitions on VPS servers to divide the server and its resources.
This prevents your website from being affected by another website that got hacked or used more than its fair share amount of resources which would slow down your site if you did not have your own partition (like with shared hosting).
VPS hosting is a nice in-between if you're looking to upgrade from shared hosting but don't quite have the budget for a dedicated server that's 100% yours.
Ionos offers three types of VPS hosting plans which are all relatively wallet-friendly:
Standard VPS: Average balance between memory, processing power, and storage.
Memory Optimized: More RAM and storage than on standard plans.
CPU Optimized: More CPU cores and storage than standard but less RAM than memory-optimized plans.
| | | | |
| --- | --- | --- | --- |
| Hosting Plan | Promotional Pricing | Renewal Pricing | Features |
| Standard | $2/month | $2/month | From 1vCore, 512MB RAM and 10GB storage. |
| Memory-Optimized | $8/month | $15/month | From 2vCores, 6GB RAM and 80GB storage. |
| CPU-Optimized | $6/month | $9/month | From GB RAM & 80GB storage. |
Ionos also offers great customization options to configure your server to your requirements.
5. Dedicated Hosting
Dedicated hosting is the most powerful type of non-cloud hosting. You get access to the entire server and its resources for yourself. You can also often customize your server's technical specs, so you get the best performance out of it.
If you're after Ionos' best-of-the-best hosting and you're happy to pay extra for it, dedicated hosting is it. In any case, a few of Ionos' dedicated servers are among the cheapest on the market.
| | | | |
| --- | --- | --- | --- |
| Hosting Plan | Promotional Pricing | Renewal Pricing | Features |
| SSD Dedicated Servers | From $45/month | From $65/month | From 8 cores (Intel Atom C2750), 8GB RAM & 240GB SSD storage. |
| HDD Dedicated Servers | From $47/month | From $47/month | From 4 cores (Intel QuadCore), 12Gb RAM, 1TB storage & unlimited traffic. |
6. Cloud Hosting
Unlike other types of web hosting, cloud hosting spreads resources across multiple servers. Ionos offers multiple cloud hosting tiers, which can each be configured to your requirements.
Plans start at an affordable rate of $0.0056 per hour (with a maximum $4 per month charge) for a single-core CPU, 512MB of RAM, 30GB of SSD storage, and unlimited monthly transfers.
For users with more robust needs or enterprise websites, you can scale Ionos cloud server hosting up to 24 CPU cores, 48GB of RAM, and 480GB of SSD storage.
All in all, Ionos offers great cloud hosting plans suitable for small websites through to enterprise needs.
| | | | | |
| --- | --- | --- | --- | --- |
| Hosting Plan | Monthly Pricing | CPU | RAM | SSD Storage |
| Cloud Server XS | Max $4/mo | 1 vCore | 512 MB | 30 GB |
| Cloud Server S | Max $5/mo | 1 vCore | 1 GB | 40 GB |
| Cloud Server M | Max $12/mo | 2 vCores | 2 GB | 60 GB |
| Cloud Server RAM M | Max $16/mo | 1 vCore | 4 GB | 40 GB |
| Cloud Server L | Max $20/mo | 2 vCores | 4 GB | 80 GB |
| Cloud Server RAM L | Max $30/mo | 2 vCores | 8 GB | 80 GB |
| Cloud Server XL | Max $35/mo | 4 vCores | 8 GB | 120 GB |
| Cloud Server RAM XL | Max $65/mo | 4 vCores | 16 GB | 120 GB |
| Cloud Server XXL | Max $85/mo | 8 vCores | 16 GB | 160 GB |
| Cloud Server RAM XXL | Max $125/mo | 8 vCores | 32 GB | 160 GB |
| Cloud Server 3XL | Max $150/mo | 12 vCores | 24 GB | 240 GB |
| Cloud Server 4XL | Max $220/mo | 16 vCores | 32 GB | 360 GB |
| Cloud Server 5XL | Max $320/mo | 24 vCores | 48 GB | 480 GB |
---
Features
1. Disk Space
Across the board, Ionos offers decent storage, especially when you consider it has two shared plans with unlimited hosting.
Its VPS plans are also a considerable step up from shared when you opt-in for the Memory-Optimized or CPU-Optimized plans. When we compared Ionos' storage against competitors with similar prices, Ionos was consistently on top, even with its dedicated hosting plans.
2. Backups
Ionos offers automatic backups on most plans. Here are the details of its backup policy for each type of hosting:
Shared: Daily backup and recovery on all Linux plans. Your backups will last up to 6 days and are automatically stored for easy access anytime you need to recover one.
WordPress: Daily backups and recovery are included on all plans for free, plus some plans get access to JetPack backups and 1-click restorations for free for 12 months.
WP Pro: Backup up to 2GB of storage daily. You can also manage your backups manually (if you prefer) or set up automatic backup rules. You can also use the backup function within the WP Toolkit.
VPS: You can back up your data (for an additional fee) with a third-party tool, Acronis.[1]
Dedicated: Automatic backups of your server are taken and held for six days. You can also recover deleted files from restore points, so you don't lose vital data
3. Security
Ionos includes standard security features that most hosting providers in the industry include. It also offers some free security services, such as free Wildcard SSL certificates which encrypt your website and protects the data exchanged between users and your website.
You can also access a GeoTrust Dedicated SSL for free on its Server, Developer Shared Hosting, and Developer eShop packages.
You can also purchase one of these certificates for only $20/year or go all out with a full GeoTrust True BusinessID Extended Validation SSL Certificate, costing a whopping $200 per year.
In addition, Ionos also offers malware scans and protection against hackers via tools like Sitelock and SiteScan.
---
Ionos Performance
Now that you're familiar with what Ionos has to offer, let's take a look at its performance.
Speed
Ionos' speed leaves much to be desired for anyone seeking a web hosting company that offers the best performance.
| | | | |
| --- | --- | --- | --- |
| | 2020 | 2021 | 2022 |
| Response Time (ms) | 749.10 | 916.50 | 740.89 |
In the last few years, we've recorded Ionos' average response time as 811.52 ms. Compared to industry best practices, this is relatively slow. A loading speed under 100ms is considered optimal, and 100ms to 300ms is a more practical benchmark.
Uptime
What Ionos lacks in its speed performance, it makes up for with server reliability as it's had decent uptime over the same time period.
| | | | |
| --- | --- | --- | --- |
| | 2020 | 2021 | 2022 |
| Average Uptime | 99.99% | 99.98% | 99.98% |
Ionos adversities an uptime score of 99.90%, which matches the industry benchmark. But its actual performance surpasses this by far, which is nice to see!
---
Pricing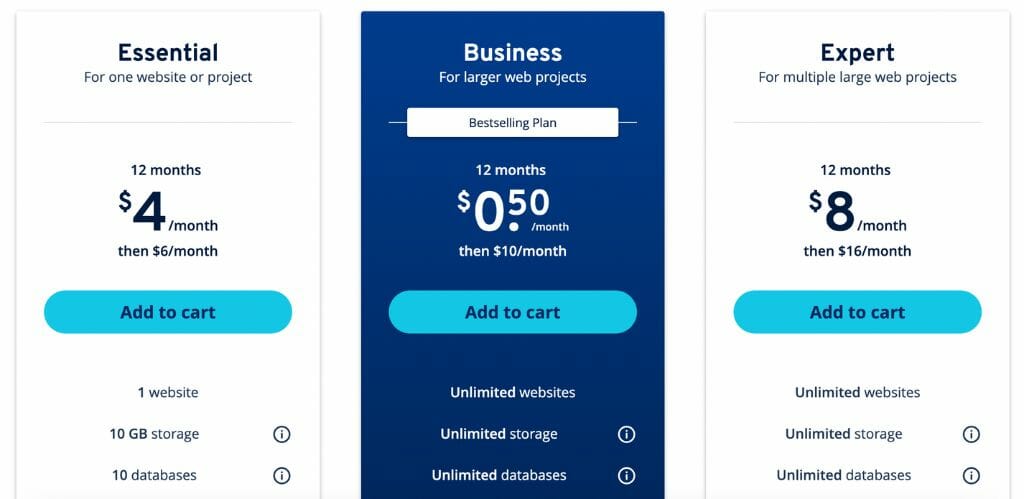 When we set out to find the cheapest web hosting provider, Ionos came out on top with the most affordable web hosting plan starting at only $0.50/month! The renewal price, however, is 20 times higher at $10/month.
At first glance, this doesn't seem like the greatest deal with such an inflated renewal cost in the long term. But when you consider that you get unlimited websites, storage, and traffic for this price, it's actually one of the best value-for-money hosting packages out there.
In fact, Ionos' pricing is consistently on the lower end of the market, with some of its shared, VPS, and dedicated plans being significantly cheaper than most of its competitors.
---
Support
If you ever have an issue with your web hosting, it's important you can access helpful, timely support from your web hosting service.
Ionos has much better support than many competitors; however, it's been slow with integrating live chat support and can also be slow to respond at times.
However, when you consider the experience most customers have with Ionos, it scores quite highly, with an average of 4.5/5 out of 45,000+ reviews on Trustpilot.[2]
And it's for this reason alone we don't consider this point a deal-breaker, as Ionos is clearly doing something right to keep this many people happy for over 30 years.
---
Frequently Asked Questions (FAQs)
Is Ionos A Good Company?
Our research suggests that Ionos is a decent company to consider if you're after low-cost, beginner-friendly web hosting for a small website.
Does Ionos Use WordPress?
Ionos offers a few different WordPress hosting solutions; however, it also provides a website builder that does not need WordPress to run.
---
Do We Recommend Ionos in 2023?
Overall, we consider Ionos a decent company to consider for your website hosting needs.
They have flexible plans and offer some of the best value for money in today's hosting landscape. With some of the cheapest plans available paired with generous, unlimited features, you simply can't overlook the value Ionos delivers.
It is also a reliable hosting provider with an average uptime of 99.98% in recent years.
Our #1 Recommendation: Ionos