Welcome back to Episode 2 of the SEO Spotlight series.  In the last episode, we visited three SEO's that think outside-the-box in order to tackle their problems.
Being a person who appreciates creativity, I'll be keeping up with the same theme here by interviewing three more SEOs who have made great progress in the areas of affiliate SEO, PBN, and client scaling.  You'll learn their thought processes and find out how you can apply these same ideas to your own SEO projects.
Daryl Rosser – Breaking Down Problems into Bite Size Pieces
Daryl has got to be one of the most likeable guys in SEO.  He's got an incredible head for business, especially for such a young fella, and has a sound technical understanding as well.  Plus, he's fun to party with.  His technique for deconstructing high-competition affiliate SEO is bound to get some ideas popping off in your head.
Name: Daryl Rosser
Age: 22
Location: Northamptonshire, England
Matt: When did you get into SEO and how?
Daryl: 2.5 years ago when I was seriously struggling to make money. A local business had contacted me, they said they wanted SEO and heard I could help. I had no idea about SEO, but I needed money, so I met them, read up on some SEO buzzwords before meeting them, and later on ended up closing them as a client.  After their first payment came through, I setup some backlinks, and got them ranked #1 in 3 weeks, and had an "oh shit" moment.
Matt: Let's talk more about how you make affiliate SEO ridiculously easy.
Daryl: Why is it that most people prefer local SEO to affiliate SEO? It's easier. When people think of affiliate SEO, they think of competing with all the other affiliates. This requires a higher budget, better knowledge of ranking, and most likely more time. This technique is how I approach affiliate SEO, where there is barely any competition, you don't need a lot of PBN links, and the conversion rate is ridiculous.
Matt: How exactly do you do it?  Spill the beans. 

Daryl: I don't sell products as an affiliate. That's a great model, and it works, but it takes a lot more traffic. I specifically seek out national firms that have pay-per-lead and/or pay-per-call affiliate offers. Firstly, this makes it a lot easier to generate a commission, and some of these can pay upwards of $100, depending on the niche.
(Lingo clarification: Pay-per-lead means they will pay for an enquiry. Pay-per-call means they will pay for a call.)
But the smart part of this strategy is that I treat them as local clients. Rather than try to compete on the national keywords, I can pick out a few towns or cities, rank my site top in them, and reap the rewards.
This leaves you competing with local businesses, not other affiliates. The search volume is low, but you can rank multiple sites easier, and the search traffic is highly qualified.
Say you work with a national plumbing company. If someone searches "plumbers in [your city]", how qualified do you think they are to wanting a plumbing company? Then all you need to do is drive an enquiry or call through their website, and you get paid.
It's like local lead gen, but it's through affiliate networks, so no client management.
The next question people ask me when I share this is, "where do I get the offers?"  All I can say is that you should be on every reputable network, and you should be looking out for them. Here is a list of 20 reputable CPA networks: https://mthink.com/top-cpa-networks-2015/. You can specific ask your affiliate managers for these types of offers and they'll be able to help.
Matt: Very clever.  What's your biggest win from using this technique?

Daryl: Last month one of my websites had 1,342 unique visitors. The revenue (entirely from SEO) was $2,600. That is around $1.94 per visitor to my website. Compare that to some affiliates that have over 1,000 visitors daily with lower revenues. This is a solid model.
Matt: Any advice to others in this SEO game?
Daryl: My advice isn't related to SEO so much as it's related to business. One of the biggest mistakes I've made in the past, and I see others make, is to focus on things in the wrong order. They do the right work, but in the wrong order.
Take client SEO as an example. People invest thousands of dollars and several hours into building up a PBN before they even have a client. How does that help you? It doesn't.
Evaluate your goals and ask yourself what is the one thing you should be focusing on right now to get you closer to that. If you're just starting out with client SEO, it's probably prospecting or outreach.
Once you've done that, then you can build a PBN or rent links. As you expand your business you get better at this, but then it becomes – are you spending all your time managing and maintaining what you have, or are you focusing on growth?  It's easy to get complacent at a certain stage and just manage things, don't, keep focusing on growth and working your ass off towards it.
Be sure to check out Daryl's Lionzeal.com, a blog and community (of over 2,000 members) committed to scaling SEO businesses.
Lior Ohayon – No Software Tool Exists?  Create it Yourself.
We all have some tasks that repeatedly consume a large amount of time.  Tasks that would be better resolved by software, if it existed.  Lior took matters into his own hands and developed a tool for speeding up the PBN auditing process.
Name: Lior Ohayon
Age: 23
Location: Toronto, Canada
Matt: When did you get into SEO and how?
Lior: I got into the SEO world by accident in 2013. I was a typical college dropout looking for ways to make money online. Everything I would read about starting a business boiled down to getting traffic to websites and SEO was one of the main ways.
I consumed a lot of content about affiliate websites and link building, mainly through Pat Flynn, and played around with my own sites a little. Then I realized instead of starting a bunch of websites, I could just offer these new skills I learnt to existing business owners and help them grow their traffic. I stumbled into client SEO by accident!
Matt: Let's talk more about the software you created.  What problem does it solve?
Lior: When you are buying an expired domain for your PBN at auction or from a broker, you need to do a lot of research using third party tools to see if it is a powerful, clean domain. There could be dozens of metrics to research, and it can get very time consuming and a headache to manage all of the tools in your browser (multiple tabs, logins, etc).
I got frustrated with this whole process so I created ScopeReveal.  It's a free tool that aims to eliminate that problem by streamlining all the tools into one convenient dashboard, as well as providing our own metrics from our algorithm that combines many of the imported metrics.
Matt: Many SEOs including myself have considered having software created.  What was the development process like?
Lior: First I decided which metrics are the most important, and figured out how to use their APIs to capture that data into my own software.
Next, I found my developer by using Elance (now UpWork). He was one of the first to respond and he even built a prototype of the software which he included in his initial SEO proposal. That blew me away and his English was perfect so it was the right fit all around.
Some tips I have for hiring on these sites is to include a secret code they should put in their proposal so you know they read it, as well as requiring a small test to be done (can be a paid test – well worth it). Then you will know their communication skills, skill level and ability to deliver on schedule. It also helps to promise future work on other projects if the first one goes well. This will lower rates if you always choose fixed price like me.
On a side note, do research before making any SEO software that makes your life easier. It could already exist, or it could be cheaper to have a virtual assistant do the same tasks. You really have to calculate how much time or money it will save you in the long run, including upkeep and all.
Matt: How much time savings can one expect using ScopeReveal?
Lior: I typically buy PBNs from brokers. So once I get the URL from them, I would have to open MOZ, Majestic, Google, Ahrefs, Archive Wayback Machine, Who Is. That's maybe 5 minutes in total. Then adding the domain to each one, analyzing the data, another 15 minutes or so. Then eyeballing and using my memory and switching back and forth to see if it adds up to being a good domain, another 5 minutes to make the decision. So 25 minutes, the manual way.
ScopeReveal does it instantly, reviewing the data might take 5 minutes, but the algo gives you the answer instantly on whether to buy or not. So even at 20 minutes, that's cutting your research time by 95%.
Matt: Do you see yourself developing more software in the future?
Lior:  Definitely. I see software as the way to go in the future.  My next software is at the brink of completion and entering beta soon.
Matt: Any advice to other SEOs, newcomers and experts alike?
Lior: The best advice I can give is the cure to something I struggled with for a while. Stay focused. There are so many opportunities to make money online, in SEO, offline. The only way I was able to grow my income online was to stay focused on my main business and not jump from opportunity to the next. 
Check out Lior's free software ScopeReveal and let him know what you think.
Joseph Elshazly – Focus on Your Strengths, Outsource the Rest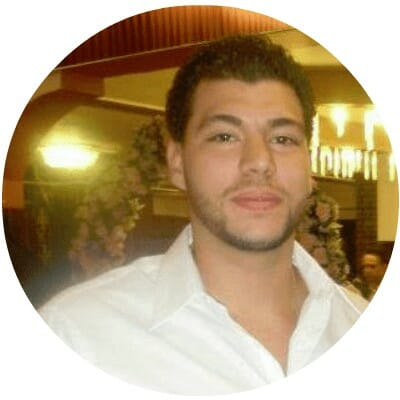 I met Joseph about 2 years ago.  He was one of the first Diggity Links customers and was looking to rank his family roofing company.  Fast-forward to now, Joseph's New York SEO agency is killing it.
Name: Joseph Elshazly
Age: 26
Location: Long Island, NY
Matt: When did you get into SEO and how?
Joseph: I got into SEO June of 2013. I was 22 years old and starting to get more involved with my father's roofing business and their online marketing.
I came to realize he was paying a company $1200 a month to rent a leadgen website that came up for local terms, such as; "roofers in Long Island", etc. I had no idea what SEO was or what they were doing for my father for a whopping $1200 a month!
I decided to take a ride down there. When I walked in, I was instantly impressed with the size of the company, the services they were performing, and most of all… the phone call recording and tracking (I thought this was amazing). I asked him how many clients he had and he told me over 500. I did the math and thought to myself, "I already know how to build websites, how hard can this be?"
I took to some forums to learn. Contacted you for some SEO consulting to learn the foundations.  I built a few test cases, they worked out.  Sold my first client the next week and it's been uphill from there.
Matt: And now you run your own SEO agency with 40 clients.  How were you able to scale so fast?
Joseph: Since my strength has always been sales, I decided to outsource my link-building completely in order to save more time for selling.
Outsourcing solves the problem of having to build and maintain your own Private Blog Network so you can actually work ON your business, find new clients, rank them SAFELY and deal with the day-to-day support calls from them.
Matt: What have been your biggest accomplishments in the past year?
Joseph: My biggest accomplishment so far: Remember the SEO company my father use to pay before I even knew what SEO was? Well, they now outsource their SEO and web design clients to my company. This deal alone has generated well over six figures in the past year for my business.
This is my biggest accomplishment for myself. Not because of the money, but because this situation has shown me that anything is possible if you focus on your strengths.  I admired this company and the owners like you wouldn't believe.  I looked up to them. I wanted to do what they were doing.
Matt: Any advice for those wanting to excel in client SEO?
Joseph: If you want to do well in client SEO, outsource the technical stuff and focus on retention and customer service. Take some time every month to re-cap what's going on with your clients, go over their stuff, and give them a call for NO REASON (they love that). Don't just call when their payments due and give them some BS about how you have been "link-building all month."
Be honest with your results and numbers. It's okay to admit when something is taking longer than usual, or didn't work out how you thought. Come up with the solution for that, such as, "Hey, I want to try this, I think we will get better results."
Get them to love you, trust you, let yourself be their partner and you will have your clients for life. Don't get me wrong. You will ALWAYS have clients cancel.  Don't take it personal, this business has a high churn rate.  But, remember… People will fire an employee, they won't fire their friend.