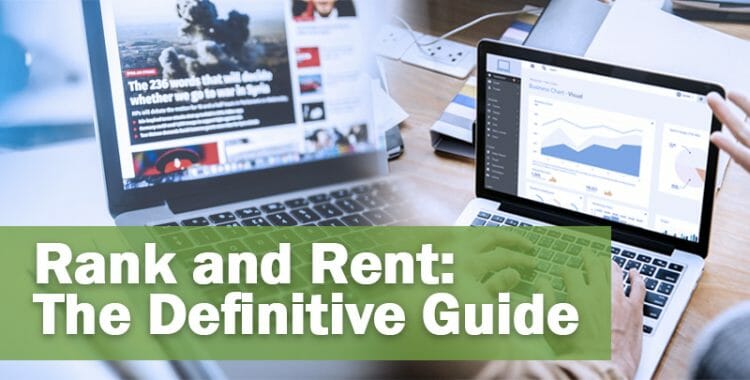 September 4, 2023
As experienced SEO experts and digital marketing professionals, we have a deep understanding of the Rank and Rent model and how it can be leveraged to generate significant revenue for your business. Local SEO Search engine veterans are flocking to rank and rent SEO because it's simple, scalable, and best of all—lucrative.
Even if you're new to this model, a basic understanding of website ranking tools sets you up for success.
This comprehensive guide will explain everything about Rank and Rent SEO, from understanding the model and its interested clients to choosing a niche, setting up your site, analyzing competition, creating impactful content, meeting technical requirements, and securing your first client.
We'll also delve into understanding the motivations of local businesses willing to pay for this service. Let's dive in.
How is Rank and Rent Model Different?
The Rank and Rent model is very different from what you're used to. "Rent" is the key word here, because you're choosing not to hand over control of the site.
You control the site, the links, and the content. Your tenants negotiate with you over where and how any of that changes and end their lease when they either get what they wanted or no longer agree to your terms.
You can then rent out the website to a different local business owner. If you did everything right, you can rent it out at a higher cost to the next client because it was gaining value while it was being rented out to the first one.
For example, let's say that you get a website to rank in the first spot for "dentist in Chicago". Now that you've got that spot in local search results, there are a lot of dentists who would pay to skip the work and just slide onto that site.
If you're interested in Rank and Rent as a long-term local SEO strategy, your goal should be to develop a constantly-growing, money-producing portfolio of different lead generation websites.
But before you start thinking about that, it's important to understand who you're going to be trying to attract as clients.
After all, who invests in a website that they don't even get to own?
Who Invests in Renting Ranked Websites?
There are local business owners in every niche that are interested in renting out web properties that generate leads. For most of them, the big factor is cost.
Buying a website is expensive. Paying people to design pretty graphics and write engaging content is expensive. Chasing down backlinks is tedious and time-consuming on top of all the costs.
Renting a lead generation website gives local businesses the freedom to bundle all of those costs into a monthly fee that they can stop paying whenever they're ready to move on to their next digital marketing strategy. They don't even need to worry about finding a new buyer. They can just walk away.
Even beyond the lower cost, rank and rent websites offer unique advantages to certain clients. Understanding who they are will help you throughout the development of your first website and any future rank and rent sites.
Newly-opened businesses
Starting from scratch with a rank and rent site can take a while before it gains some traction in the search engines. Even a local business that attracts a lot of foot traffic won't start ranking in search engines immediately.
In addition, many local business owners perceive online marketing and SEO as intimidating, to say the least.  You're the bridge.
For any local business that's brand new, from restaurants to plastic surgeons, renting websites is a great way to skip the sandbox period to immediately start showing up in search engines.
Businesses that rely on leads
Those who rely on leads will take them wherever they can get them. Any local business, from dentists to lawyers and home repair services, want leads wherever they can get them.
Renting a high ranking website and claiming leads that come into it requires less obligation and liability than a lot of the other methods that are used to draw leads.
Business owners experimenting with targeting a new type of consumer
Dipping a toe into a new customer base is so much cheaper and easier with a rented website. For example, an IT company that is considering offering a wordpress web hosting service and wants to dip its toes before building out a department.
Successfully ranking in search engines shows the client that you have successfully targeted the consumers in question. If they aren't interested in your client, the costs are very low.
Now that you understand the motivations of those who rank and rent websites and the clients who invest in them, you're ready to tackle your own. Following the detailed steps below will take you all the way to the sale.
The Steps to Create a Rank and Rent Website
All the work it takes to rank and rent a website fit neatly into the following steps.
If any of that sounds confusing now, don't worry. All of them are going to be explained in complete detail in the sections below.
Let's start with the vital first step: Choosing the niche for your rank and rent website.

1. Choosing a Niche
Choose your niche carefully. Remember, you want to find a balance where the niche is lucrative enough to rent out for a great price, but not so competitive that you're going to have to spend big to rank the site in the first place.
That's why the recommendation is to focus on local SEO.
Many learn that it is best to approach this decision by narrowing down an industry and a city where you want to focus your efforts.
Industry
Most people who rank and rent websites successfully do it by attracting leads. If you plan on doing the same, you need to start by considering businesses that live off leads. For example…
Elective health professionals like dentists and cosmetic surgeons
Beauty professionals like hairdressers and manicurists
Service professionals like roofers, landscapers, and renovators
Destinations like resorts, wineries, and spas
To keep the examples consistent throughout the rest of the guide, let's assume that your target tenant is a lead-hungry landscaper.
This is a great example because there aren't many national landscaping companies.
If you are interested in selling leads, you're going to have to focus in on a particular city.
Let's look at how that should be done.
City
It's not a good idea to try to go national with your first rank and rent website. Instead, choose a medium-sized city that has a healthy amount of business.
If you target a community which is too small, you'll have a tiny pool of potential tenants to choose from. If you choose a city that is too big, you are going to have a lot more competition cutting into your costs.
Let's return to our example. There are landscapers in almost every city, but you're going to discover more of them in cities that have a base of wealthier homeowners and verdant land that responds well to being sculpted.
Build a small list of medium-sized cities so that you can do some homework on each one. For our example, you can safely skip cities that are built in deserts (like Phoenix) or on tundras (like Anchorage).
Now, do some basic google research to determine how well each city matches your preferred client. Determine out how many landscapers are operating, and what kind of keywords are ranking there (we'll do a more complete run-down of keyword research in a later section).
For the sake of the example, let's assume that you landed on beautiful Hillsboro, Oregon. A healthy tech industry has filled this city with upwardly mobile professionals, and it's surrounded by agriculture and wineries—both industries that frequently work with landscapers.
A quick Google search will show you that there are just over 20 landscapers who know enough to appear in GMB.
These are your likely clients, so take a few minutes to look over their website and find out what services they are most likely to showcase. This information will come in handy when we start looking at the development of your content in a later step.
While it's not necessary to be close to the city you choose, it can help if you're going to specialize in a large portfolio of rank and rent sites. Being able to meet in person can help you form the relationships that lead to more consistent business.
Once you have a niche and location in mind, you're going to start working on choosing a domain name for your rank and rent business.

2. Selecting a Domain Name
Think carefully about the domain name that you're choosing for your rank and rent website. Google doesn't award as much weight for exact-keywords domain names (Like hillsborolandscaper.com) as it used to, but it's still a good idea to try to fit a couple in there.
You aren't going to uncover that many single-word domains for a landscaper that are still available, but you may have better luck in your own chosen niche. If you run into a wall, try to string together different keyword terms in an intuitive way to find an affordable combination.
For example, landscapers offer services like garden plotting, fencing, pathing, sodding, drainage improvements, water features, and rock work. Those and any related terms would make good candidates for stringing into a domain name.
Think something like…
Oregonrockgardens.com
Buildanoregongarden.com
Hillsboroyardideas.com
These may be taken, so use your creativity.
For more information on domain name selection, check out my onsite SEO guide…
Once you've found a domain name for a good price and snatched it up, the next step is to set up the rank and rent website.
Fortunately, that work is easier than it has ever been with an intuitive content management system. Let's look at setting one up.

3. Setting Up on a Content Management System (CMS)
A good CMS is essential if you don't want to spend a lot of time managing your content and making sure that it displays properly on your rank and rent web pages.
There's not much debate when it comes to which the best CMS out there: WordPress wins in almost all cases. Why? Because it's free and it has a massive community of enthusiasts who are constantly improving it with helpful plugins and sexy themes (many of those are free, too).
No matter how you want your local SEO website to look or act, WP most likely has a solution for you.
I'd go into more detail about how to set up WordPress as your CMS, but there are quite literally thousands of detailed, high-quality guides online that show you how to do that, including many videos with professional production values. You should take advantage of them if you need help.
If you're already in the habit of making your own website, you probably don't need to hear any more about this. Let's jump right into how you should analyze the competition in preparation for to rank and rent your website.
4. Analyzing your Competitors
Time to get a little more technical. If you want to rank and rent your site quickly (and you do if you want to control your costs), you need to understand what's working for the biggest influencers in the same niche. This is going to require competitive intelligence tools, but if you're an SEO, you're likely already using them.
Use Ahrefs to Understand the Competitors in Your Niche
Ahrefs is going to be the most helpful tool here, as it's going to allow you to explore all the biggest players in your local SEO sphere. Some of the data here is going to be the foundation for the offsite SEO efforts we'll be covering in your Offsite SEO steps, so make some notes you can refer back to.
Start with an audit of the people who are already in your niche. This Ahrefs official guide shows you how to identify your biggest competitors by their website traffic, domain scores, number of backlinks and keywords.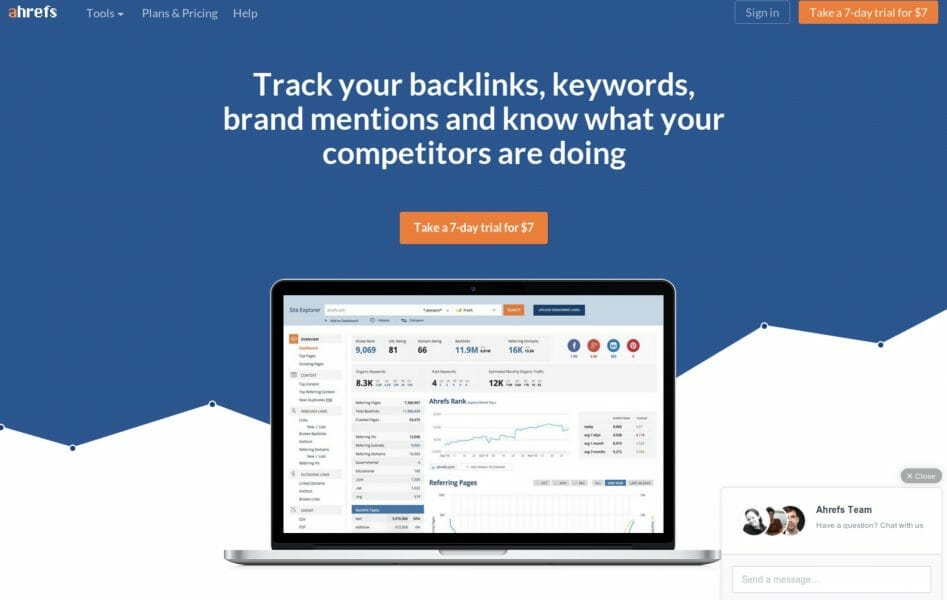 Pay attention to the backlinks in particular. You want to know who they're getting links from, and the rate that they're link building. As you develop your own website, you want to do your best to match their rate of acquisition and acquiring at least some of the same links.
Remember, you're targeting websites in a niche with less competition, so you shouldn't expect a really high rate of acquisition. You may have to slow things down, but more about that later.
Alternate software that may help here would be CanIRank's.
Analyze their Content with Surfer SEO
In addition to their link profiles, you want to look closely at the content that is responsible for helping them rank. Surfer SEO is a tool that will help you do that at a very detailed level. It doesn't just show you what keywords they're using, but also where they appear on the page and in what metadata.
It also gives you insights on the optimal word length, which is becoming more and more important as Google refines their understanding of search intent.
You can use everything you learn in this step to aid you in your content creation, later. You can read our full guide on how to use Surfer.
Of course, before you begin writing anything, you want to develop the keywords that you'll be using to do it. Let's return to Ahrefs for a minute to do just that.

5. Researching Keywords
There are endless approaches to finding the right keywords. For you, the approach should be based on the goal of renting out the website. Most of your clients will want to use the site to generate leads.
You should be using keywords focused on the final stage of buying a service or product. Keywords like those that involve "cost", "where to find", "how to finance" etc.
You can uncover more context for that image (sourced originally from here) and several other methods covered in the Ahrefs keyword research guide. I recommend that you use the advice there to generate a list of keywords with…
Low competition
Low difficulty
Reasonable search volume
A reasonable number of associated clicks
With your list of keywords in tow, you can now begin the work of creating the content for your site.

6. Writing Content
After you have written some basic home page content describing your site's area of expertise, and some "about" and "contact page" content to provide authority and legitimacy to searchers, you are mostly going to be focused on writing informational blog articles.
Each article should be densely informational and focused on helping readers take the next step to leave their contact information for a lead.
Content that doesn't serve this purpose can still help you rank websites in search engines, but it's not helpful to draw in visitors with the wrong intentions. To explore that more, let's return to our example where we're building a rank and rent site to target landscapers in Hillsboro.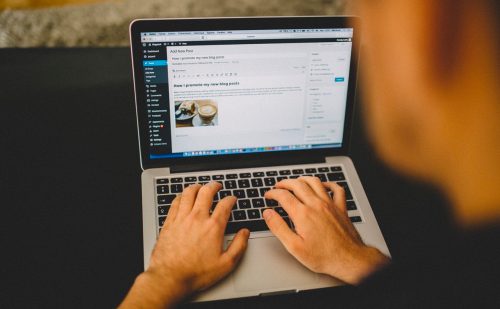 Let's say that your research revealed that the installation of gardens was a service without a lot of keyword difficulty. Let's even narrow that down to "Native Plant Gardens".
Your content shouldn't let on that your website is commercial in nature. Instead, it should be purely informational and let the links do the work of directing readers to specific vendors.
The content that you build out might look something like this…
The shrubs that belong in your native plant garden
Creating a budget for your native plant garden
How to find a landscaper who can install native plant gardens
How to care for an Oregon native plant garden
Edible plants that are perfect for an Oregon native plant garden
Whether you're writing content yourself or outsourcing it, you should also try to hit as many marks of high-quality content as you can. Remember, this isn't only for the benefit of the visitors who are helping you rank, but also the future renters who will be deciding whether you're legitimate enough for them to associate their business with you.
7. Setting up Google My Business (GMB)
To claim the advantage of showing up in the Google maps map pack, you can attempt to register your site on GMB.
Don't skip this step.  Getting in the Google maps is crucial as you'll notice in most local search results, that the map pack is actually higher than the organic listings.  Which essentially means, that Google map listings get more clicks, and thus, more leads.
The entire process is now done through the GMB dashboard. In most cases, Google will need to verify a legitimate business phone number or address in order for your site to qualify.
The complete list of ways you can be verified and all of the processes for doing so can be found here on the GMB help page. All of the steps are included for verifying by various contact avenues, such as mail, phone or email.
For mail verification, you'll need to enter the GMB dashboard and request the mail verification. A postcard will be sent out to you with a code that you'll need to enter in the console.
If you can get that far, you'll enjoy full access to the dashboard options including access to a profile where you can provide a description with images and the ability to accept reviews.
Note that the last two options (phone, email) are only available for some types of businesses. In most cases, you will need to be well-established with a visible presence to qualify for either of them.
8. Completing Offsite SEO
Good content is just the start of ranking. While you're creating the content, you need to be developing your wider profile with an aggressive offsite local SEO campaign (for more info on how to manage a successful seo campaign – click here).
But first, you're going to want to focus on the three following areas of link building.
Building Citations
Citations are your placements in local business directories. These are very simple to qualify for and collect. They're important because they demonstrate a lot of local relevance.
Start by visiting major directories like Whitepages and Yellowpages and filling out a profile. Then, expand to Yahoo! Small Businesses and Bing Business Places. Make sure you create a Facebook Business Page and other social media profiles to capture some traffic there.
After that, your next step is to start searching for directories that are focused on your specific niche. A simple Google search should pull up lists of them. Make sure that you choose the most relevant and high-quality ones, and space out your registrations over a few months.
Or you can simply outsource this part of the process.  Typically, I outsource my citations building to Authority Builders.
Creating Backlinks
Now, use the data you collected when you were doing backlink audits on your competitors to start going for some of their best links. You want a diverse profile of backlinks that come from a lot of different sources, but in particular, you want to focus on high-quality guest post link building.

Guest posts are how you demonstrate your relevance to the rest of your industry. When placed correctly, and covering important information, they are very helpful to your authority overall.
Choose reputable sites from the backlink profiles of your competitors and start sending out requests. Make sure you have good topics ready. For ideas, you can go back to your data and see what kind of topics worked for getting your competitors approved.
You may need to work on developing backlinks for weeks and sometimes months before you see serious movement but don't let that get you down. Once you have finally achieved that healthy profile, you'll be perfectly positioned to rent out your website and sell leads.

9. Renting out your Website
If you followed all of the previous steps, you now have a website that carries some weight for its local niche. It may be appearing in a series of searches, and even edging out some local businesses for key terms. That's right where you want to be and now you can start renting it out for money.
If you've never tried the process before, there are several ways that you can go about finding people who want to rent your site. Try all of the following…
Cold Calling Businesses
Just make some calls. Make sure that you have your data handy because you want to be able to communicate your value. Your pitch is that you have a ranked site that is currently collecting leads and that you are willing to direct those leads to that business for a monthly fee.
There may be some negotiation involved. For example, the business may want to see some kind of content added, or for you to veer away from discussing services that they don't offer.
Practice your best judgment to make a deal you can live with. If you underbid the first time, don't worry. You're just renting, after all. You can try again with a new client if the first decides to leave when you raise your rates.
Selling Leads to Middleman Brokers
You can work with both local and national services who purchase leads at a lower price and then take a cut in order to forward them to their existing base of clients. This can be a great option if you had trouble locating businesses that were willing to buy your leads in the first step.
They won't pay you as much as a business will, but they also won't require you to make any changes to your site to accommodate them. They just want the leads and don't care much how you got them in the first place.
Using Networks to Sell Leads
You may be able to locate networks in your niche that exist like a marketplace to introduce lead generators to businesses that want to buy. They will often take a smaller cut of the money than a middleman, or no cut at all if you're paying their membership fees.
If you fully explore all of these options, you should have no trouble finding someone willing to rent your ranked site, and once you've accomplished that, you're done.
Get Started with Rank and Rent
Now you've learned a complete digital marketing strategy to create a rank and rent website.
I want to hear from you if you have any other questions about ranking and renting, or if you have any tips for my readers about how to make this rank and rent process even easier. Looking forward to hearing from you.