If you're a newcomer to the world of web hosting and unsure about the various factors to consider, fear not.
As seasoned digital marketers with a lot of experience in the field, we're here to guide you through the ins and outs of the web hosting process, providing you with the knowledge and confidence to make informed decisions.
In this comprehensive hosting tutorial, we will explore the fundamentals of web hosting, discuss different types of hosting and their applications, delve into domain name hosting, offer guidance on selecting the best web hosting company, and address frequently asked questions.
Before delving into the details, let's first acquaint you with some common terminology used in the web hosting sphere, laying a solid foundation for your understanding of the broader concepts.
Quick Summary
This tutorial is a comprehensive guide to web hosting, covering basics, different types, and how to select a hosting company.
It delves into technical aspects, including specs, uptime, security, customer support, customer reviews, and additional services.
The article concludes with technical management tips, such as managed web hosting, caching, using a lightweight CMS, and the importance of external data backup.
What Is Web Hosting?
Web hosting is a service that enables you to publish your website on the Internet. It's also for publishing web applications.
Web applications are programs that run on your browsers instead of on your local computer. Some common examples are:
Gmail
Online forms
Platforms like Facebook
When you sign up for a web hosting service, you're basically renting space on a physical server. You pay the hosting provider, such as Bluehost or HostGator, for the rented server space.
Hosting providers give you access to a server. This server is where you store all your website files. Once everything is hosted on a server, your website will be accessible to anyone.
How Web Hosting Works
People must enter your site's domain name (e.g. yoursite.com) into their browser address bars to view your website.
Next, they are connected to the web server that hosts your website.
The web host's server will transfer all of your site's files to load your website. This process usually happens in a few seconds.
Users see your website as soon as the content loads.
Hosting a website on your own server (self-hosting) used to be the only way to go. However, it requires extensive technical skills, time, and maintenance.
Using a website web hosting company is much easier and faster. Simply sign up for a web hosting account, choose a template, and publish content.
Additionally, web hosting videos can be very helpful for beginners. They'll teach you how to use control panels, create basic websites, upload files, set up email, etc.
Web Hosting Vs. Domain Name Hosting
Domain name hosting and web hosting are different services.
A domain name is registered through a domain name registrar.
You can check domain name availability on sites like NameCheap. Simply add the desired domain name into the search bar and hit "Search."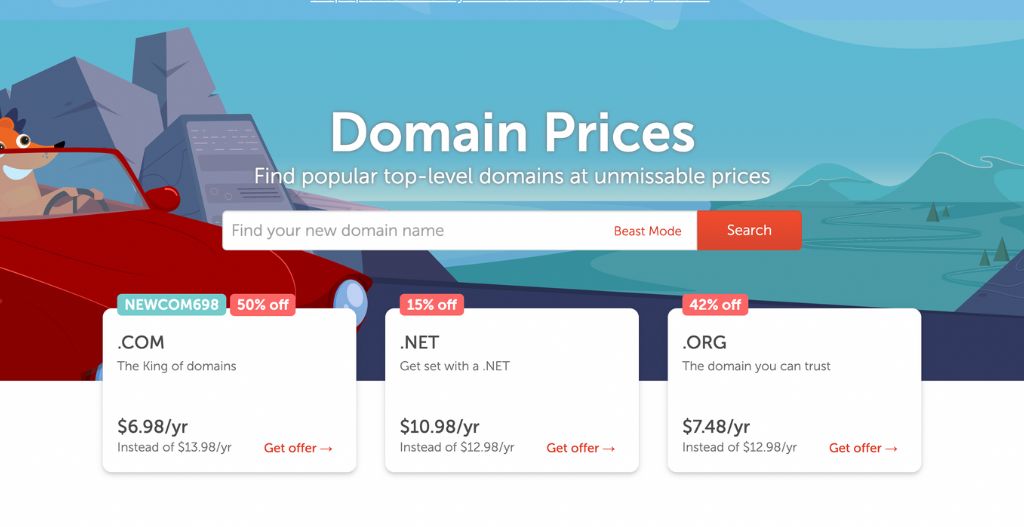 Once you have registered your domain, you will need a web host to store your website's files. Web hosting companies provide this storage.
However, there are many different types of web hosting. You have the option to choose between Windows hosting or Linux web hosting. The best one is the one that best suits your needs, which we discuss further below…
Some web services offer a free domain name for a limited time as part of your paid hosting account. Once you choose your free domain name, the domain registration is handled as part of your hosting plan.
Web Hosting Services By Type
Now that you understand the basics, it's time to look carefully at the different types of web hosts available.
We'll explore all the major hosting types, what they are, and who they're best for.
The different service types include:
WordPress
Shared
VPS
Dedicated
Cloud
eCommerce
Email
WordPress Hosting
WordPress (WP) is the most popular platform for building your website or blog.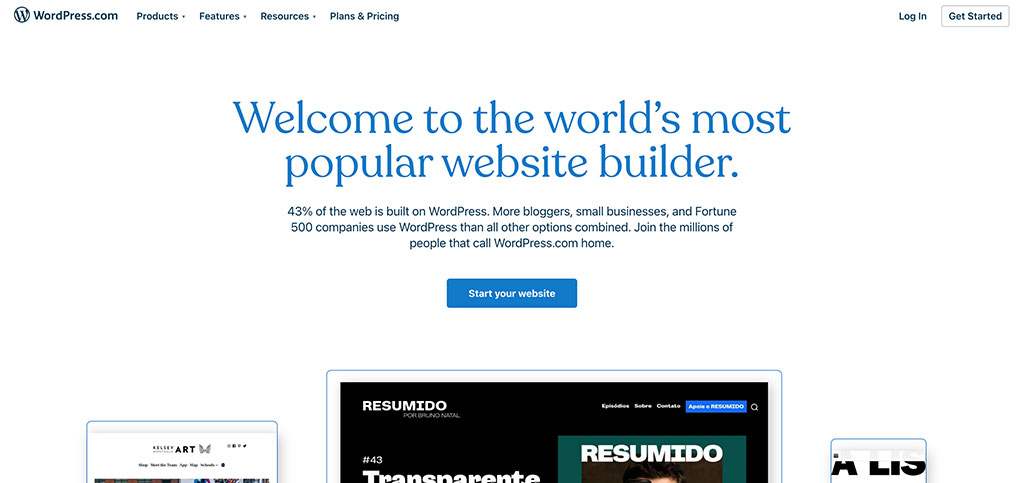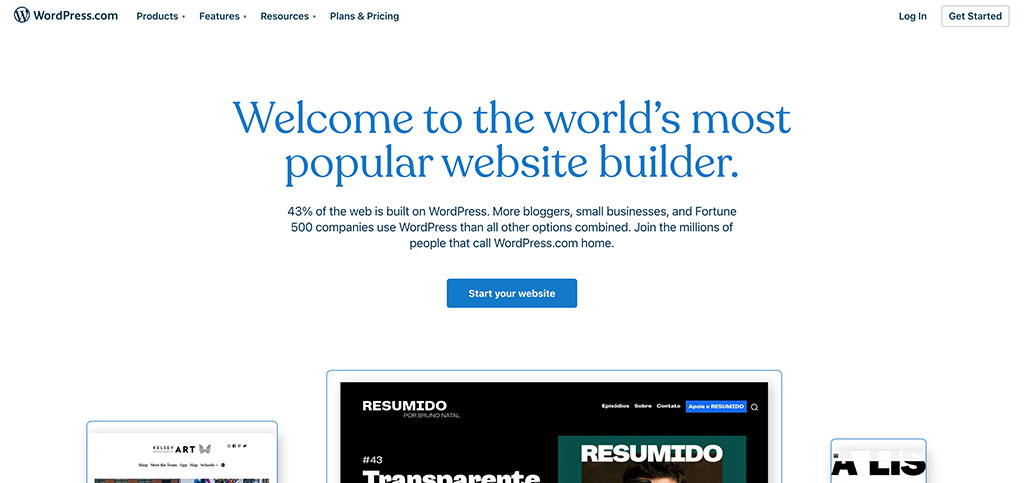 The WordPress application is software used to build out the content of a website. It's commonly used for creating the following:
Blogs
Portfolio sites
Resumes
Company sites
eCommerce sites
Additionally, WordPress website is free and open-source. It offers thousands of themes and over 50,000 free plugins. It's everything you need to customize and optimize your website.
WordPress hosting integrates the WordPress platform into a web hosting service.
It typically includes features like automatic updates and backups. With these in place, your site will be more secure, and you won't have to worry about losing your site's data. In addition, it grants access to support from the hosting company.
As a result, WP hosting makes website creation and hosting easy for everybody. You don't have to be a developer or experienced in building sites.
Many hosting providers offer one-click WP installation. Some preinstall WordPress for you to get your site up and running immediately.
We're big fans of WordPress hosting. To dive deeper into WP, check out our review of the best WordPress hosting.
With shared hosting, many websites are hosted on one physical server.
As a result, shared hosting is the easiest and most affordable option.
It's most often chosen for small businesses and personal websites. These sites don't require more than a few gigabytes of storage or higher bandwidth.
It's also great for those just starting with their online presence. At this stage, utilizing the same server resources comes with minimal drawbacks.
You can find free shared hosting, but you'll often have to use a subdomain (e.g., yoursite.weebly.com).
Subdomain should not be confused with traditional domain name. Your chosen domain name is a big part of your SEO strategy. If you're looking to purchase a domain name, here's your complete guide to purchasing a domain name.
Paid shared hosting plans typically cost between $3 and $9 a month.
The disadvantages of shared hosting include:
Minimal ability to manage server settings
Unstable and inconsistent site performance
Can only handle low to moderate traffic to your site
Additionally, there are security drawbacks. I mentioned that with shared hosting, multiple sites share a server. If one of those sites (not necessarily yours) gets compromised by a cyber-attack or virus, then all the sites on that server have the potential to be compromised.
Virtual Private Server (VPS) Hosting
vps allows you to have your own server space through a virtual server. With virtual private server hosting, you don't share server resources with other users or have to store everything on a single local server. This web hosting type is excellent for businesses that want a dedicated server but not a high price.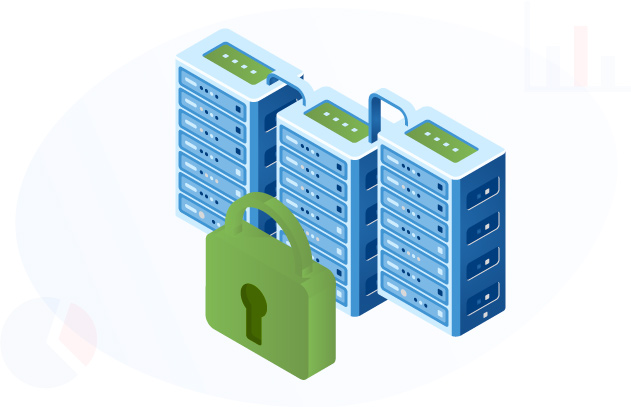 virtual private server hosting is ideal for medium-sized websites, eCommerce sites, and high-traffic blogs.
However, it requires more technical ability than shared hosting or WP hosting. The reason is that VPS hosting both allows (and requires) more backend customization. System administrators like VPS hosting because it gives them more control over the website.
Here are a few of the drawbacks of using VPS hosting:
Additional technical server management
Additional resource (bandwidth, storage, etc.) management
VPS hosting starts at around $35 per month. The reduced rate compared to hosting plan comes from hosting on a virtual server rather than a single physical server.
Dedicated Server Hosting
Dedicated hosting allows you to rent a single server to host a website. All of the dedicated resources are available and exclusive to you.
Here's what you get:
Choice of hardware
Choice of operating system
Install any application or program
Admin (a.k.a. "root") user privileges
Total control of the server configuration (backend)
Having a single server implies that you manage everything. However, hosting typically includes some provided maintenance and support.
Developers like dedicated hosting because it has none of the limitations shared hosting has. They also like this hosting because they can better protect their site from cyber-attacks, malware, and viruses.
Complete server control provides greater freedom, optimized site speed, stability, and performance.
That said, dedicated hosting comes at a much higher price than WordPress or shared hosting. Hosting starts at about $100 per month.
Cloud Hosting
Cloud is hosting that uses multiple virtual servers to host a website.
The benefits of cloud include:
Reduced chance of site downtime
More reliable hardware performance
Better at handling high traffic through "load balancing"
Scalable (more web pages on your site, more traffic, etc.)
Less technical experience and ability required than dedicated or VPS hosting
Cloud web hosting is ideal for companies receiving moderate traffic but spotty performance.
Hosting service providers like HostGator offer assistance. However, some hosting companies demand greater technical knowledge to administer cloud servers. Choose the hosting plan that accommodate your business needs, and technical ability.
Learn more about cloud hosting here
eCommerce Hosting
People interact with eCommerce sites differently than they would standard websites. Hence, hardware and server software needs are different for eCommerce sites.
eCommerce hosting is web hosting that specifically serves eCommerce sites.
Common features include:
Payment processing
Shopping cart software
Secure sockets layer (SSL) certificates
Enhanced security
There are many flavors of eCommerce services. It depends on your audience and business requirements.
WordPress is a popular choice for eCommerce hosting. They offer plans with preinstalled plugins, themes, and other relevant tools.
If you plan to launch your own eCommerce platform, here's our review of the best eCommerce platforms.
Email Hosting
Email is another consideration when you're setting up a web host.
Email hosting works much like web hosting. It's a service that stores your email messages and data on a server.
When you send an email to a domain address (email address), it travels across the Internet and is stored on the receiving server.
Email hosting providers commonly combine email and web hosting packages.
The server that hosts your email may be the same server that hosts your website content. However, it could be two separate servers operated by the same firm.
Choosing The Best Web Hosting Provider
There are many factors to consider when choosing a web host, including price, features, and reliability.
It is also essential to know the potential security risks connected to each provider.
1. Check Your Specs
It's important to understand what the hardware you're renting can handle. For example, if you're running an affiliate site, users behave differently than on an eCommerce platform.
Basic server hardware is often similar to your PC. Most personal computers and laptops can be set up to work as a server.
Traffic, queries, and overall user behavior tell you what to expect and what kind of hardware to invest in.
A few things to consider are disk space, random access memory (RAM), and the central processing unit (CPU).
Diskspace refers to storage capacity. If you only want a small website with a dozen or so web pages, then you won't need much space. A large e-commerce site with 100s of web pages will need more space.
RAM, a.k.a. memory, along with the CPU affects the speed and overall performance of your website. Like with disk space, the greater the user activity, the greater resource demand.
There are ways to customize existing hardware to enhance performance and security. Furthermore, hardware redundancy is vital in case of hardware failure or emergencies.
For example, running your storage disks in RAID (Redundant Array of Independent Disks) safeguards data stored on hard drives. It works by connecting multiple physical hard drives in a way that both protects and speeds up computer performance.
Last to consider in terms of hardware is the modems and routers designed to handle specific amounts of traffic.
Server software matters, too. The operating system and the server platform (Apache, Nginx, etc.) have different features and capabilities.
2. Guaranteed Uptime
It's normal for traffic loads to vary on servers. Cyber-attacks, resource-intensive demands, and ordinary user interaction all take a toll. That's why guaranteed uptime is such a big selling point for hosting providers.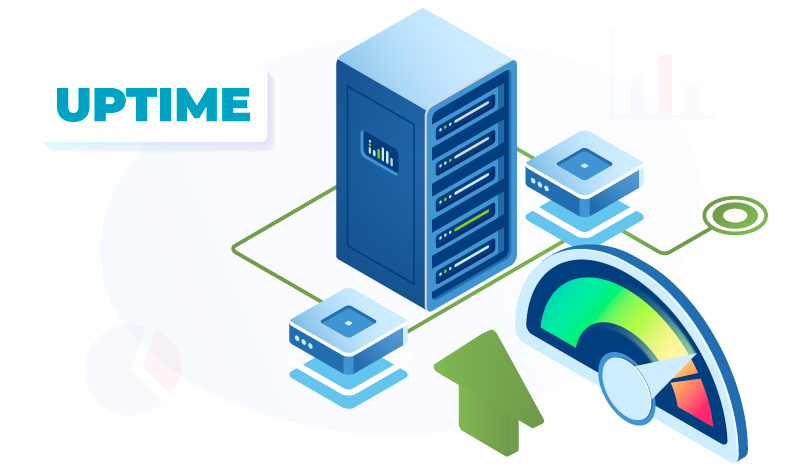 Web hosting servers occasionally do fail. Therefore, regular server maintenance and backup preparation are a big part of the uptime equation.
Even the most heavy-duty reliable web hosting servers encounter brief outages. Accept this as an inevitability and prepare. Frequent downtime, on the other hand, is not the norm.
Most web hosts advertise an uptime guarantee. Choose a reputable company that promises 99.9% uptime.
Check reports from providers that monitor downtimes, like UptimeRobot. This service will send you email notifications whenever your site goes down.
3. Security Features
Server security is a no-brainer these days. Cybersecurity breaches are a normal occurrence.
Make sure the hosting provider has advanced security measures in place. Malware and Distributed Denial of Service (DDoS) attacks are also a consideration.
As mentioned earlier, servers use operating systems just like your PC. Therefore, updates and patching are essential to keeping it clean and secure.
Authentication means making sure the users, multiple websites, and browsers are who they say they are. To this end, SSL certificates are essential. Along with domain names, some services offer a free SSL certificate.
Last, security means redundancy in things like server hardware and authentication. For example, an additional onboard power supply comes in handy in the event of a major outage. Do your homework when choosing web hosting service providers.
4. Excellent 24/7 Customer Support
Things can happen to your website at any time of the day. Most web hosts understand and provide 24/7 customer service.
Round-the-clock support is common among services. However, the quality of support varies by hosting provider. So, before you sign up, try contacting support as a litmus test. Here are some questions to ask yourself:
How fast did they respond to your request?
Are they friendly and professional?
Did they resolve the issue entirely?
How long did it take to fix the problem from start to finish?
Make sure to contact the appropriate customer support team to receive timely support.
Technical support teams handle the more practical aspects of customer assistance.
Contact the billing department if you need additional information on your service bills, need a refund, or need anything else involving money.
Additionally, check if the host provides resources such as tutorials and knowledge bases.
5. Excellent Customer Reviews
Most internet evaluations cover the following:
Who the web hosting service provider is best for
Uptime
Performance metrics
Bandwidth amounts
Storage amounts
Server support
Customer support
Special deals and promotions
What people are saying
Look for reviews that give detailed information on each of those aspects.
A particular web host may have good benchmarks for uptime but has several negative reviews complaining about lacking customer support.
Make sure to look at the cons. All web host service companies have them. If a review seems overwhelmingly positive, read a few more until you feel you have a balanced opinion.
This will give you a good idea of which hosting provider suits your needs and what's important to you.
6. Look For Additional Services
Additional services include an SSL certificate, file sharing, chat, a business email, and email support.
Basic websites often include third-party services for backup or professional email. We'll go into more depth about these two below.
On the more advanced side, File Transfer Protocol (FTP) is another popular addition. FTP is a protocol used to communicate and transfer files between computers.
Once you create and host an FTP site, you authorize users to access whatever files you've made available.
Technical Management Considerations And Tips
Here are some technical things you need to consider when choosing a hosting service provider.
Managed web hosting
Managed web hosting is when a hosting company manages your server and handles all the backend technical stuff.
With managed services, the web hosting provider offers the following:
Takes care of the server
Handles backups
Does software and hardware maintenance
Monitors activity
Offers security
Unlike virtual or shared hosting, managed web services often provide you with your own server for your websites. If you need the resources of a single server, but don't have the know-how, go with managed solutions.
Caching
Caching is a form of data storage. It works similarly to memory (RAM). It's typically employed when there are a high amount of data requests.
For example, if you have an eCommerce site, users click, scroll, add things to carts, make payment requests, etc.
These activities require your site's server to respond to each user's actions or "requests."
Caching relieves the server of handling smaller requests that require immediate responses. These types of requests are sometimes called transient requests.
The result is that caching presents a high-speed form of storage. As a result, it's become an everyday necessity for processing on servers and PCs.
Most small companies and personal websites choose shared hosting packages to save money.
As your audience grows and traffic increases, you may want to boost your site speed and performance. Inexpensive caching solutions, like Swift Performance, can be added to WordPress sites. In addition, Content Management Systems (CMS) often offer caching tools.
Other examples of helpful caching solutions include:
Cache Cleaner
Jot Cach
Drupal
Tidy Up Spam And Data Logs
Spam piles up on your servers and databases, but can be easily managed, just like in your email. It comes from blog comments, emails, website files, and URL pings.
Log files are another consideration. They provide diagnostic information on the health of your website.
Over time, they can pile up on your server and waste storage space. So, like spam, clean your log files at least once a week to avoid gigabytes of wasted storage space.
WP-Sweep is a popular and easy-to-use plugin that keeps your databases clean.
If all else fails, simply contact your host.
Simple Machines Forum (SMF) Vs. miniBB
If you plan to run a forum on your website, you should know about miniBB and Simple Machines Forum (SMF).
miniBB is a free and customizable open-source tool. It allows you to construct your own Internet forum.
Overall, miniBB delivers a fast, simple, and lightweight forum.
SMF is also an open-source, free community forum software tool. It allows you to create a professional-grade online community in minutes.
Both miniBB and SMF were created using PHP code.
SMF has more sophisticated capabilities but requires a lot more storage space. As a result, MiniBB may be better for small companies and users with shared hosting plans.
Use A Lightweight Content Management System (CMS)
A content management system (CMS) is software that allows people to create and manage website content easily.
A CMS handles all of that fundamental needs and technical infrastructure for you. They're best for non-technical users with a focus on the forward-facing aspects of your website.
All you have to do is create a static HTML file and submit it to your server.
A lightweight CMS is even easier to use and saves you money.
Here are essential features to look for if you're interested in using a CMS:
Easy-to-use
Access to user accounts
Backup
Restore system
Custom themes
Plugins
Customer support
Money-back guarantee
You can start by reading reviews from different sites. However, you should always test out a CMS before buying.
Here are three of the most popular CMS to check out:
WordPress
Drupal
Joomla
If you want to learn more about CMS and which ones we recommend, check out our review of the best content management systems.
hPanel And cPanel
hPanel and cPanel are two types of server and site management platforms.
Most web hosting companies offer cPanel capabilities to their users.
cPanel is a control panel that allows you to manage every aspect of your web account for hosting. From file and database management to domains and email. It's highly trusted, stable, and well-maintained through regular updates.
hPanel, designed by Hostinger, is another type of panel that can be added to a website. It differs from cPanel in that it's used for adding custom content, such as widgets.
hPanel and cPanel have their benefits and drawbacks, depending on what you need them for. Essentially, they serve the same purpose of helping you manage multiple facets of your website.
External Data Backup
Websites crashes and hacks are a constant concern. It's not a question of 'if,' but 'when.'.
For these reasons and more, backing up your website data is essential to running an online business. Most hosting companies offer either free or paid backup services. It depends on your account, so be sure to double check.
Many companies opt for external storage for their website backups. External storage not only grants additional space, but you aren't storing everything in one place – a great security precaution.
Also, reducing the load of data on your local servers helps them to perform better on the world wide web.
You can automate backing up your site with some WordPress web service providers. If automating backup is not an option, use cPanel to manually back things up and monitor your storage space.
To get a general overview of your usage, just glance at the right sidebar of cPanel. You'll see information on how much disk space you're consuming, how many databases you've set up, etc.
Third-party data storage brings additional cost-effective storage. A third-party backup service, which handles backups over the cloud, doesn't require you or a hired technician to manually backup your website.
There are other reasons why you might outsource backups to a third party. The most considerable risk of using standard integrated backup is that the data remains in one place.
Anything that happens to the servers or computers your data is stored on may also affect the backups.
Backups performed through the cloud via a network connection are saved separately to yoru website. Professional backup services use redundant hardware. Again, redundant doesn't mean a wasteful or inefficient use of hardware. Multiple pieces of hardware performing the same task creates a more dependable system with no single point of failure.
To recap, the advantages of using third-party backups are as follows:
Data kept off-site
Automated backups
Unlimited storage
Hosting kept more secure
Frequent Asked Questions (FAQs)
What Is A Web Hosting Tutorial?
A hosting tutorial is guided instructional content that covers how to host a website. A thorough hosting tutorial will explain everything someone new to web hosting needs to know.
The tutorial should explain what web hosting is and how it works. Additionally, it explores what the different types of web hosting are. Each one works best for different situations.
Furthermore, a complete tutorial gives valuable tips on choosing the best hosting company in terms of what to look for and what to avoid.
Subjects such as domain registration and domain name hosting and control panel management are also part of any practical website hosting tutorial.
Can I Do My Own Web Hosting?
Yes, you can do your own web hosting. Self hosting can be done by uploading a few HTML files to the Internet using a Windows or Linux computer.
However, hosting a website that's your own requires extensive technical knowledge. Therefore, it's critical to understand exactly what you are doing.
Your own computer will function as a server. It will be able to store and transmit data via the Internet.
How Is Web Hosting Different Than A Web Server?
Web hosting is different than a web server because web hosting is a service and a web server is an individual computer or data center.
A web host or hosting service allows clients to host a website on the Internet.
Web services for hosting may also provide additional services and features such as security, support, and even free domain name hosting..
A web server is a piece of high-tech hardware in the form of a single computer or network of computers known as a data center.
Web hosting providers may be in charge of maintaining a web server. It may also rent or sell the server hardware to multiple other website owners, such as with shared hosting.
Is There Free Web Hosting?
Yes, there is free web hosting. Several platforms exist that allow you to host a website for free for as long as you want.
Most free web services are shared hosting. As a result, the free web is ideal for users with minimal performance, storage, and support needs.
You can even find free web hosting with cPanel.
Ready to Build Your Website? 
A new website requires many considerations that determine your business's future…
Do your homework when choosing website platforms and web hosting. Look at third-party websites and customer reviews, and evaluate the pros and cons.
Understanding the fundamentals and types of web services will help you shop cost-effectively. It will also ensure that your site has the performance and support it needs.
If you don't feel like you have a good grasp on the ins and outs of web hosting, you can learn more about everything you need to know here.
If you're ready to go beyond this tutorial, launch, and manage your online affiliate marketing business, The Affiliate Lab is the last course you'll need.