When you're looking for hosting, two names consistently pop up; Hostgator and Bluehost.
Hundreds of influential bloggers across various niches promote Bluehost as their favorite web hosting provider because they provide cheap, reliable services. Those two factors, "cheap and reliable," are important considerations for anyone starting a new website.
While Bluehost is great, it might not be for you. And that's fine.
There are plenty of amazing alternatives. As a web hosting specialist, I want to cover them in a little more detail.
I will start by reviewing the company's pros and cons. Then, you can review a shortlist of the 5 best Bluehost alternatives.
What Are the Best Bluehost Alternatives?
Specializes in WordPress hosting. But I have run custom sites on their servers without issue
Use coupon MATT90 to get 90% off your first month
Shared hosting, WordPress hosting, Woocommerce hosting,
Cloud hosting
Shared and Virtual Private Server (VPS) hosting
Hosting
Name
Price Range
Hosting Type Offered
Storage
Load Time Score
Uptime
Support Score
4.InMotion
From $5.99
Shared hosting,
VPS hosting,
Dedicated server hosting
10GB - 50GB
4.5
99.99%
4.7
5.Hostinger
$0.99 - $29.95
Shared hosting,
Cloud hosting,
VPS hosting, Managed
WordPress hosting

10GB - 100GB
4.8
99.74%
4.7
Some of the best Bluhost alternatives are Hostgator, Fastcomet, WP Engine, A2 Hosting, GreenGeeks, Hostwinds, Dreamhost, and GoDaddy. The options listed in the table above, though, are my favorites.
1. WPX (Editor's Choice

)
WPX provides specialized WordPress hosting services. The company is known for providing very fast loading speeds and great customer service. Let's touch on each of these factors quickly.
Great tech support is important for any service business. WPX has a 30-second average customer response time. There are always agents online to deal with your queries.
Importantly, these agents can resolve most of your hosting-related queries within a few minutes of you inquiring, which is great if your site has been hacked and you want the issue resolved fast.
Then you have the load times. The average load time on WPX servers is 357 ms.
WPX has also invested in a global Content Delivery Network named WPX Cloud CDN for their WordPress users. Access to the CDN is free for WPX customers.
With WPX, you get to choose from three monthly billing options: Business, Professional, and Elite. The business plan starts at just over $20. The professional plan is around $40, while the elite plan is over $80 a month. That might sound expensive, but it's excellent value for money.
Features
WPX Cloud: The Content Delivery Network was developed in-house by the WPX team. The CDN ensures that your site loads fast wherever visitors are based. A fast load time can translate into improved search rankings and user experience.
Testing Area: The process of navigating the WPX dashboard is easy. There is a testing area where you can make changes to your website and run experiments. The testing area is great for testing changes to your WordPress User Interface before going live.
Modern Servers: WPX invests in modern servers. That investment ensures you'll always have one of the fastest loading WordPress sites on the net.
Pros
Free daily malware detection and removal: These daily check ups reduce the risks of someone hacking your website.
Daily backups: WPX makes daily backups of your website. If you are hacked, you can ask their team to revert to the most recent backup.
Fast Customer Support: The support team responds to inquiries in 30 seconds or less. Their support team will solve most of your WordPress problems within minutes of you getting in contact.
5 uptime guarantee: Uptime is important. WPX does its best to ensure your site is always going to be accessible to visitors.
Fast Page Load Speeds: Your website will load faster than most of your competitors, making it easier for you to dominate the search rankings.
WordPress Experts: WPX specializes in WordPress hosting. Their staff can solve most WordPress-related issues.
Cons
Expensive Plans: WPX hosting options start at just over $20 a month. That is more expensive than many companies that offer an entry-level starter plan. Still, it's great value for money given what you receive.
Why WPX is better than Bluehost
WPX hosting offers free daily backups. Bluehost offers free weekly backups. You need to pay extra for daily backups. You also need to pay for a website restore with Bluehost.
Faster Servers: Your website will load faster on WPX hosting, and the uptime is higher.
WPX offers 30 seconds response time. Bluehost support takes A LOT longer to respond to inquiries, and fewer inquiries are resolved the first time.
WPX is one of the best WordPress hosting providers and perfect for hosting WooCommerce sites.
90% off the first month using the coupon code MATT90
---
2. SiteGround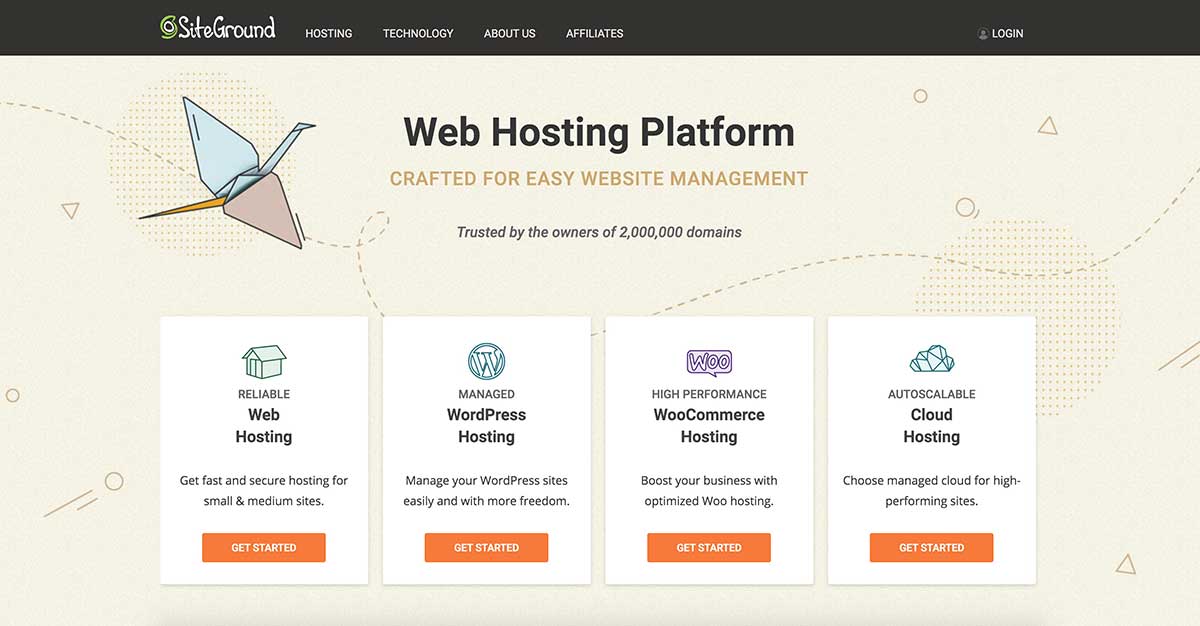 SiteGround is one of the best web hosting providers. They provide cloud hosting and WooCommerce hosting.
With this hosting provider, you get free WordPress migration, automatic upgrades, 24/7 customer service, daily backups, and free SSL certificates.
There is a range of hosting options, including VPS hosting. The cheapest plan is just over $5 per month for up to 10,000 visitors a month and 10GB of storage.
Features
Great Security: SiteGround has invested heavily in providing you with safe, secure hosting. The security features include a firewall that will secure you against most hacking attempts. Meanwhile, daily backups are available if you need to restore your site.
Free Site Migration: The process of migrating your site to SiteGround is straightforward. Just install the free website migration plugin and follow the steps.
Intuitive Dashboard: SiteGround has a user-friendly dashboard allowing you to deal with any issues quickly and efficiently. They also have a testing area users can access. One reason you might use the testing area is to review changes to your WordPress site before pushing them live.
Pros
Professional Contact Support: You can contact their support team via phone, chat, and ticket, which is convenient. Their skilled operators are competent and can resolve most inquiries quickly.
Fast Load Speed: The SiteGround servers are fast. The modern servers mean your WordPress website loads quickly, which is important for visitors.
Data Centres Around the World: You can choose which region to host your website. Choosing servers where your customers are located translates into faster load speeds.
Great Uptime: SiteGround has an impressive uptime of 99.9%. It is one of the best in the industry, meaning your website will almost always be accessible.
Cons
No Free Domain: Users don't get a free domain on the paid plans.
SiteGround vs. Bluehost
SiteGround has an easy-to-navigate dashboard with no upsells or promotions. Bluehost, on the other hand, will advertise to you through your dashboard.
SiteGround provides free daily backups, plus they keep the data for up to thirty days. With Bluehost, you need to pay for daily backups.
SiteGround provides better customer service than Bluehost. Agents respond quickly to inquiries on their chat and phone lines.
SiteGround is definitely better that Bluehost in all terms. Not only that, but also it's one of the best web hosting companies. You can try their service out by clicking through the link below.
---
3. HostPapa
HostPapa is one of the leading domain registrars in the world. They also offer great web hosting with dedicated hosting, reseller hosting, a2 hosting, and more. They provide hosting for more than 200,000 websites.
One thing that makes HostPapa stand out from customers is its environmentally responsible agenda. For example, in 2011, they planted 100,000 trees in Africa to promote afforestation.
Features
Free Domain Name: One of the great features of HostPapa is that you receive a free domain name as a new user. Customers also get an SSL certificate with each domain.
Site Builder: HostPapa has a site builder that you can use to create your website.
Pros
Great Uptime & Fast Servers: They have an uptime of 99.99%. They also have an average loading speed of 565 ms. Your website will load quickly and always be accessible.
Money-Back Offer: Money back within 30 days if you are not satisfied with their services. That is great for those who are unsure what web host to choose.
Global Coverage: HostPapa provides global coverage for their users through their data centers and CDN. That means your website will load fast wherever your customers are based. You get access to the CDN for free.
Daily Backups: The daily backups will protect you against most website problems. If an issue arises, you can just load a previous version of your website.
Cons
Slow Customer Support: HostPaper provides its users with several support channels. However, users often complain of slow response times.
Why HostPapa is better than Bluehost
The HostPapa and Bluehost hosting options have similar pricing plans. However, HostPapa offers more features on the VPS and shared hosting options.
HostPapa is an excellent firm. You can try their service out by clicking through the link below.
---
4. InMotion
InMotion has over 300,000 customers with two data centers in Los Angeles and Virginia. They offer unlimited bandwidth, a free website builder, and a 90-day money-back guarantee. Hosting plans include Shared, WordPress, VPS, and Dedicated Servers.
With various options such as live chat, phone, and email, their user support is quite impressive. InMotion's pricing plans start from around $6 per month for shared hosting and up to around $60 per month for dedicated servers.
Features
Multiple Support Channels: User support is available around the clock. You can reach their support agents via phone, live chat, email, and even skype.
Good Servers: Pages load quickly from InMotion servers. However, it is not as fast as some Bluehost alternatives with similar pricing options.
Pros
Good Uptime: InMotion has an uptime of 99.9%. Your site will almost always be accessible to visitors.
Money-Back Offer: InMotion Hosting gives you a 90-day money-back guarantee. That's plenty of time to change your mind if you're unhappy with their service.
Free Domain: Hosting plans come with a free domain name registration for the first year. You also get a free SSL certificate with some plans.
Cons
Paid Backup: InMotion offers backup services. However, it is not free. If you need backups, you have to pay for the add-ons.
Slow Support: It can take time to get a response from their support representatives.
InMotion vs. Bluehost
With a 90-day money-back guarantee, InMotion has a better policy in place than Bluehost.
InMotion Hosting is a great company with competitive packages and unmetered bandwidth and unlimited storage. Click on the link to find out more about their service.
---
5. Hostinger
Currently, Hostinger is one of the biggest hosting companies. It has about 29 million users worldwide and it offers great managed WordPress services. The large user base allows the company to benefit from economies of scale.
The hosting packages are cheap. You can join the Hostinger family for as little as one dollar a month. The business has a global presence with servers in 178 countries, meaning your site should always load fast.
Features
Fast Servers: Hostinger has invested heavily in its data centers. They can offer page load times of as little as 345 ms. That will reduce your website bounce rate.
Website Builder: You get access to a free website builder.
Pros
Cheap Price: Hosting plans start from as low as $0.99. These are some of the lowest prices in the industry.
Good Uptime: They have an uptime of 99.74%. Your website will almost always be accessible to visitors.
Free SSL: All shared hosting plans come with a free SSL Certificate. An SSL certificate usually costs around $15 a year.
Regular Promotions: Even with their low prices, they offer discounts and promotions.
Good Support: You get a response on their live chat within seconds, and their live chat agents are experienced. The only downside is they don't offer phone support.
Cons
Weekly Backup: On some of the hosting plans, you get weekly rather than daily backups.
No cPanel: You don't get access to cPanel. That could be an issue if you're used to using cPanel.
Bluehost vs. Hostinger
Hostinger plans are generally cheaper than comparable Bluehost plans. If you're looking for alternatives to Bluehost, you can save money on Hostinger.
Hostinger generally has faster load times than Bluehost.
If you are looking for a great web hosting company, you should consider Hostinger. They offer a cheap reliable hosting service. Click on the link to find out more about their service.
---
What's the Problem With Bluehost, Anyway?
Bluehost is the largest hosting company in the world.
Endurance International owns Bluehost. If you're not familiar with Endurance International, you'll know many of their brands. Endurance International owns Hostgator.com, Domain.com, alongside other domain and web services.
Endurance International has managed to grow so fast, and the companies under the holding group are market leaders because they understand what the market wants; cheap reliable hosting.
Their business model, which relies on economies of scale, allows Bluehost to provide a cheaper service than most competitors. That is what most first-time webmasters want.
There is a trade-off.
Many people who have a plan with a company like Bluehost or Hostgator will realize that cheap services come with a catch. For example, the customer service is poor.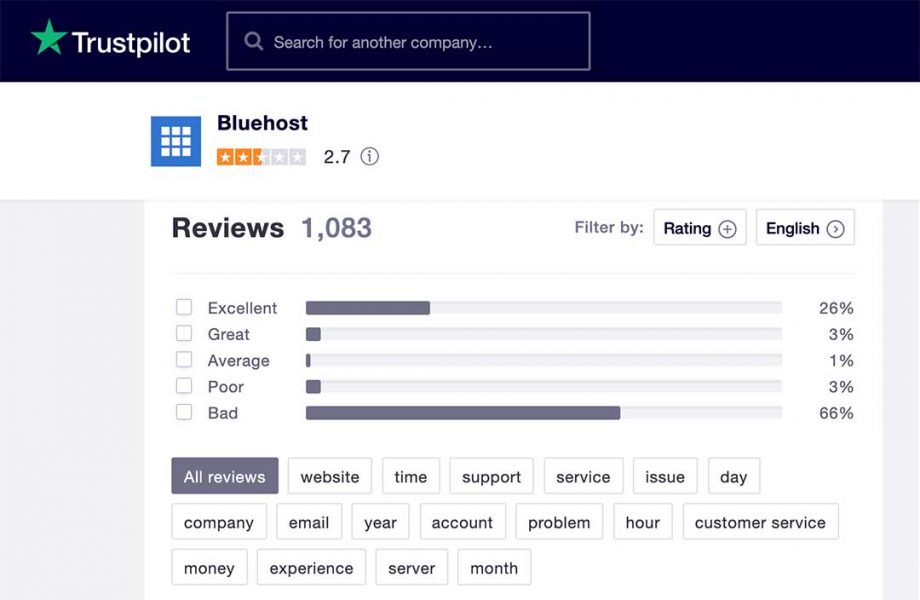 Well, actually bad, according to 66% of the 1,083 people who left a review on Trustpilot.
If you have an issue, you will often have to wait for 20-30 minutes to talk with a representative. That can feel like a lifetime when you have an urgent issue that you want to resolve immediately.
To compound problems, many Bluehost support agents lack the technical knowledge needed to resolve your issue directly. That leaves you having to follow up with their team to get updates on progress and find a solution to your issues.
There are other problems with Bluehost.
Bluehost will charge you for many support issues. For example, you need to pay for a backup if you have a problem with your website.
The "unlimited hosting", which is an option available for the Shared packages of Plus hosting and above, also has limits. You need to read the Terms of Service to discover those limitations.  Not surprising given that their unlimited hosting costs around five dollars a month. Free website migration is also limited.
Finally, you have the issue of server speed. You want to reduce the server response time as much as possible.
Bluehost doesn't offer the fastest hosting service. Many Bluehost alternatives offer a faster service.
A slow loading speed is a major issue for any webmaster. Visitors to your website expect the page to load in their browser. If the page doesn't load fast, people leave the website. There's a direct correlation between page speed and bounce rate. You also want high uptime.
Moreover, page speed is an important ranking factor in the SERPS. A slow site will impact your search positions. A website that frequently goes down will further harm your rankings.
For all the problems, Bluehost is a good company. They offer a wide range of hosting options. Bluehost offers WordPress hosting, dedicated hosting, and more. They also have a beginner-friendly drag and drop builder you can use if you choose.
If you are looking for a cheap hosting service, then a company like Bluehost or Hostgator might fit your needs.
However, if you want more from your hosting company, like attentive support and faster site speeds, then you need to consider one of the top Bluehost alternatives.
---
What Should You Look for in a Hosting Provider?
There are various things to consider when selecting a Bluehost alternative. Here are six crucial factors to consider when choosing a hosting company:
1. Speed
Your site needs to load fast. Ideally, it should load in 2 seconds or less. Good hosting platforms understand the importance of a fast load time. They invest in cutting-edge servers and update aging equipment.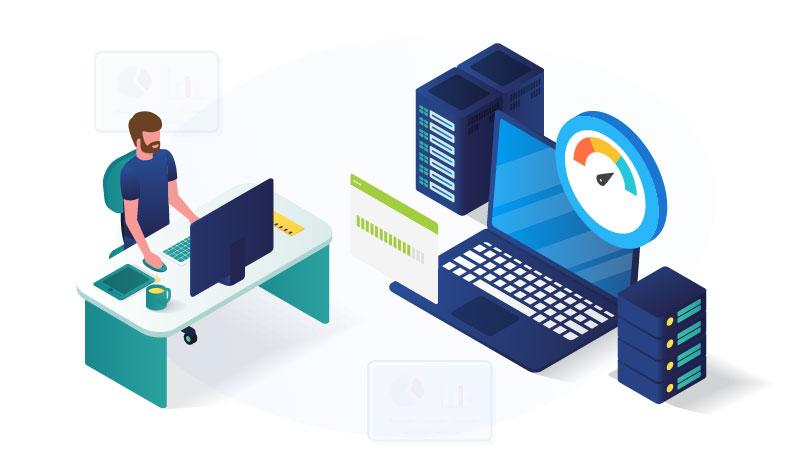 2. Security
The hosting company you choose should have robust firewalls to ward off attacks. They should have free website migration as well. They should also have additional security measures and add-ons to enhance your website's security.
Your hosting provider should do regular backups, either daily or weekly. If your WordPress site is hacked, you'll need access to these backups ASAP.
3. Support
Customer and technical support is really important. When a problem arises on your website, you want the problem solved immediately. You need to choose a hosting company that provides fast support regardless of the time of day.
Just as importantly, the agents should resolve most of your issues on the first contact. That means the agents need to be experts in platforms like WordPress, which is used by so many businesses and website owners.
4. Scalability
A good web host must be able to accommodate the growing needs of your website. If your site traffic increases, you need more bandwidth. As you add more content to your website, you'll need more memory.
You need a Bluehost alternative that can handle the growing needs of your business. The cost of upgrading your service should be fair and affordable, so look at the pricing tiers. You don't want to deal with huge jumps in hosting costs.
5. Price
Your hosting costs need to be affordable and fair for the service they provide. Choose a good web host that offers excellent features at a reasonable price.
6. Type of Hosting Environment
There are a variety of web hosting options available. Common packages include shared hosting and dedicated hosting. You should look for dedicated hosting, which offers faster load speed than shared packages.
---
Which Bluehost Alternatives Do We Recommend?
This article explored five of the best Bluehost alternatives for site owners: WPX, Hostinger, Inmotion, Hostpapa, and Siteground. Each hosting provider on the list has its unique strengths and benefits.
The best Bluehost alternative is WPX, especially if you have a WordPress website. They provide everything that you would hope for from a hosting business. When you sign up with WPX, you'll get a site that loads quickly and is always accessible.
With WPX hosting, you also get access to lots of free features. For example, you can access the WPX CDN, a custom-built platform that was created to ensure your site loads fast anywhere in the world.
Moreover, their trained tech support staff can help solve your issues fast. That quick support is really important when you have a major problem with your site – for example, it's been hacked, and you need to load a backup version of your site, or you need a virus to be removed.
Our #1 Recommendation: WPX Hosting
Use coupon MATT90 to get 90% off your first month