GoDaddy has long been a popular choice for domain and web hosting services, holding the title of the largest domain registrar and catering to over 20 million subscribers.
However, with our extensive experience in the hosting industry, we understand that its dominant market position doesn't guarantee it's the best option for everyone. There are numerous GoDaddy alternatives that may better align with your specific needs.
In this article, drawing on my hands-on experience, I'll walk you through ten of the best GoDaddy alternatives for domain and web hosting. You'll learn the unique features of each option and what makes them suitable GoDaddy alternatives.
---
Web Hosting Alternatives to GoDaddy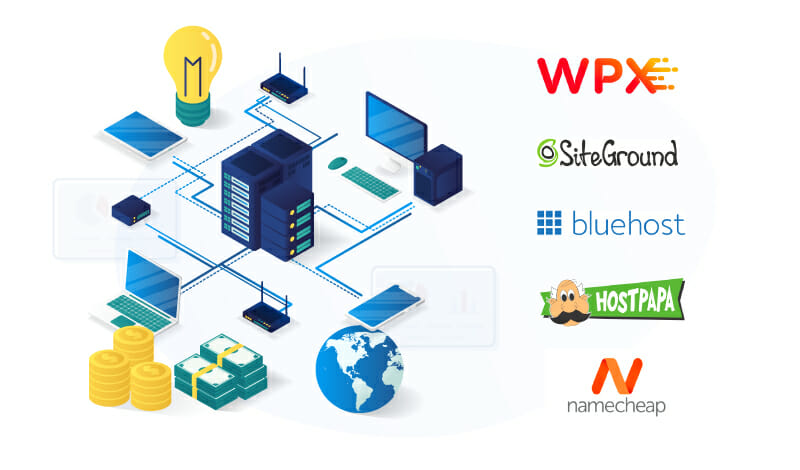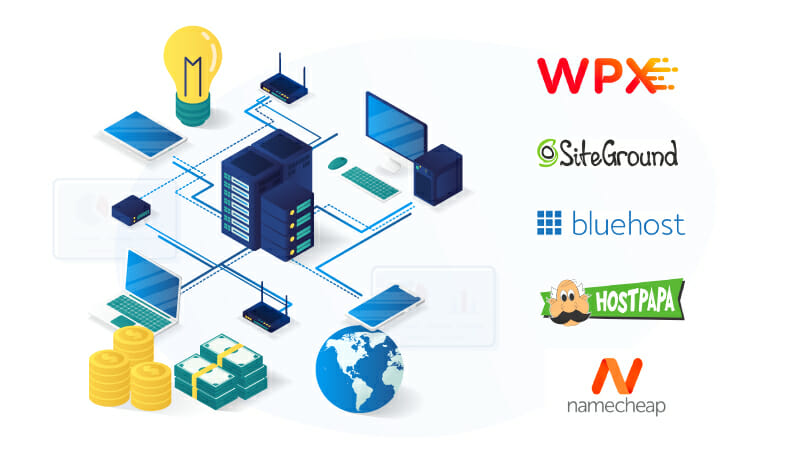 Specializes in WordPress hosting. But I have run custom sites on their servers without issue
Use coupon MATT90 to get 90% off your first month
Shared hosting, WordPress hosting, Woocommerce hosting,
Cloud hosting
Shared hosting, VPS hosting, Dedicated hosting
A web hosting provider performs a wide range of hosting plans and services for your website, including providing web space, maintaining servers, keeping your software and hardware up-to-date, and troubleshooting.
Now, let's do a deep dive into the best GoDaddy alternatives for hosting. Below, I'll reveal the five top GoDaddy competitors:
---
1. WPX (

Editor's Choice

)
WPX is one of the best GoDaddy alternatives on this list. In my opinion, even better than GoDaddy.
WPX is ranked number one on Trustpilot for managed WordPress hosting and has earned rave reviews on many review sites from their customers.
Through its own high-speed, custom Content Delivery Network (CDN), and high-tech SSD servers, WPX ensures your WordPress site performs excellently even under heavy traffic loads.
What sets WPX apart from all its competitors is its industry-leading quick customer service response time.
If you send a query, you'll receive some sort of response from the LiveChat support agents within 30 seconds. This service is available 24/7, so you can send your queries day or night, regardless of which part of the world you are in.
Fast response times are great, of course, but as a customer, you want the issue resolved quickly. Again, WPX stands out in this crowded market for its excellent hosting service. The first level of support agents can handle most issues without escalating to the next.
What's more, WPX has a simple and intuitive admin panel for you to manage your site. It is fast, easy to use, and full of tutorials to guide you every step of the way. To summarize, let's run through the pros and cons of WPX.
Pros
Lightning-fast loading times, which is great for SEO.
DDoS protection so your site never goes down.
Free CDN, which is great for getting a global audience.
Free SSL. A lot better than paid SSL. Plus SSL keeps your user's data secure.
Free migrations. Many hosting services charge for migrations.
Staging area for testing your website.
Free daily backups. Handy if you have problems with a hacked site.
Free malware scanning & hack cleanups.
24/7 expert support. Customer support will resolve most problems within 10 minutes.
Cons
There are cheaper alternatives.
The packages are more suited to sites with a higher volume of traffic.
No Cpanel as it is a managed host. (Which is great for beginners new to hosting)
What's WPX Best For?
WPX is the best GoDaddy alternative. It is geared towards sites that already have web traffic rather than people who are just starting a website. However, they offer an excellent service for both markets. WPX also specializes in sites hosted on WordPress, and has quickly become the best hosting company for WordPress.
Considering all the features and pros of WPX, they are an excellent GoDaddy alternative. If you want to go with a company that provides the best web hosting service for SEO, choose WPX.
I managed to sort out a good deal with the team at WPX.
90% off the first month's subscription with the coupon code MATT90
---
2. SiteGround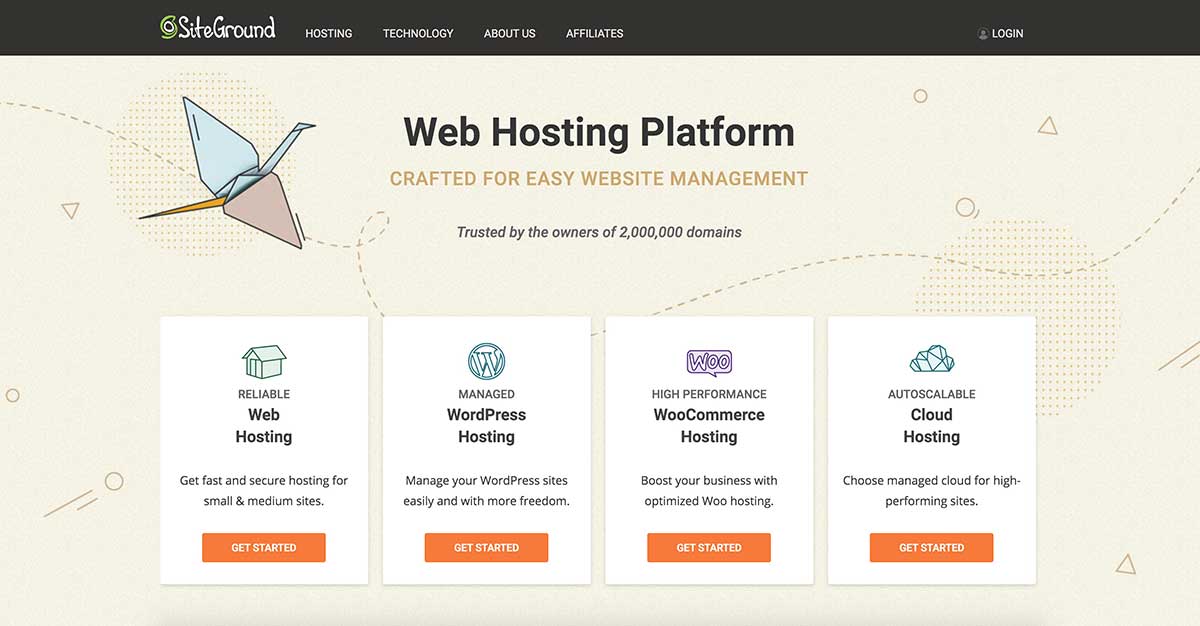 SiteGround provides reliable website management, especially for small and medium sites.
SiteGround offers WordPress hosting, WooCommerce hosting, and cloud hosting. Here are some benefits and some disadvantages of Siteground.
Pros
SiteGround offers high speeds and secure hosting technology, including SSDs Memory, Content Delivery Network (CDN), Cloudflare, PHP7, and Nginx server. They also have excellent customer service.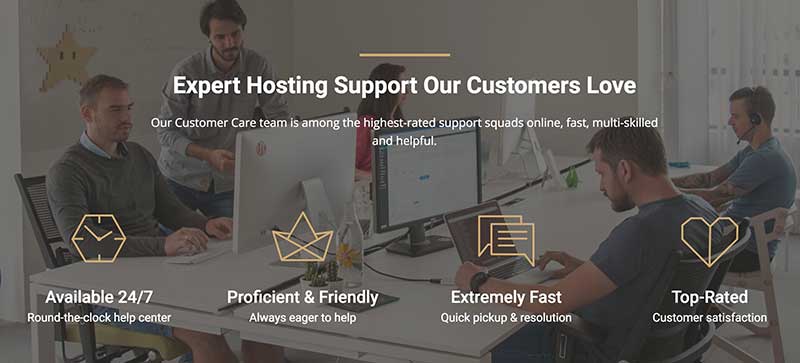 You'll find pinned help on every page, an AI chatbot that solves specific problems, and automated solutions that draw on previous similar challenges.
Other benefits of Siteground include:
Excellent WordPress hosting features.
All SiteGround hosting plans currently offer a free domain and a 30-day money-back guarantee for a new sign-up.

They provide a free Weebly and WordPress website builder.

High–performance and secure hosting technology.
Knowledgeable and friendly customer representatives who can solve problems fast.
99% uptime guarantee so your site is always accessible.
Competitive pricing so you won't spend more than you need.
Distributed servers located in different locations to ensure your site loads fast wherever it's being accessed.
Cons
SiteGround can quickly get pricey, and you should be wary of significant price hikes. The uptime guarantee does not cover outages in the event of downtime.
SiteGround also limits storage on the servers. That's not an issue per se, however, you will need to upgrade your hosting plan when you hit the storage or bandwidth limits.
What's SiteGround Best For?
SiteGround is an excellent service for companies managing an online store on WooCommerce. SiteGround also has great general hosting plans for nonprofits, smaller marketing agencies, church website hosting, and other businesses.
If you thoroughly compare SiteGround and GoDaddy, you'll notice SiteGround is undoubtedly the better option.
---
3. Bluehost
Bluehost is one of the most popular hosting providers on the market. The company is owned by Endurance International, which also owns Hostgator. But, there are many differences between Bluehost and Hostgator.
When it comes to Bluehost vs. Godaddy, the fight is tough!
Pros
Bluehost's website hosting services include:
Shared hosting, WooCommerce, VPS, Managed WordPress hosting, and Dedicated hosting.
You can purchase a web hosting service that suits your budget and needs.
The company has a robust support system that features live chat with technical support staff. You can also phone their support hotline.
Bluehost has a four-tier pricing plan. You have the Basic, Plus, Choice Plus, and Pro. The Basic plan is affordable when you are just starting, and bandwidth isn't a priority.
If you want more, we recommend the mid-tier hosting plans as these offered us a range of different features, including a free domain name, free SSL certificate, unmetered bandwidth, and unlimited website installs.
Other benefits include excellent uptime in testing, an easy-to-use interface, access to the Weebly site-building software, and free site migration.
Cons
Bluehost only has US servers. The backup services and technical support are limited, and they are continually trying to
upsell services
when you make a purchase. Moreover, while the speeds of the servers are good, they are not excellent, which is why many people consider other
Bluehost alternatives
.
What's Bluehost Best For?
Bluehost is generally regarded as one of the best low-cost hosting companies.
The service is good for people who are just starting a new website. We found that their shared hosting is also ok for a PBN host.
---
4. HostPapa
Based in Canada, HostPapa provides shared hosting, reseller hosting, and virtual private server (VPS) hosting. Since launching in 2006, the company has become a go-to hosting provider for shared hosting, especially.
Pros
Other benefits of HostPapa include:
30-day money-back guarantee in case you change your mind.
Free domain name.
Unlimited disk space & data transfer so you won't need to update your plan as the amount of content on your site increases.
Free "PapaSquad" site migration service to make your website migration simple.
Fast servers (PHP7, SSD & CacheCade Pro 2.0 caching).
Free SSL Certificate & Cloudflare CDN so your site is secure and loads fast wherever it's accessed.
PapaSquad support team is available 24/7.
Cons
Although starting prices are affordable, renewal costs can be expensive. Also, automated site backups are only included with Business and Pro hosting plans.
---
5. Namecheap
Namecheap is a domain reseller and a GoDaddy hosting alternative.
Namecheap sells SSL certificates, privacy protection services, and more in addition to selling domains and full hosting packages, and hosting plans.
Let's look at some pros and cons of Namecheap:
Pros
It's an established company so you know they're a reliable Godaddy alternative.

Good uptime and fast website hosting.
The design and interface are very user-friendly so it's easy to navigate.
Free and fast migration from other hosting providers.
Daily website backups will help you overcome this.
Quick registration and setup process.
Good support.
Lots of TLDs are available with varying extensions.
Cons
Setting up SSL certificates is difficult.
Some elements of the dashboard are hard to find.
No phone support.
---
Domain Registration Alternatives to GoDaddy
A domain name registrar is a company that manages the reservation of Internet domain names. A domain name registrar is different from a reseller, like Namecheap, which acts as a middleman between you and the domain registrar.
GoDaddy is one of the largest domain hosting companies in the world. There are some great domain registrars like GoDaddy that offer a similar service.
Below are the five best GoDaddy alternatives for those looking for Country Code Top Level Domains (ccTLDs).
1. PorkBun
Porkbun is an ICANN-accredited domain registrar. This GoDaddy alternative sells domain names along with complementary products such as SSL certificates and hosting services. They make the registration process easy, affordable, and enjoyable.
Porkbun makes searching for a domain name easy. They have a clean interface that is simple to navigate.
Porkbun is cheaper than other registrars. You can get steep discounts on domain names here compared to other registrars.
Pros
Straightforward search and bulk search
They offer a competitively priced service
Variety of top-level domains
Easy domain management
Complementary products
You can secure your Porkbun account with two-factor authentication
Cons
No API
Porkbun provides a straightforward service at an affordable price.
We asked Alex Drew of ODYS global, his opinion on PorkBun:
"There are other GoDaddy alternatives in terms of new domain registrations, one of the most promising being PorkBun.com. We've been using them for quite some time now to register a couple of new domains for our business… They've been in the game since at least 2010 and always had a no-BS, straightforward approach to registering domains as well as super competitive prices."
Alex Drew
ODYS Global
---
2. NameSilo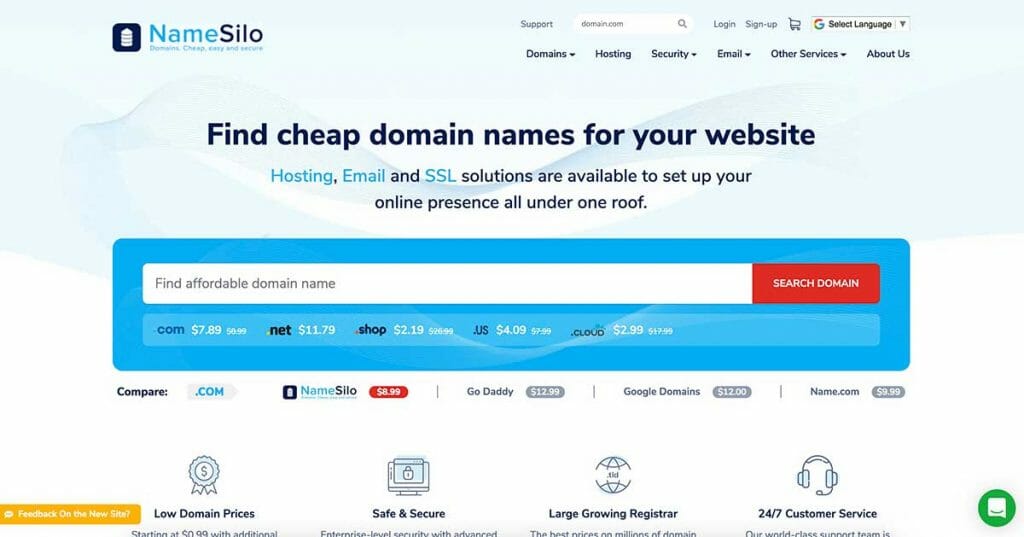 NameSilo is a low-cost provider of domain name registration and management services. The company offers domain transfer, privacy protection, and integrations.
NameSilo offers transparent pricing. They have an extensive list of pricing for top-level domains (TDLs). NameSilo also competes with other registrars in terms of value. Their domains are slightly more expensive, but they offer a competitive price for renewals.
NameSilo offers a lot of TDLs options that go beyond generic domain names.
Pros
Competitive pricing.
Transparent pricing.
Has an API.
Cons
Poor website design.
Overall, NameSilo does offer a good service if you're looking for a domain registration alternative to GoDaddy. It comes highly recommended by Kalin Karakehayov at
SEO.domains
.
---
3. Dynadot
Dynadot offers services such as domain name registration, email hosting, website builder, and web hosting. When it comes to domain registrars, Dynadot is a great company.
Dynadot is a Generic Top Level Domain (gTLD) registrar. The pricing for domains is competitive. Dynadot has an API, which is essential for people running large PBN or buying and selling domains.
Pros
Free domain name.
Affordable email and web hosting
Free website builder tool with mobile-responsive templates.
Has an API.
Cons
Hosting plans are not suitable for beginners.
A single VPS hosting plan.
Dynadot is best for advanced users who have the technical skills to manage software installations.
---
4. Gandi.net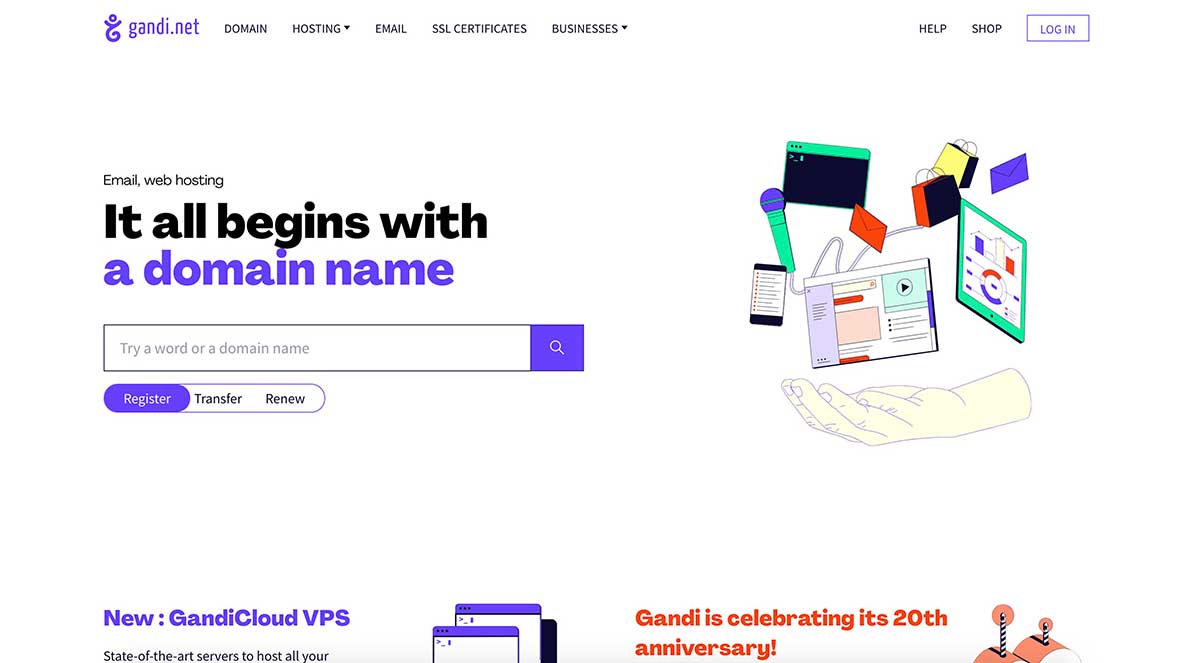 Gandi.net provides domain name registration, web hosting, and related services. One commendable thing about Gandi.net is the transparent domain prices. You can see the cost of registration, transfer, and renewal.
Pros
Upfront prices.
No unnecessary advertisements.

Domain purchasing comes with free gifts.

Easy cloud services.
Has an API.
Cons
Slow to respond to the concerns of customers.
Gandi.net is one of the best GoDaddy alternatives. Head over to the site to find out more.
---
5. Internet.bs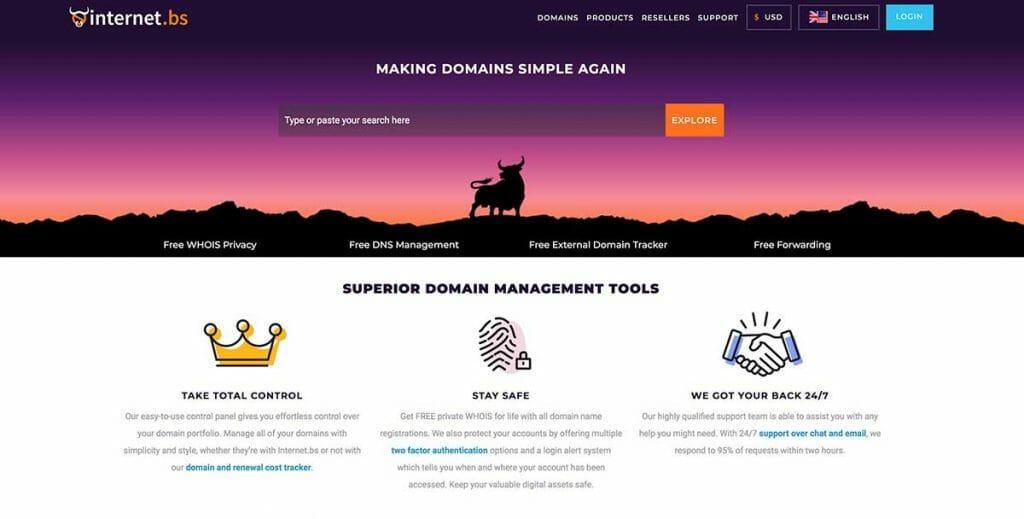 Internet.bs is a domain name registrar accredited by ICANN and other bodies. The company is based in the Bahamas, with offices in Belgium, France, Italy, Spain, and the United Kingdom.
The company provides domain name registrations, transfers for top-level domains, web hosting, and SSL certificates. They also provide automated domain renewals.
Internet.bs has an easy-to-use control panel that gives customers control over their domain portfolio. People who use Internet.bs also get free private WHOIS for life with all domain name registrations.
Here are some pros and cons of Internet.bs for you to consider if you're looking for an alternative to GoDaddy:
Pros
Free email forwarding.
Free DNS management.
Free URL forwarding.
Has an API.
Cons
Slow response to customer concerns.
Does not let you change your SPF records.
---
Why Look for GoDaddy Alternatives?
Founded by Bob Parsons, GoDaddy is the "Big Daddy" in the world of domains and hosting, but there are plenty of GoDaddy competitors. Here are a few reasons why you should be on the lookout for a GoDaddy alternative.
High Cost: GoDaddy can get expensive when adding features such as site backups and a website builder. There are other costs that can increase your bill. For instance, GoDaddy, unlike many alternatives, charges for site restoration. You could end up paying as much as $300 to restore your site.
No Live Chat Support: Unfortunately, GoDaddy does not have live chat support. To access their support, you need to contact their representatives by email or phone. It's a more time-consuming and demanding process.
Slow Speed: GoDaddy offers an affordable solution for a large audience. However, the server speeds on the basic packages leave a lot to be desired. With so many users, GoDaddy's internal speed for downloads and uploads might leave you mumbling a few swear words.
---
Which Godaddy Alternative is Better?
While GoDaddy is the largest domain registrar globally, several other domain registrars and web hosting services exist.
When it comes to domain registrars, stay away from resellers like Namecheap. Instead, go directly to a domain registrar. I shared five great GoDaddy alternatives.
If you're running a PBN or buying and selling domains in bulk, you'll want a solution with an API. Four out of five sites on our list have an API.
If you're looking for great hosting, we recommend WPX hosting. With its feature-rich and customer-friendly service, you can host and set up your website with ease.
Our #1 Recommendation: WPX Hosting
Use coupon MATT90 to get 90% off your first month